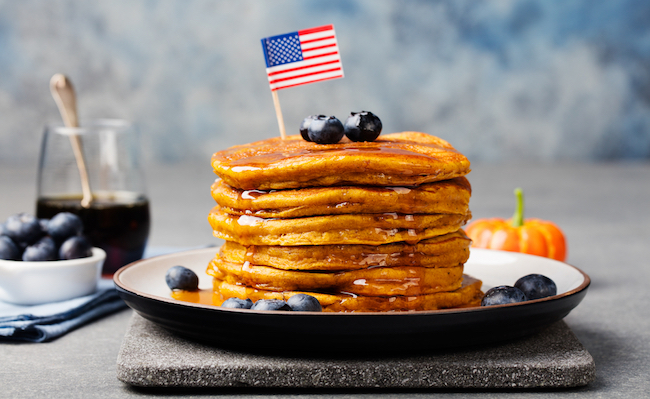 Today is Veterans Day, the day we honor everyone who's served our country with a break from mail delivery and banking and — even better — food freebies and discounts.
We've got a roundup of what you can get if you're a veteran or active duty military — and Whew! It's a lot! If you really wanted to (and we wouldn't judge), you could take a tour of every place on the list and eat from breakfast until 3rd dinner. Keep in mind, though: the majority of these deals require some proof of military service, so get out that ID, pull that old uniform from the back of your closet, or start rooting through your papers for your last set of orders. Your stomach is depending on you.
One last thing from all of us here at Uproxx: thank you for your service! Now go take advantage of the deals that await you.

Acapulco Restaurant and Cantina: Active duty and retired military personnel can choose one complimentary item from a special Veterans Day menu, including a 2-item combo, Carnitas, Grilled Chicken Fajitas, Grilled Steak Fajitas, Mahi Mahi, Enchiladas Suizas, Asada Burrito, Tacos de la Calle. In addition, all military personnel receive a 20% discount any time they dine at Acapulco Restaurant and Cantina throughout the year.
Anthony's Coal Fired Pizza: Active and former military personnel receive a complimentary small order of Meatballs with Ricotta Cheese.
Applebee's: Free meal from a special menu, including Butcher's Meat and Potatoes, Oriental Chicken Salad, Fiesta Lime Chicken, Chicken Tenders Platter, Double Crunch Shrimp, Three-Cheese Chicken Penne, and American Standard All-In Burger. In addition, military personnel will also receive a $5 coupon that can be redeemed between November 12 and November 27.
Back Yard Burgers: Veterans and active duty military personnel will receive a free Back Yard Classic Burger.
Baker's Square: Veterans and active duty military personnel will recieve a complimentary breakfast at participating locations. Choose between Buttermilk Pancakes, three slices of French Toast or a Belgian Waffle.
Bar Louie: Veterans and active duty military receive a free entree or appetizer.
BJ's Restaurant: All veterans and active duty military personnel can choose a complimentary entree under $12.95.
Bob Evans: Free select menu items to veterans and active duty military; additionally, Bob Evans will offer a 10% discount from November 12 – December 31 for both dine-in and carryout meals.