Pappy Van Winkle bourbon whiskey is the most-sought after American whiskey there is. The wheated bourbon was a crucial brand in starting the current bourbon (and wider whiskey) boom of the 21st century. About 14 years ago, Old Van Winkle put out a 23-year-old special decanter of Pappy for $400. It was a shot over the bow of collectible booze that ushered in the arrival of American whiskey as a major player (compared to Scotch whisky, Japanese whisky, and wine collectibles).
Within a year, that bottle was selling for thousands. Today, it's selling for tens of thousands. The die, as they say, has been cast.
While the average bottle of Old Van Winkle bourbon (or rye) is fleeting in 2023, it's not impossible to find, buy, and drink. The core lineup of Old Van Winkle's expressions — that's both the younger "Van Winkle" expressions and the older "Pappy Van Winkle" ones — are released yearly every fall by the Sazerac Company via their Buffalo Trace facility in Kentucky (where the whiskey is made).
Thousands of bottles are sent around the country and world to retailers, bars, and restaurants that have earned their allocation (a term that means all the bottles go to specific businesses/people and that's it). And then don't get distributed again until the next year's release of bottles. So how do you actually buy a bottle of Pappy? Well… it's complicated. But it's not impossible by any stretch. It simply depends on your access to cash, a little luck, and some perseverance.
Below, I'm going to lay out all the legal ways you can get a bottle of Pappy, which — I'd argue — is at least worth trying and does live up to the hype. Hopefully, this guide will be a treasure map that'll lead you to a pour of the good stuff. Let's dive in!
Also Read: The Top 5 UPROXX Bourbon Posts Of The Last Six Months
Method 1 — Retail
Liquor Store
Most privately-owned liquor stores are going to either keep their bottles for loyal customers or distribute them via a lottery. For the former, they'll quietly contact those loyal members and have them quietly pick up their bottles when they come in. That's why you almost never see a bottle of Pappy on any liquor store shelf ever — they never make it there.
Sometimes, loyal customers will be notified that bottles are going up for sale on a first come first serve basis online via their website only. This is simply a matter of having a loyalty card and fast hands to hit that refresh button and enter payment details in a flash. This saves droves of taters camping outside overnight at the shop but is only one facet of the large patchwork of ways Pappy is sold. In essence, this is the same as above only with a slightly smoother buying process on your phone instead of in person.
Some liquor stores try to make a little cash by offering a pay-to-play program like Party Time Liquor (in the Instagram post above). It's a kind of instant-loyalty program wherein if you spend x-amount of money in the store, they'll give you the option to get an allocated bottle at suggested retail (not marked up), which might include a bottle of Pappy as linked to in that IG post above.
Then there's the lottery system. This stretches beyond privately-owned retail into state-run retail as well. So let's just get into that in the next section.
Before we get into that, a quick pro tip. Liquor store tasting rooms are often spots where you can taste Pappy expressions. The price for pours will vary, but 100% exist. Follow your local shop on IG, Twitter, etc. to see when they have tastings.
State-Run Liquor Store
When it comes to getting a bottle of Pappy at suggested retail (MSRP), a state-run liquor store is your best bet. Though, the keyword here is "lottery." Look at that image above. Last year there were over 58,000 entries for 4 — four! — bottles of Pappy 23 at ABC Virginia state-run stores. Those are some long odds.
That said, that's for the right to buy a bottle at the suggested retail price. So if you do win a bottle, you have an instant windfall (if you're looking at this from a whiskey investment angle). Or, you know, just a really good bourbon to show off to your friends and drink.
One ripple here. You might have to have either a local driver's license or a local address to enter the state-run lotteries.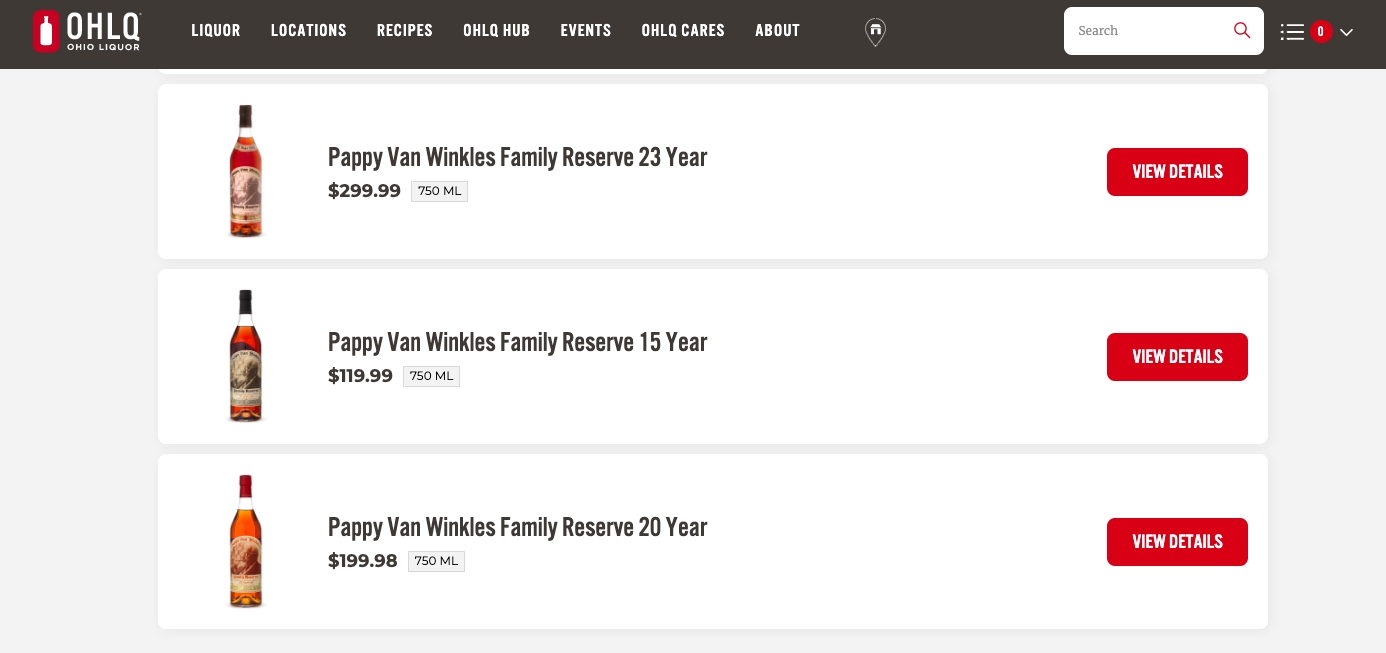 When it comes to when state-run lotteries happen for allocated Pappy bottles, you simply have to do your homework. Each state-run liquor store releases lottery announcements well in advance. So again, follow socials, subscribe to newsletters from the shops, and set those Google alerts.
You can also look at the current inventory from every state-run liquor store by following the links below. It'll tell you where bottles might be waiting.
Online Retail Store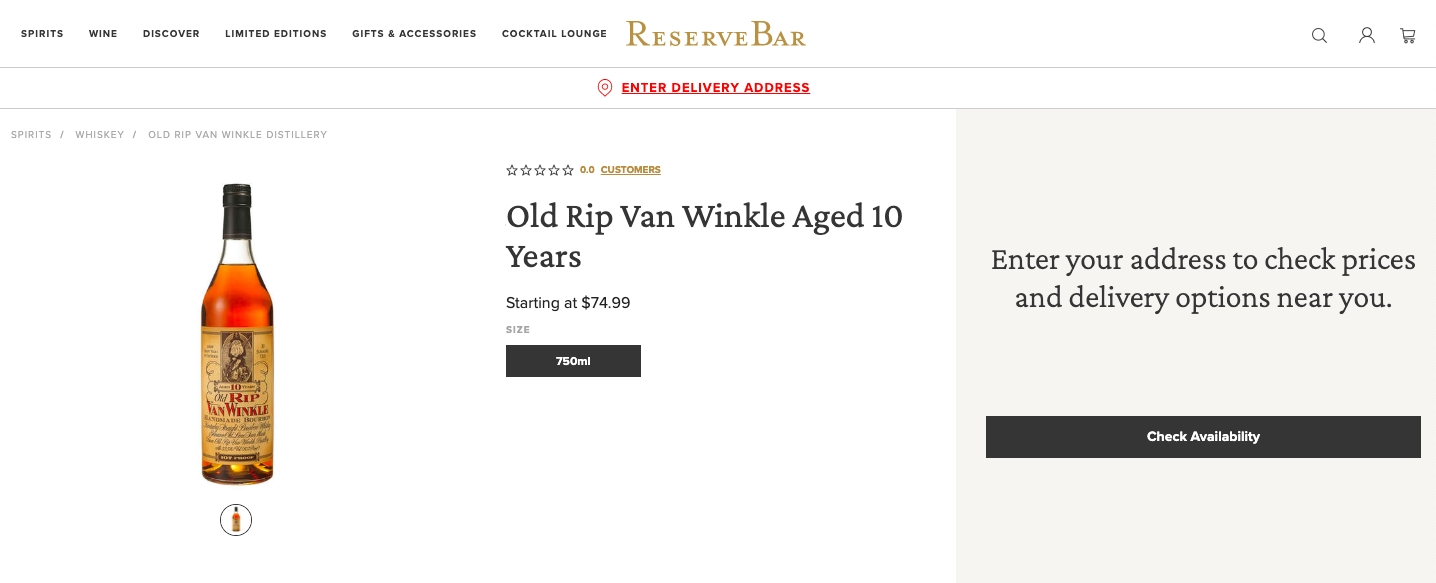 Online retail is an option for suggested retail. But it's honestly more for aftermarket retail. The likelihood of getting a bottle online is 100% dependent on either knowing when the store is releasing their allocation — so being a member or following closely online — or a complete shot in the dark.
This again boils down to you doing your homework and signing up for alerts. But really, online retail is mostly going to be filled with aftermarket bottles and prices. This leads us to…
Method 2 — The After Market
Vintage Bottle Shops
Vintage bottle shops — like Justins' House of Bourbon in Lexington and Louisville, Kentucky — are a sure-fire and legal way to buy new and vintage bottles of Pappy. As mentioned in the intro, Pappy is released every year. That means certain years have more value than others. Maybe you're looking for a bottle of Pappy from the year you graduated or were married or your kid was born — vintage bottle shops are your best bet. But you're going to pay … a lot. Those types of shops have to legally purchase bottles on the aftermarket and then in the immortal words of Rick from Pawn Stars, "they have to make a profit too."
One great thing about vintage shops like Justins', though, is that they also have a bar where you can actually try the stuff. Pours aren't cheap — expect to pay around $200 for Pappy 20 or 23 depending on the vintage — but you can get a taste.
Auctions
Auctions are happening all the time for American whiskey. There's usually some Pappy involved. This simply comes down to you following whiskey people online, Googling "Pappy whiskey auction," and having an ear to the industry in general. People who work at vintage whiskey shops, high-end whiskey bars, liquor stores, local whiskey clubs, and so forth will know when and where auctions are happening. Hell, they may well be hosting the auction.
This also means keeping an eye on auction sites like Whisky Auctioneer, Sotheby's, and many, many others.
Trade
This isn't illegal but it can be sketchy. But no one is stopping you from trading bottles. Naturally, this means that a) you have bottles worth trading for Pappy and b) you have a network of people to trade with.
One major aspect here is knowing the value of whiskey bottles already. So — I sound like a broken record, I know — do your homework. Of course, building a whiskey network you trust takes time. People do this by standing in lines overnight while waiting for releases at liquor stores and talking to folks, following IG whiskey accounts and not being a piece of shit, hanging around Reddit whiskey groups, and going out and meeting people at whiskey events (either at bars, clubs, or stores).
International Retail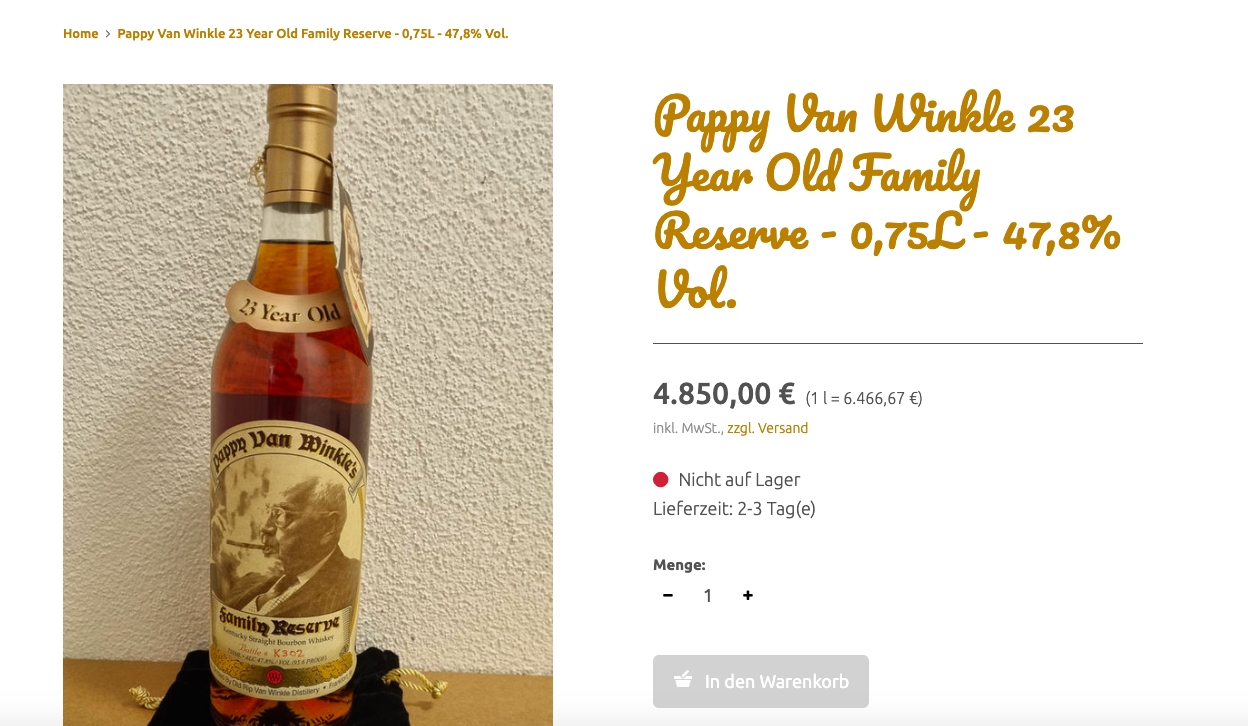 While some bottles do make it overseas, the bulk of them are for high-end retailers, luxury hotels, and Michelin-level restaurants in major metropolitan areas. Luxe department stores with food and drink sections — places like KaDeWe in Berlin (which has a great whisky section in general) — will get a handful of bottles but will likely be heavily marked up price-wise.
The point is, you're not going to bump into a bottle at duty-free in Heathrow or Schipol. But you might be able to get a pour in a 3 Michelin star establishment in London or Amsterdam.
If you are traveling abroad in a major market city, it's always worth dropping in a bottle shop. You might find a gem just sitting there collecting dust.
Method 3 — Whiskey Bars
This is your absolute best bet to actually drink some Pappy. Any self-respecting whiskey bar will have a bottle or two on the list. This is going to cost you — figure on paying around $200 for a pour of 15 or 20-year Pappy. Still, you will be able to buy a pour and enjoy it, finally.
Some whiskey bars do have small retail sections. Neat in Louisville famously has a vintage bottle shop in a cocktail bar. Jack Rose Dining Saloon in D.C. sells amazing barrel picks and sometimes a vintage bottle or two. As mentioned above, Justins' House of Bourbon is both a bottle shop and bar. The list goes on and on.
The best advice we can give is to get to know your local whiskey bar. At the very least, you'll be able to try the stuff and check that experience off your bucket list.