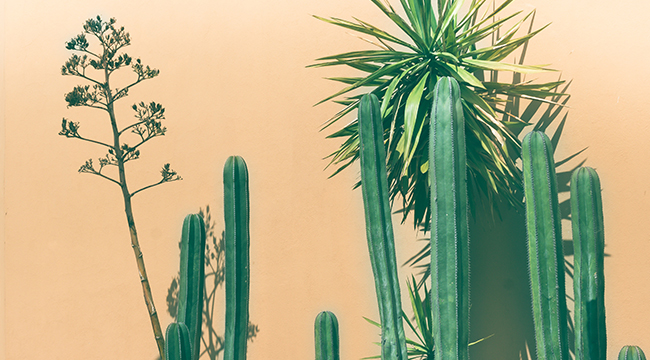 These are the impressions I had of Arizona before flying to Phoenix last minute for Lost Lake Music Fest: The soft, warm pastels in which Instagram influencers are currently awash; golfing retirees; Edward Abbey's concerns about irrigation; the throwback politics; roughly 71 pages of Cormac McCarthy's Blood Meridian; and an anecdote about the caterpillars of the Chiricahua mountains, which charmed a former neighbor of mine right before she fell for the entomologist cataloging them.
Visiting a city you've read a little about but which doesn't have as massive a reputation preceding it as, say, New York City or San Francisco, is a little like meeting someone for the first time based on their online dating profile or a friend's recommendation. You have a few tidbits to go on, but no idea how they'll line up with the real deal. You have high enough hopes to stake a plane ticket on the promise of a fun weekend, but no idea if there will be a genuine spark will.
Let me spoil the surprise and tell you right now: Phoenix left me wanting a second date.
At first blush, the city seemed like a place that would exist if Denver picked itself up off its plateau and descended into the Sonoran Desert. Both cities feel, to some extent, like cowtowns grown up, and both have historic districts flush with mid-century ranches and teeny post-war homes. But there's something different about Phoenix besides elevation and climate. Flying over the Salt River and the Superstition Mountains, Phoenix is unmistakable — glittering there on the edge of the desert. The flight path seems to cut right past the downtown skyscrapers. And there it is, and old-new city, partly Clint Eastwood's west, with its towering saguaros and saw-toothed mountains abruptly jutting out of the center of the city, and part California, the tidy grid of even streets and canals, its palm trees and bright flowers.
My first stop was the Camby Hotel, which has been open in its current incarnation as part of Marriott's Autograph Collection for about a year. The decor is luxe, cheeky, and Instagram ready. After a warm greeting from the desk, I posted up in the bronze-spangled, nouveau-deco Artizen Bar while housekeeping put the finishing touches on my room. An Arizona Hop Knot IPA by Four Peaks Brewing pair with an ahi poke salad and I was already feeling good to be out west. The lunch menu certainly has its finger on current culinary trends — making the fries festive with a dusting of sumac and amping up the Organic Amaranth Salad with a dose of fiery harissa. The dinner menu is simultaneously more refined and rustic with items like veal cheeks, bacon foie pate, and Colorado lamb chops.
Once I was up on the seventh floor overlooking Camelback Mountain, it was easy to settle in. The room was a generous size and the decor felt designer without being impersonal. A giant metallic installation over my bed read "everything's looking up," and I had to agree. My bathmat told me "clean up your act," and I was happy to do so. While I was dressing, I noticed that the illuminated cow skull sconce over my desk said "moo." Thirty minutes in my room and I'd already had a complete conversation with it.
Downstairs, the vampy bar Bees Knees lured me in with clips of Charlie Chaplin's City Lights projected over the mantle. With the lush banquettes and wood paneling, I felt like Zelda Fitzgerald might show up at any moment to toast the #refinedrevelery the Camby touts as its motto.
As far as bars go, the Bees Knees feels unique. You can't strut in to order a gin fizz or a Manhattan. Instead, they offer something called a Tipsy Tea Party on Fridays and Saturday afternoons. For a flat fee, you get a whole china pot of a tea-infused cocktail: think gin (definitely not bathtub) with white lotus tea, honey syrup, and lemon, or Chambord with Moet Ice Imperial, lemon, and orchid oolong simple syrup.
To accompany your teapot, there are two courses of savory and sweet treats: my favorite was the truffled deviled egg with potato chip dust (!), the bruschetta capped with herbbed ricotta plus Iberian ham, and the crab sliders with avocado. I don't have much of a sweet tooth, but even I was charmed by the house-made macarons, the pots de creme, and the teeny tiny desserts disguised as baby ice cream cones, all served on a lavish bed of candy sprinkles in a vintage cookie tin.
The only downside I can see to staying at a hotel like the Camby is that ideally, you'd have a car. The Valley of the Sun is far-flung, and just to hoof it to the Windsor Restaurant & Bar for brunch was an hour-long hike. There's a bus stop right out front, but Phoenix's' buses aren't nearly as convenient as its delightful light rail service. This is a city built in the age of the automobile, and travelers used to a pedestrian approach or the cheap cost of public transit will feel it outside of the immediate east-west axis of downtown. The upside, though, is that the spectacular views of Camelback Mountain from the Camby mean it's just a short drive from the base of the trail, making it even easier to tackle Phoenix's signature hike and take in the whole city from up top.
Ah, but back to Windsor. It's like midcentury rumpus room turned inside out into an adorable neighborhood pub with a killer patio, right on the end of a strip mall. With plaid seats, cute cacti, and plenty of wood and metal for a rustic early 60's vibe, the Windsor fits right into the neighborhood of Mad Men-era homes it's named for. The cocktails leap ahead of the Bees Knees by 30 years and you won't have any trouble finding a boozy take on an Old Fashioned or a more modern brunch drink that blends all the juice-bar virtue of carrots with the pleasant buzz of good liquor. You can't go wrong with the bartender's choice cocktail or the chef's special. I ended up with a lovely piece of grilled salmon atop a bed of savory risotto and a No. 39 with saffron-infused bourbon, Clement Mahina Coco, sesame-cardamom syrup, and lime. It was the perfect fuel to get me through an afternoon of strolling through the August heat.
I split up my stay between the Camby and a hotel closer to downtown (and the Lost Lake Music Festival), the Kimpton Hotel Palomar Phoenix. Nestled in a neighborhood Phoenix has clearly put a lot of elbow grease into of late, the CityScape district, the Kimpton is especially convenient to light rail (the closest station is emblazoned with the visage of Sandra Day O'Connor). There are plenty of attractions close at hand with a wide range of appeal, from the science and art museums to Chase Field.
During my stay, the hotel was also home to the Sacramento Kings basketball team, if that tells you just how close they are to the Talking Stick Arena. The rooms are a generous size and nicely appointed, and for the Ibiza crowd, the rooftop bar and pool area hosts DJ sets that will unleash your inner whoo-girl.
Best of all, it's in walking or rail distance of the up-and-coming Roosevelt Row arts district, where street art and quirk abounds.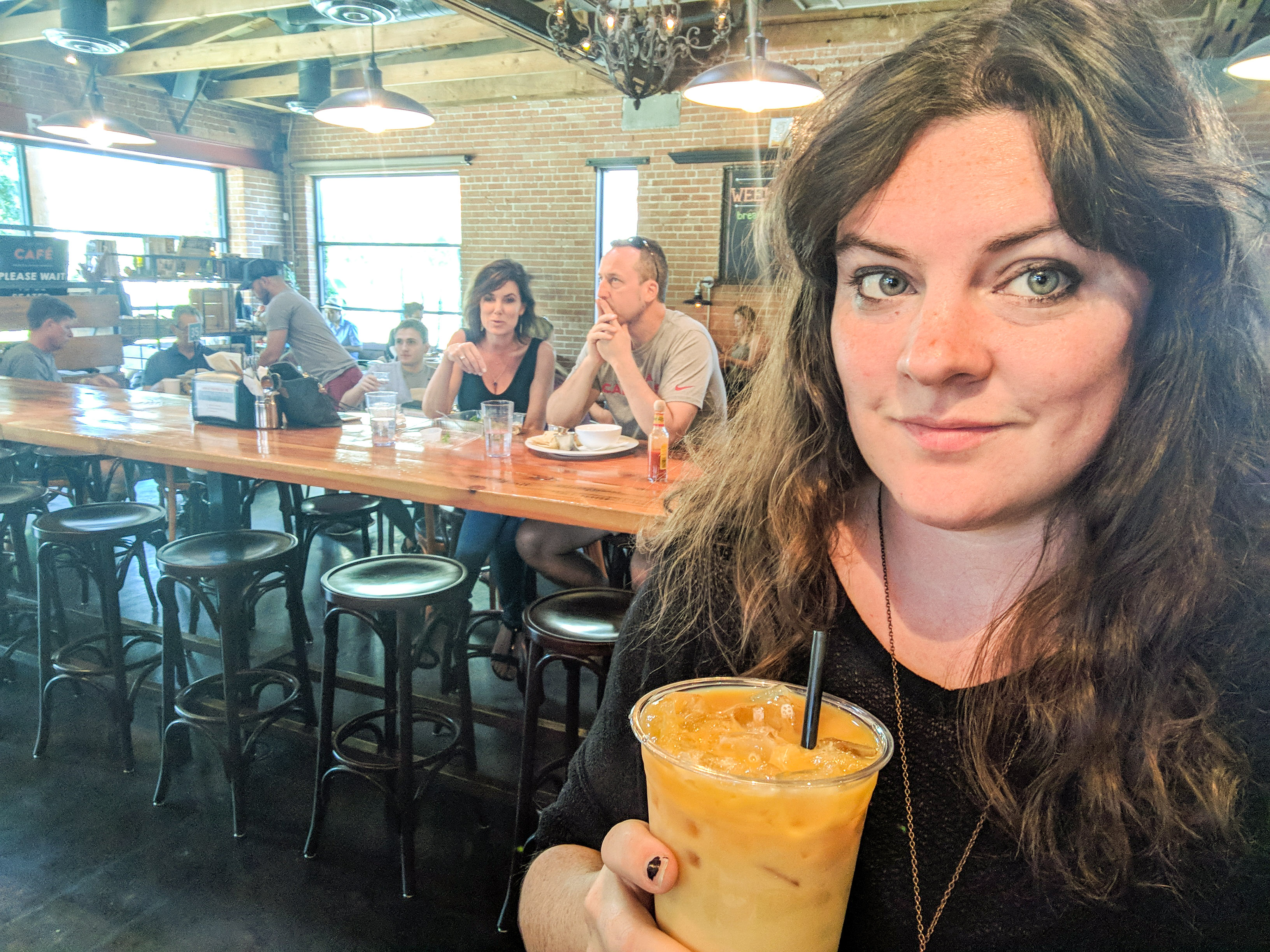 Cartel Coffee at Phoenix Public Market Cafe

You never know what you'll run into in the Roosevelt district. There is still plenty of evidence of the neighborhood's rough and tumble past, but all the construction activity and coffeeshops hint at it heading towards someplace akin to Denver's RiNo. On one afternoon stroll I encountered a compelling art exhibit by local teens on intimate partner violence, reasonably priced vintage wax (bring a second suitcase), a slew of vibrant murals, and an art installation-cum-spiritual-journey centered around interacting with aloe plants.
On your way up from the Kimpton, have brunch at Phoenix Public Market– time it right to get the Pork Chile Verde pot pie, split some Devil Fries with pequin pepper aioli, and pair the whole resplendent mess with a Sonoran gose by Borderlands Business that tastes like salt and stones and sunshine. If you're there on a Saturday, you can check out the market that pulls produce from farmers on the city's fringes and is taking steps to resolve the downtown food desert that for years plagued Phoenix's neglected southern end.
Next, kill a whole flock of birds with one stone when you check out MonOrchid, which blends an art gallery with coworking and event space, a succulent boutique, and be Coffee. The latter boasts a diverse menu with a little bit of everything– Korean Yakatori, Peruvian ceviche, and two takes on tacos because it's the southwest. The burrito and burger at be Coffee are resplendent with Tenderbelly Bacon, as are so many food items at Phoenix's reputable restaurants. This ode to pork was devised by a pair of brothers whose origin story has seen them bounce from Idaho to Arizona to Colorado, and it's celebrated by Phoenix as the city's hometown ham.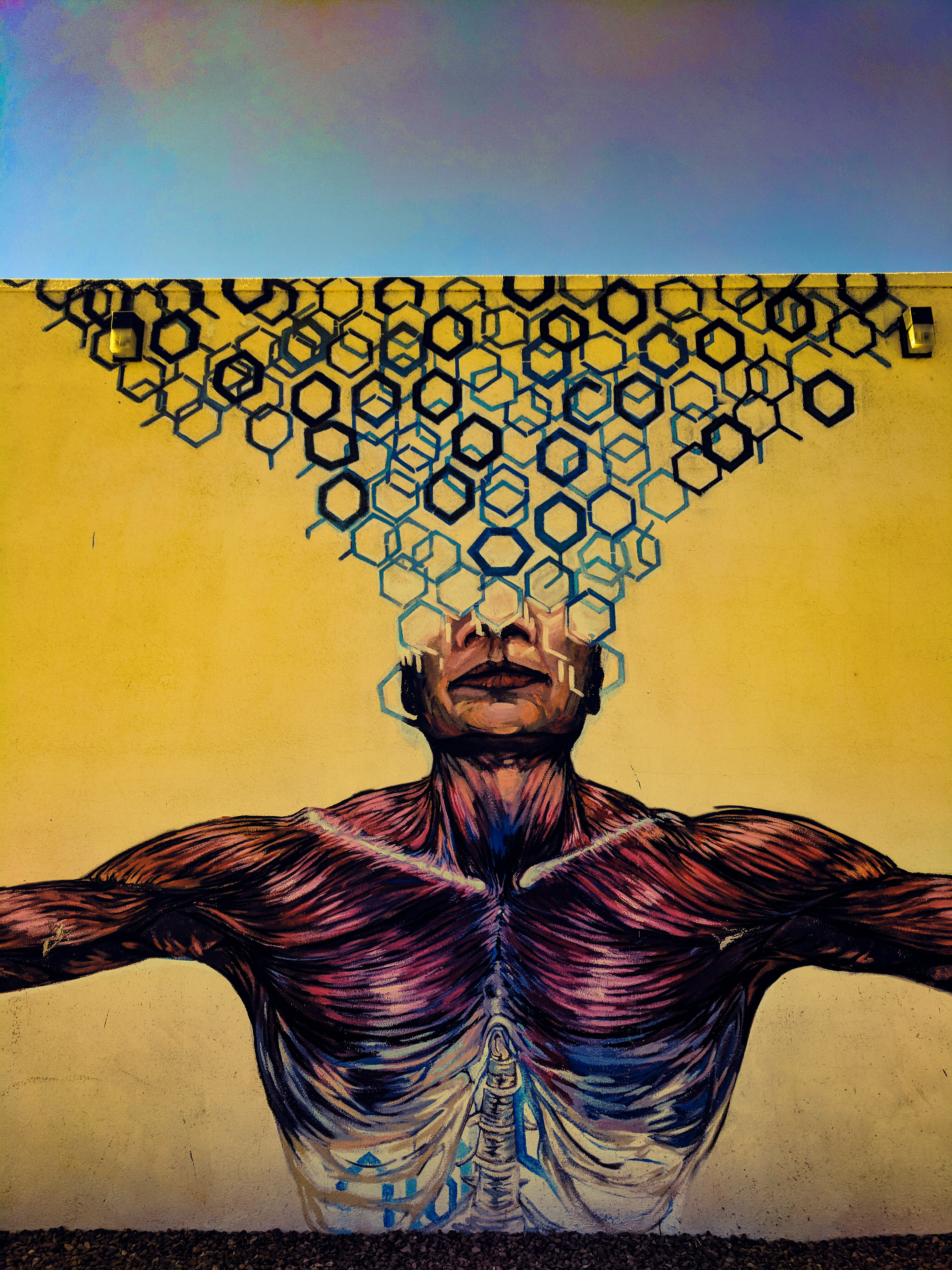 When the time comes for more driinks, swing by Angel's Trumpet Alehouse for some western brews, including a few by THAT Brewery, an in-state outfit. Once you're rocking a good buzz, you'll want to check out Revolver Records. This unassuming little time capsule of a shop isn't too slick and has the kind of grit that will put you at ease. No one here will yell at you if you inquire about a Stevie Wonder album like Jack Black did to that poor boomer in High Fidelity, and you will find some gems. Round out your Roosevelt experience with a full walkabout of the neighborhood, and then grab the train back to the Kimpton for a tipple.
The Blue Hound hotel bar and restaurant boasts a cocktail list clearly crafted by witches. Order the Lawless, an atmospheric drink that captures Cormac McCarthy's essence, with Evan Williams bourbon, Truck Stop bitters, bäska snaps malort, and perfumed plumes of genuine tobacco smoke.
Once you've dined, drank, and taken a disco nap, you'll be ready for a show at Crescent Ballroom, which is right around the corner from the hotel. Tucked down a side street next to an auto shop, this two-story lounge and concert venue feels very 1990s in all the right ways. They have a great selection and beer, an irresistible Manhattan, and bleacher seating if your feet are tired from stomping the pavement all day. They also have a great community-minded ethos, with regular events beyond the rock shows (the Meatpuppets played shortly after my stay) and dance parties, like their weekly collaborations with Slippery Pig Bike Shop and frequent Flamenco shows.
Nearby, the Crescent's cousin Valley Bar has unique happenings on offer like Bar Flies, which promises "true stories and drinks." It's a chance to take in readings from area creatives, centered around a monthly theme and a kicky soundtrack. Past events have also included Phoenix history and walking tours that transform these city streets into text. If you find yourself wanting to get to know Phoenix on a deeper, more intimate level this is the way to get properly acquainted. There are also plenty of small indie acts and DJs for those in search of some sweet licks and sick drops.

One of the lovely things about a city with Phoenix's asphalt sprawl is that while you get to enjoy the culture of a mid-sized city, it's easy to escape to nature. After enjoying the Kimpton's free coffee and tea in the hotel's living room near Blue Hound, head out to the Desert Botanical Garden. There you can "meet" some saguaros. That's how a friend of mine's husband put it, after they traded their Atlanta Southern roots for the American West and had their first brushes with the giant cacti. There's no denying this is a unique landscape, and if you're from the comparatively lush climes of Appalachia, New England, the Pacific Northwest, or the Great Lakes, you'll take special delight in such foreign ground to cover.
Whether you catch a rideshare from the Botanical Garden or jet from the Kimpton by train, the Phoenix airport is ridiculously convenient and easy to access. If you needed any further differentiation from Denver, the Phoenix airport is comfortingly free of any demonic overtones and has a nice layout that keeps security lines from getting too snarled. If you haven't had a chance, grab Phoenix's signature Sonoran Dog (a hot dog wrapped in bacon, natch) from Sir Veza's Taco Garage before you catch your flight home.
As you ascend back over the Superstition Mountains, gaze out the window, down at Phoenix as it glitters at you one more time before fading back into the Sonoran desert. Feel golden and electric, and start making a list of what you want to do when you return. This city is moving fast, like so many mid-size American cities, adjusting from the errors of mid-century development, drawing back into itself, building on its unique strengths. Long a city of in-betweens– balanced between California and New Mexico, desert and oasis, old and new– Phoenix is embracing its heritage and its future, and it's growing into more than a sum of its parts.
Go ahead and book that second date, and start rehearsing your story about the first time you fell for Phoenix.