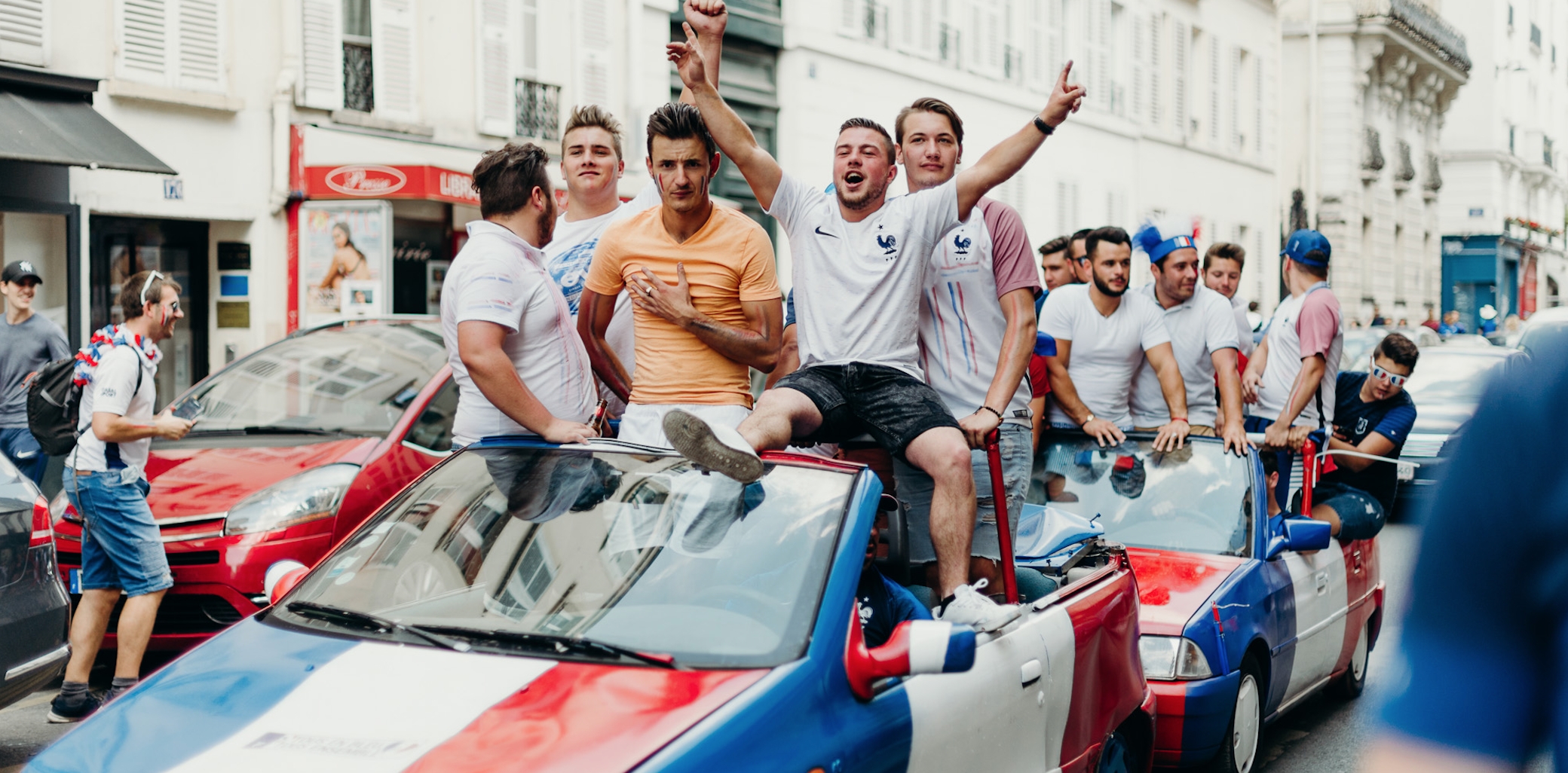 "You know something about French football!" Exclaimed Francis, one of the regulars at Le Pataquès.
Sitting across the street from one of the hidden gems of Paris, the restaurant La Baratin, Le Pataquès serves both as a classic dive bar and a mini United Nations for the troupe of devoted multi-nationals that meet there regularly on Tuesdays. Slipping in for the first time during the World Cup quarterfinal, it was my hope that the cagey proprietor of La Baratin would save my seat at his TV-less bar so that I could return for dinner during the half-time interval.
I love a good seedy side-street joint. They rarely harbor the insufferable pretentiousness that you find in a place too popular for its own good, having had its soul eroded by the constantly lapping wave of new consumers. Samir, Le Pataquès' French/ Tunisian proprietor, is pure-charm filtered through a steady stream of smiles. When I first found his bar, I knew I'd found my tiny oasis of humanity in an imposing and at times dizzying city.
Paris, like so many big cities, has a propensity for swallowing travelers up. It is easy to get lost in the charm and romance of it. Love letters to the city, from Amélie or Faubourg 36 to Paris Je t'aime have painted fondly, if not idealized, the French Capital. It's true, your life's best croissant is only a corner away, but finding your private Paris can take longer than finding an operable green city bike.
Fortunately, when I step into a local's join like Le Pataquès, I arrive speaking the language. Not French, in this case. I'm talking about the language of soccer.*
*Before pointing out that soccer is strictly an American term, please remember that it is actually a British reference to association football, as opposed to gridiron football. I'm American, so that's what I call it. Australians have adopted the same word. Italians call the sport "calcio." It's all fine, really.
Maybe more than any sport the world over, soccer has its own lexicon, grammar, and dialects. Understanding the nuances of different soccer cultures can take years to develop. A baccalaureate in the history of the game would be a serious undertaking, spanning centuries, political movements, and the intervening changes to the geographic landscape. Luckily, that depth of knowledge isn't a prerequisite. Like an appreciation for food, music or the local language, cursory interest in a community's soccer culture shows that you have taken the time to be interested in them. Even a loose knowledge of the players — in this case, where they play club football, where they are from in France, their best position — can be enough to invite intrigue.
I've had people offer me their homes stemming from a conversation about soccer. I've been invited to dinner, met mom, and offered free travel to another country. In 2005, I was adopted and apprehended by a group of Portuguese architecture grad-students on a group field trip to Barcelona because I was wearing a Cristiano Ronaldo jersey.* I didn't pay for a place to sleep the entire two weeks I was in Portugal.
*Not my proudest moment, however, I would point out that this was prior to his super-stardom. The number on the back was #17, if you get my drift.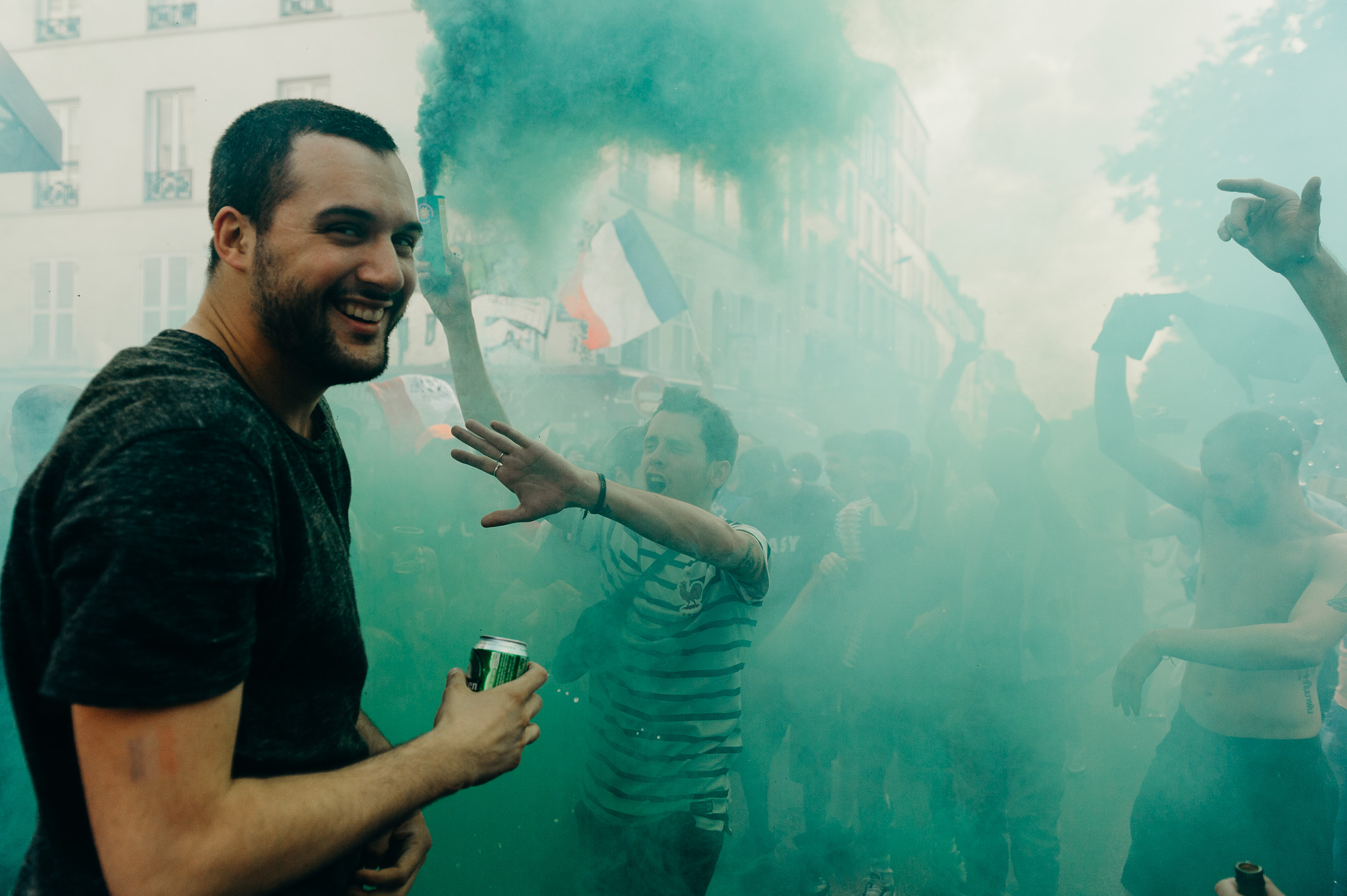 The crew at Le Pataquès is starkly different in composition to the thirty Portuguese twenty-somethings I hung with more than a decade ago. Yet the attitude is roughly the same. Before Francis complimented me on my knowledge of his country's sporting prowess, I was evaluated by Maude. A French diplomat in her early sixties, Maude speaks a half-dozen languages, has a traffic-stopping stare, and is generally a femme fatale of the highest order. The moment I entered the bar, she seized on my lost-child look and made me feel welcome — introducing me to her Spanish-French, Harley-Davidson loving husband, as well as Francis, Samir and the rest of the crowd.
After being accepted into the fold, my girlfriend, Jess, and I watched the remainder of the World Cup games at Le Pataquès, surrounded by our new Parisian crew. Like any well-meaning friends, good-natured ribbing signaled that I was an insider. This is a worldwide custom I've come to understand. If they don't like you, they'll be polite and non-engaging, only to make fun of you not long after your dismissal; if they're your friends, they tease you to your face. Since my Italian citizenship contractually obliges me to root against France, I was not spared a deluge of jabs regarding Italy's lack of participation during this World Cup Finals. I fired back as best I could (with such little ammo, I had few options), as per the international languages of mateship and sport.
This is the atmosphere I crave when I travel. The feeling of being part of a community. Because communities allow for accommodating errors in communication. You can fumble a little and still be trusted. With that cushion, there's a better chance of connection. But that cushion is only earned when a traveler — in this case a US traveler — defies expectations. An American who likes soccer/football/futbol/calcio? Perhaps there could be more to this mysterious soul?
It should be said that despite the rapid growth of soccer's popularity in the U.S., it is my experience that the majority of people I meet traveling in the world still regard American soccer fans as a curiosity. This may come as a slight shock to those who were gutted when the United States missed out on the World Cup, but in international circles, our soccer fandom is perceived as lacking the tenacity seen just about everywhere else in the world.

Despite having watched nearly every on-air minute of the World Cup since 1990, I've never been in the country of a winner during the final. Though, on a day which still causes me agony, I have been within a penalty shootout of such an occasion — when watching the '94 finals at my Nonna's in the Italian Riviera. This year, I had that chance again and, without a French nonna to visit, I craved an epic memory.
Jess and I decided it would be fitting to head down to the Champs de Mars to watch the World Cup final on the big screens, under the Eiffel Tower with 100,000 of our closest baguette and rosé-wielding friends. Surely, two hours prior to kick off would be enough time to find a cozy spot on the side, where we might participate in the revelry. Noooooope. It was, pardon my French, a fucking shit-show. Police in riot gear had sealed off the entry points, declaring the site full.
We immediately joined the frantic, but euphoric, hordes in determining backup plans of varied precalculation. Naturally, our pick was Le Pataquès. There, a previously unknown Italian-American and a semi-sick Australian-Brit were greeted with open arms and an improvised version of a hot toddy we had taught Samir to make the week prior, while I was nursing a cold during the France-Belgium semifinal. Samir even let me paint the Croatian red and white checkerboard flag on my cheek with his French flag facepaint, laughing while reminding me that France was a lock to win.
Samir was right, of course. France won, by a score of 4-2, and I couldn't help but be content for the rapturous joy of my new French friends, even if they couldn't help themselves to be very French about it.
"Of course we won, we were the best!" exclaimed Francis, in a beaming moment of pride.
If it annoyed me, it was only because it was so achingly true. This French team is deeply skilled, but also insanely likable. If you don't marvel at the sheer speed and control of Kylian Mbappe, I will question your knowledge of the game. If Antoine Griezmann's goal celebrations, which oscillate from imitating Hotline Bling to dances from the video game Fortnite, don't make you smile, perhaps you should try watching competitive lawn-mowing instead. The ghost in the machine is possibly 5'7 defensive midfielder N'Golo Kante, a descendant of the Claude Makelele archetype of a patrolling defensive midfielder. Kante is so humble, teammate Steven N'Zonzi had to tell the other French players to give him a turn to hold the trophy because. That doesn't seem particularly French, but it was endearing.*
Soccer aside, what we found in that little corner of unspoiled Belleville, in the 20th Arrondissement of Paris, was a community that was gracious, unpretentious and unceasingly welcoming to outsiders. A conversation as to why I supported Belgium led to an introduction to the core personalities of the establishment. Out of that came the stories. Stories of how the local rose vendor, who moved from Afghanistan two decades prior, had established residency with help from the patrons of the bar. How he had legally brought his son to France, at great financial cost, and how that son can now count among his unofficial guardians about twenty or so regulars of Le Pataquès.
If none of this makes any sense to you, I totally get it. Google the players mentioned above and you'll have a home at Le Pataquès in 2022.
As we set out after the game to document the revelry, it became apparent that the city felt almost as communal as the dive bar we'd just left. Perhaps I was seeing it through rosé-colored lenses (because I'd certainly consumed plenty), but the kindness and close-knit quality were in evidence there too. Folks helping each other climb statues would also dance together. Someone stopping a car to help an elderly lady cross a street would then join their friends in jumping on said vehicle to create a mini parade, stopped or not. After heading down to the Champs Élysée, getting carried by the swell of fans toward the Arc de Triomphe, seeing strange-smelling canisters bounce around my ankles, involuntarily crying (having been tear-gassed by the police), and, finally, making my way to the side streets, I can safely say I am deeply proud of the French.
Almost everyone around me exited the scene peacefully, looked out for one another, and continued the celebration of having just won the world's most popular sporting competition. It was a true joy to watch.
Back on the Metro, stuffed in the subway car like a perfectly salty saucisson d'Alsace in its casing, the diverse crowds started chanting "Champions du Monde, Champions Du Monde!" in unison. In one of the most culturally diverse cities on the planet, shoulder to shoulder on a train that was barely coping with the increased strain, we were all connected. In that car, for a moment, we were one community — coming together through a sporting event — celebrating (somewhat begrudgingly, for me) France's big win.
---
---
Mark C. Stevens is a filmmaker, seven continent traveler and the author of Cooking with Spices: 100 Recipes for Blends, Marinades, and Sauces from Around the World. Follow him on Twitter or Instagram.