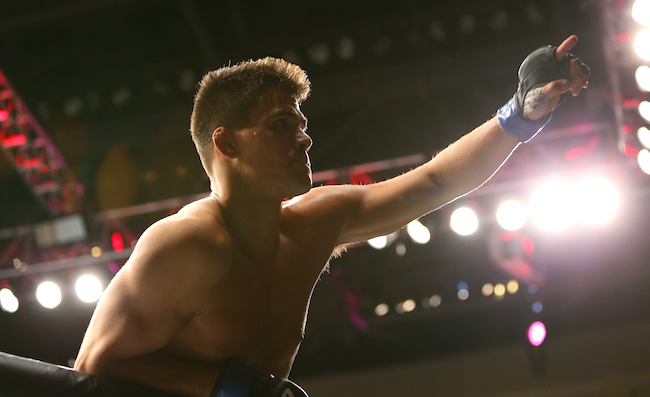 The CM Punk slayer that is Mickey Gall has been campaigning for a pro graps style twist to his bout with Sage Northcutt on Saturday. SOMEONE ALERT BRUTUS BEEFCAKE AT ONCE!
Gall once again leaned into his call for Sage Northcutt to put his distinctive coiffure on the line in their UFC on Fox tilt when speaking with Ariel Helwani on The MMA Hour. For context, here's the grrr! fighting men's cuts that'd be on the line.
There's a bit of trash talk in Gall's call for a trip to the barbershop of shame, but the welterweight fighter stresses that he's interested in this stipulation because it seems fun. (Which it would be.)
"I just thought it would be fun to do," offered Gall "He's got the spiky hair and I offered to do the hair bet, loser shaves it. People seemed to latch onto the hair thing, but I don't know, man. He hasn't said anything. I'm down. It's hair, it grows back, and I'm confident I'm not going to be the one shaving it. I think he's a little worried. I think that shows a little lack of confidence, afraid to lose those locks."
We imagine this scenario might horrify MMA purists that could picture the evening's Paige VanZant vs. Michelle Waterson headline fight ending with Kane bursting through the floor of the Octagon, but if Northcutt decides to play along it could another interesting element to a not too shabby network TV card.
As for how Gall feels about Northcutt: The Man/Brand …
"Sometimes I feel like he acts like what he thinks a person is supposed to act like," said Gall. "Like, it's just over the top, where I feel uncomfortable conversing with him. But I have no hate for the guy. He seems like a nice kid. He's a young kid. I'm sure he'll grow into his own and get a genuine personality eventually. But yeah, he just seems a little corny."
One person Gall doesn't find corny? Dwayne "The Rock" Johnson. Yesterday, The Rock took a break from filming roughly 60 movies simultaneously to show some love to the dude that beat his former in-ring rival.
(Via MMA Fighting)