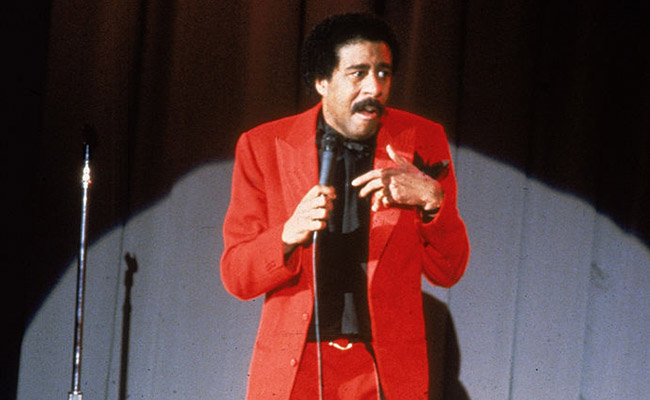 "I'm from the Midwest, he was from the Midwest. I grew up in crack houses, being around hoes and pimps. It's not going to be a hard stretch for me."
That's what comedian Mike Epps told WTF podcast host Marc Maron when asked about taking on the long-awaited Richard Pryor biopic that's been in development limbo for years. It's been 10 years since the revered comedian's death, and Pryor's legacy and influence can still be found in pretty much every stand-up comic (whether they admit it or not) to popular shows like Key & Peele. Bringing that legacy to life on the big screen has not been an easy task, however, with the project getting bogged down by numerous re-castings and inner-family turmoil. While nothing's been shot yet, it looks like 2016 might finally be the year that Richard Pryor: Is It Something I Said? becomes an actual movie and not just an idea, with reports indicating that cameras will roll in March.
The first buzz about telling Richard Pryor's story dates back to 1995 when it was reported that Damon Wayans would play the comedian in a movie based on Pryor's autobiography, Pryor Convictions: And Other Life Sentences. Martin Scorsese was said to be considering taking on the directing duties, but the project fell apart and ended up as cable special instead. Talks of a proper big-screen biopic didn't resurface until four years after Pryor's death when it was reported in 2009 that Dreamgirls writer/director Bill Condon had written a Pryor biopic and tapped Eddie Murphy to star. Considering that Murphy is probably the biggest stand-up since Pryor, that he worked with and was friendly with him, and even did impressions of the comedian in his Raw special, the casting made a lot of sense. Additionally, Condon had already worked with Murphy on Dreamgirls and had gotten interest in the project from both Fox Searchlight and The Weinstein Company.

Of course, nothing in Hollywood works out that smoothly. Maybe the pressure was too much, or maybe he realized he'd have to break his two-decade long streak of not doing stand-up, but for reasons undisclosed, Murphy backed out of the role by October of 2009.
Next in line was Marlon Wayans, a comedian whose acting resumé includes gritty dramas like Requiem for a Dream and a whole lot of comedy like White Chicks and Little Man. The casting choice caught the industry off guard, considering Murphy's fit for the role, but producer Chris Rock was reportedly stunned at Wayans' ability to channel Pryor's darker moments in an audition tape that was eventually leaked to the public.

Wayans told the Los Angeles Times that he'd "never been more excited in his life" when he got the role and that he and Rock were simply waiting for the studio to give them the green light.
For Wayans, that green light would never come, though. Instead, Condon put the project back on the shelf to direct the Twilight movies. It would later be revealed that Pryor's widow, Jennifer Lee Pryor, may have had an influence in the studio's decision to cut Wayans out of the movie because she felt the actor didn't have the "rawness" to portray her late husband.
When the project did eventually resurface in 2013, it was rumored that Nick Cannon might be in the running to star in the movie, which by that time had gained the interest of director and Empire co-creator Lee Daniels. Cannon had hinted to TMZ that he'd been tapped for the role and uploaded a photo of himself to his Instagram comparing his likeness to Pryor with the caption, "Now ya'll get it!"

Unfortunately for Cannon, many people, including Pryor's family, didn't get it. The most adamant about Cannon not getting the role was Pryor's widow, as well as Richard Pryor, Jr., who said he didn't want the guy from Drumline playing his father and that the issue wasn't about looks.
"A lot of these comics talk about 'I can do it because I look like him.' That has nothing to do with it and they talk about how my dad was on stage, but it's more than that. I don't want to see my dad as a caricature. People need to know what he was like offstage."
The prospects of Nick Cannon landing the coveted role never picked up much industry steam, though, and it was eventually announced via Twitter by Lee Daniels that Mike Epps would be taking on the part.
Get ready y'all- #MikeEpps as #RichardPryor pic.twitter.com/0sothu7yVB

— lee daniels (@leedanielsent) August 24, 2014
Epps' ties to the project actually date back further than both Murphy and Marlon Wayans, with the actor being groomed for the part back in 2005 while Pryor was still alive. Epps had become friends with Pryor in the years before his death and visited the comic several times, gradually getting to know him and his wife.
"I went to his house on his birthday. … I guess this was the audition process," Epps said. "She had me keep coming up to the house, meeting with her, and before you know it, she was like, 'Richard, this is Mike, he's playing you in the movie,' and then they announced it in Variety."
While it took roughly a decade for Epps' casting to actually become official, it seems like everything is filling in around him thanks to the additions of Tracy Morgan (in the role of Redd Foxx), Oprah, Kate Hudson, and the news that Eddie Murphy had rejoined the project, this time playing Pryor's father.
It'll be interesting to see how the film stacks up against other recent acclaimed biopics like Ray or Walk the Line. It certainly hasn't been an easy road in bringing the film to life, but then again, maybe that's only fitting being that there was nothing easy about Richard Pryor's life.