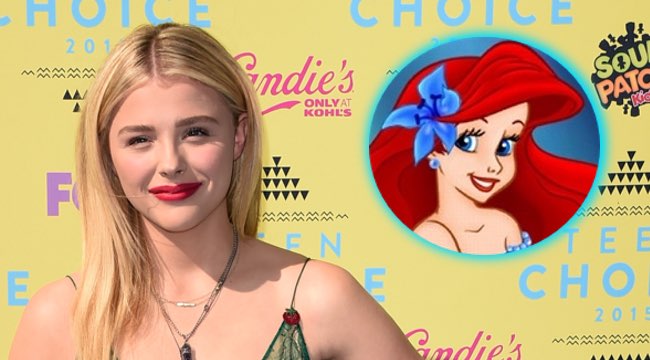 In November, the internet grew unexpectedly intrigued over news of Chloe Moretz signing on for a live-action remake of The Little Mermaid. The thought of Hit-Girl throwing down her gun to sing "Under the Sea" was an odd one to accept, but people were mostly cool with the idea. Of course, Moretz herself was pumped to join the production, which surely can't be a straightforward telling of the tale (because Disney won't be involved). How Working Title will manage all those underwater scenes shall remain a mystery, but of course, they'll green screen the hell out of this flick.
New details have dropped about the film, and fans are not happy about one thing. Moretz sat down with Entertainment Tonight to talk about how her Ariel will be a "modern revisionist tale" as well as "progressive for young woman," which was all good news. Then Moretz dropped the surprising detail of how, since the project will adapt the Hans Christian Anderson novel, Ariel will not have red hair. She will be a blonde.

Naturally, Twitter was all kinds of upset about this move. No red hair? People are really angry. They feel like their childhoods are being torn apart, but some people are laughing at the controversy. Finally, some folks are so irritated that they're dropping "spoilers" about Ariel's fate in the book.
Read forward at your own peril.