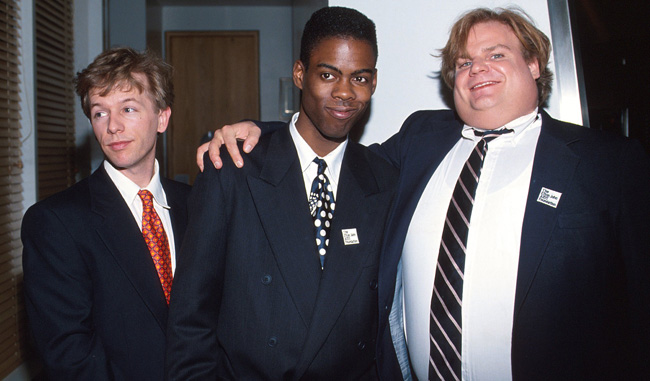 With the release of the recent Shrek footage featuring the work of Chris Farley and a documentary detailing his life, it's hard not to think about what might've been for the former SNL cast-member's career. While we've explored the personal side of Farley and the duality within his comedic presence, a look at an alternate career path isn't something that's been dived into at length. Possibly because it's too sad, too speculative, or even too difficult to fathom the man as anything but a force of nature when it comes to performance.
That's where the idea behind this piece begins. It's something you see bounced around — with varying levels of tact and care — in comment sections and forums across the Internet, usually fueled by late night speculation during some random SNL clip, a showing of Tommy Boy on Comedy Central, or even reading a post on this very site. What would have become of Farley if he hadn't succumb to his demons? How far would the arc of his career have soared and would he have even opted to stay in show business had he survived?
It's not like this is the first time we've been given a glimpse at a possible future with Chris Farley. His turn as Shrek isn't some hidden surprise that came from nowhere and it isn't the only lingering thread from a career that was cut short by self destruction. There were even rumors that Farley was meant to take the Kevin James role in Grown Ups, something that has been hinted at by the cast numerous times since the film's release. Rob Schneider even compares Kevin James to the late SNL great in this blurb about the film in SF Gate:
Comparing James to late SNL stalwart Chris Farley, he says, "Believe it or not, (Farley) was 330 pounds of grace. I think Kevin is graceful too. And you can't learn to be likable; he's one of the most likable guys you'll ever see on screen."
This is just a rumor, though, something that Chris Rock and David Spade confirmed during this bit from Howard Stern in 2010, while also noting that if Farley was alive, the role would've likely gone to him.
There's no solid answer, especially since reality is cruel and final. But you can drag some firm possibilities out into the open by comparing Farley to his friends and contemporaries, the similar journeys of other celebrities, and the projects he was considering at the time of his passing. Take for example the promise behind a tentative film based on the life of Roscoe "Fatty" Arbuckle, the silent film star whose life also ended early and was hindered by scandal stemming from a lengthy murder trial. It was apparently Farley's dream project and would've been his first dramatic turn on screen had he stayed clean, something that seemed to be a sticking point with his brother Tom in the book, The Chris Farley Show:
Despite making money, Beverly Hills Ninja was largely an embarrassment. It bombed with critics and disappointed even hard-core fans. Chris found himself at a professional crossroads. Hollywood had typecast him as the clown, and he had been fully complicit in that, playing the part whenever he was called upon to do so. But fatty could only fall down so many times. Fortunately, a project had arrived with the potential to take Chris in a new direction. Earlier that year, Bernie Brillstein had brought Chris together with screenwriter and playwright David Mamet, and together they'd agreed to collaborate on Chris's first dramatic film: a biopic of Fatty Arbuckle…

Chris was drawn to it for the man himself. Arbuckle was a brilliant physical comedian who loathed his extra girth and outsized persona, despite having made it his professional stock-in-trade. After years of being made to play the crazy fat guy, Chris was being asked to play the guy behind the crazy fat guy. He was being asked to play himself, a role he rarely performed for anyone. Much like Jackie Gleason's turn as Minnesota Fats in The Hustler, this was the role that would have fundamentally altered the course of Chris's career.
Later in the book, Second City alum Tim O'Malley recounts how Farley obsessed over the role while deep in a pit of addiction. It was a hindrance to his well-being according to O'Malley, who attempted to coax Farley to get help for addiction before even attempting the project:
And that's where I left it. That Fatty Arbuckle movie, that was the line in the sand. Either you get sober or you get dead.