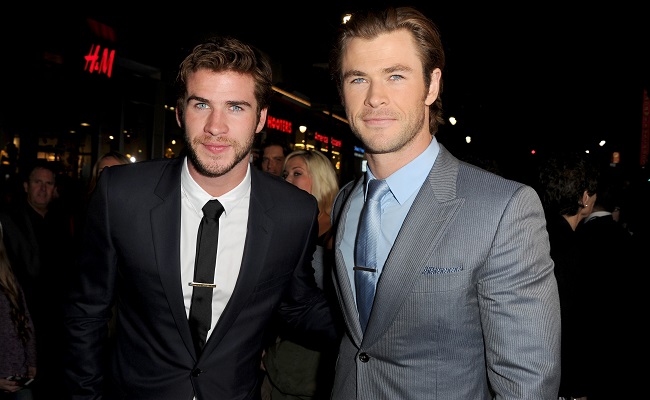 Avengers: Age of Ultron star Chris Hemsworth proved how worthy a son he is, though not to his faux Norse god father Odin. Instead he used his considerable wealth to pay off the debts his parents had accrued over a lifetime of raising him and his younger brother, Liam Hemsworth. At least that's what little Liam said in a recent interview with The Independent.
According to the 25-year-old star of The Hunger Games: Mocking Jay — Part 2, Chris called their father one day and told him to check his bank account:
"He called my brother Chris back and said: 'I don't know how to feel. Since I left home I have had debts and I thought I'd be paying them off until I died and have this weight hanging over me, and now to have them completely cleared.'"
"They are so happy now and able to spend more time with us," Liam continued, adding that he "would love to be able to do something for [his] parents like that."
It almost seems like the younger Hemsworth is jealous of his older brother's generosity, though Liam has had plenty of success in recent years with which to do good for others. Hence his serving as an ambassador for the Australian Childhood Foundation.
As for Chris, his giving back to his parents now frees him up to use all his Marvel money for other societal goods. Like, for example, regaining all the weight he lost for In the Heart of the Sea. You know, so that we won't be tempted to send him candy bars.
(Via Fox News)