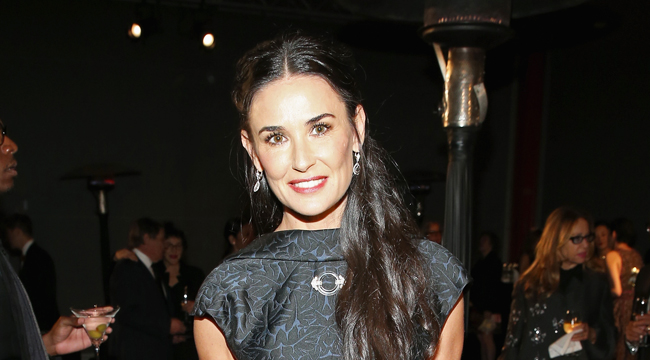 The home of actress Demi Moore saw a terrible tragedy on Sunday morning. The details of the situation remain unclear, but witnesses report that a loud pool party took place on Saturday evening. Demi wasn't at home during the shindig, but her neighbors say a number of parties have been held despite her absence. TMZ's sources contradict themselves a few times during a short report. First, they say Demi's daughters have been throwing ragers, and then they claim none of Demi's family was present during Saturday night's party. Police do not suspect foul play:
A man was found dead Saturday night in Demi Moore's swimming pool … TMZ has learned.

Law enforcement sources tell us, a 21-year-old man apparently drowned in the swimming pool and his body was discovered early Sunday morning at the bottom of the pool.

We're told there was a party at the house.  Demi was not there … she's currently out of town.  A law enforcement sources tells us none of Demi's family was present.

A neighbor, however, tells TMZ that Demi's kids have been staying at the house for weeks and have been throwing "parties every day, day and night."  She says there are frequent pool parties.
TMZ follows up with a witness who says the drowned victim didn't know how to swim, and he may have accidentally slipped and fallen into the pool. Somebody threw a party at Demi's house, and there was "a limited amount" of alcohol on the scene. We'll update this story if more details present themselves.
(via TMZ)