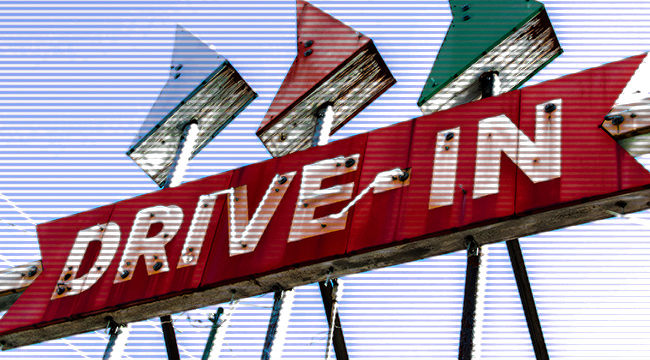 Like many outdoor movie theaters across the country, Warner's Drive-In went dark in 2014.
The Franklin, West Virginia theater had been in operation for 62 years, built during the drive-in boom of the mid-1950s. The once-thriving institution, however, couldn't afford the switch to digital projection. Quentin Tarantino declared that "cinema is dead," following the demise of 35mm projection, and that was certainly the case for many outdoor theaters. Of the less than 400 drive-ins left in the U.S., the Los Angeles Times estimated in 2013 that just 10 percent were equipped for digital projection.
Making the upgrade would have cost Warner's an exorbitant sum for a small business — between $50,000 to $100,000. Instead of going digital, its previous owners decided to close the beloved theater, a staple of life in the small Appalachian town, which is home to just 721 people.
Just two years later, Warner's Drive-In made an unexpected comeback — and it's not alone. The drive-in is witnessing a resurgence, with local theater owners fighting to save or restore their venues decades after the outdoor movie was pronounced dead. Franklin held a fundraiser to purchase a digital projector, selling t-shirts to pull together the necessary cash. According to Mike Mallow, the newest owner of Warner's, the enthusiasm from the community was palpable. One townsperson even sold his house and donated the proceeds to the revitalization effort.
"It's been part of the community since 1952," the 35-year-old tells us. "Several generations have grown up with it — me being one of them."
As a child, Mallow was rarely allowed to go to the movie theater. The rare exception was Disney's The Lion King, which he saw on the big screen in 1994 after his siblings pleaded with their parents to let them see it. But as a teenager he became drawn to the community aspect of drive-ins, which combined an atmosphere akin to tailgating with his love of the cinema.
"When I got my driver's license, I started going regularly — every weekend that I could," Mallow says. "It's almost like a cookout or a lawn party, where you go and talk with friends and you get to watch a movie when it gets dark. It's a big social event before the movie."