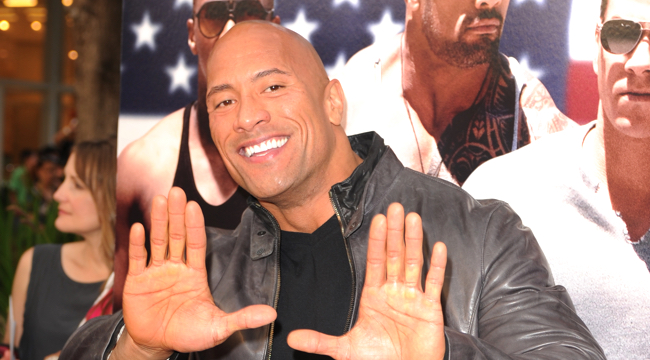 On Monday, the Dwayne Johnson-starring Baywatch movie announced Zac Efron in the second lead role. This would be head scratcher for anyone who's missed the past few years in Efron's career. His Disney oeuvre didn't indicate a future in bro movies, but he's made strides in that direction with Neighbors and That Awkward Moment.
For sure, the Baywatch film is a major score for Efron. No one expects this to be a lofty, cerebral film, but everyone knows the project will bring major bank due to Johnson's presence. The hot girls in red swimsuits will be an added bonus. Johnson took to Twitter to welcome his "dude" to the film. He also promises the movie will be an R-rated extravaganza:
Johnson hints that the baby oil will be a source of R-rated antics, but this could be a red herring. Screenwriters Damian Shannon and Mark Swift (Freddy vs. Jason) reportedly followed the 21 Jump Street reboot example in crafting the story. Johnson will play the veteran lifeguard who takes every risk seriously, and Efron will shake his little world up by bending the rules.
One downside: The screenplay will contain an actual plot that revolves around environmental doom, thanks to an oil boss who wreaks havoc on the lifeguards' beloved beach. In other words, this won't simply be a bunch of slo-mo shots of Johnson running on the beach. Bummer.
(via Collider)