The first trailer for F9 came out in January of last year, a full 15 months ago. Things were very different then. Simpler, some might say. It felt extremely normal to whoop and shout about a big-budget action trailer with the expectation you would see it in the theater in a matter of months. Lord knows I whooped and shouted about it. There was a magnet plane. Han was alive again. Charlize Theron had a bowl cut. It was beautiful. And that's before we even got into the "Vin Diesel has a secret younger brother and that secret younger brother is John Cena" of it all, which was and is so perfect that I can't believe it didn't happen three movies ago.
But then, well, you know. Things went sideways. The movie got delayed. The whole world got delayed. It was not great, to understate things as grandly as possible. Things are moving in the right direction, though, finally. Vaccines are out and getting jabbed into arms. Public events are starting to happen again. Life is, to keep our analogies on-point, drifting around the corner and preparing to punch the NoS again. That means many things, most of them good. And one of those many good things is that there's a new trailer for F9 to correspond with its new release date, June 25.
The people needed this. I needed this. It feels incredibly stupid to say but, in a way, this feels like the truest sign yet that things are getting back to the way they are supposed to be. We're all whooping and shouting again about a movie we can see in a theater at some definitive point in the near future. It's lovely. It's coming. We should all meet up in someone's backyard for burgers and Coronas and then go see this on the biggest screen we can find. Every single one of us. I am barely joking. Like this.
Which, conveniently, gets me into a discussion about the trailer, all 3:20 of it, full of more action than some entire movies. But we start, of course, with a brief meditation on memories and family.
This is Vin Diesel's character, Dominic Toretto, watching a video of Paul Walker's character playing with his child. It's meant to tug on the heartstrings, and it does, but I think it's important to note here that Paul Walker's character in this franchise is very much still alive. He just got out of the game. His wife, Dom's sister, is still around. Dom could conceivably FaceTime with him anytime he wants instead of watching high-definition widescreen footage of old family vacations while sighing. It's not the weirdest thing about this franchise, not by a long shot, but it is something I think about a lot.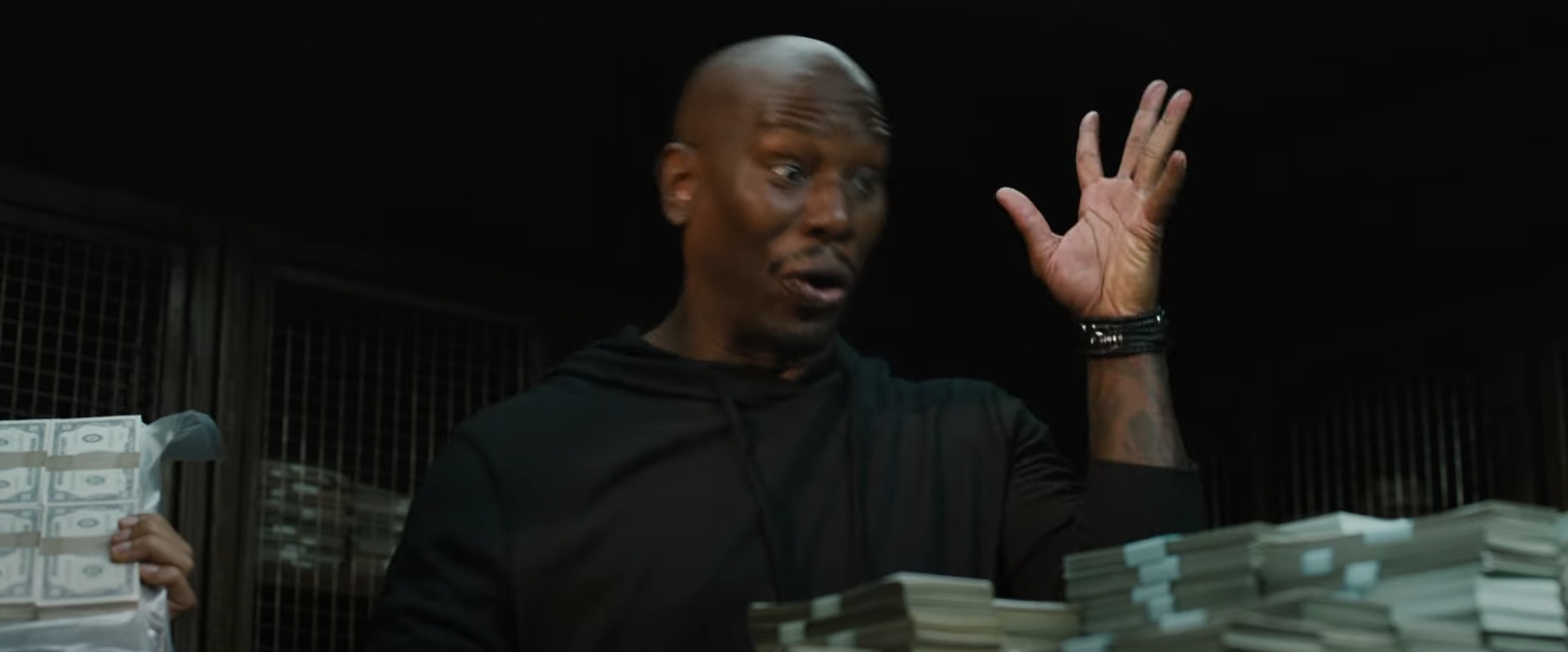 The action begins in earnest with Tyrese sitting in front of a huge pile of money and casually recapping events from prior movies. Planes, trains, submarines, cars flying through the air. I love that he's essentially become the Greek chorus of the franchise, the Everyman whose job it is to acknowledge that the things they're all doing are bonkers in the hugest way possible. There's a point later in the trailer, after a number of magnet-related things happen, where he says "Man, we messing with magnets now?" Yes, Tyrese. We are indeed messing with magnets now.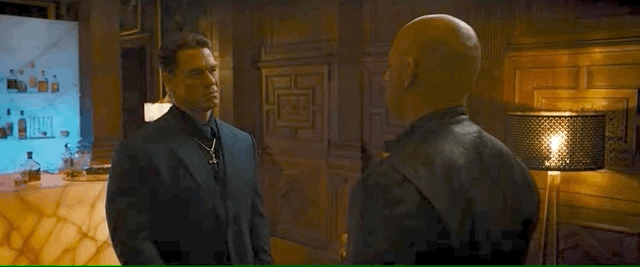 The trailer then jumps into the Secret Brother business. We learn the following things:
Dom may or may not have turned his back on his secret brother despite claiming to be all about family
John Cena is pissed about it
It is hilarious in ways I can't really put into words that we made it nine movies into this franchise, almost 20 hours of screentime over two decades, before we learned that Dom has a secret brother who does evil military things
It's also fun to watch that GIF up there and ask yourself at what point in the franchise Dom learned that move where he grabs the gun and turns it on someone. Did he know it back in the "lunch counter and DVD theft" days? Has he been training in Deckard Shaw's dojo since the eighth movie? I need to know.
We have a semi-lifeless Vin Diesel splashing into a mysterious body of water and sinking to the bottom as though his torso is made of stone. Thinks are bleak. I could not possibly be more excited. Especially considering…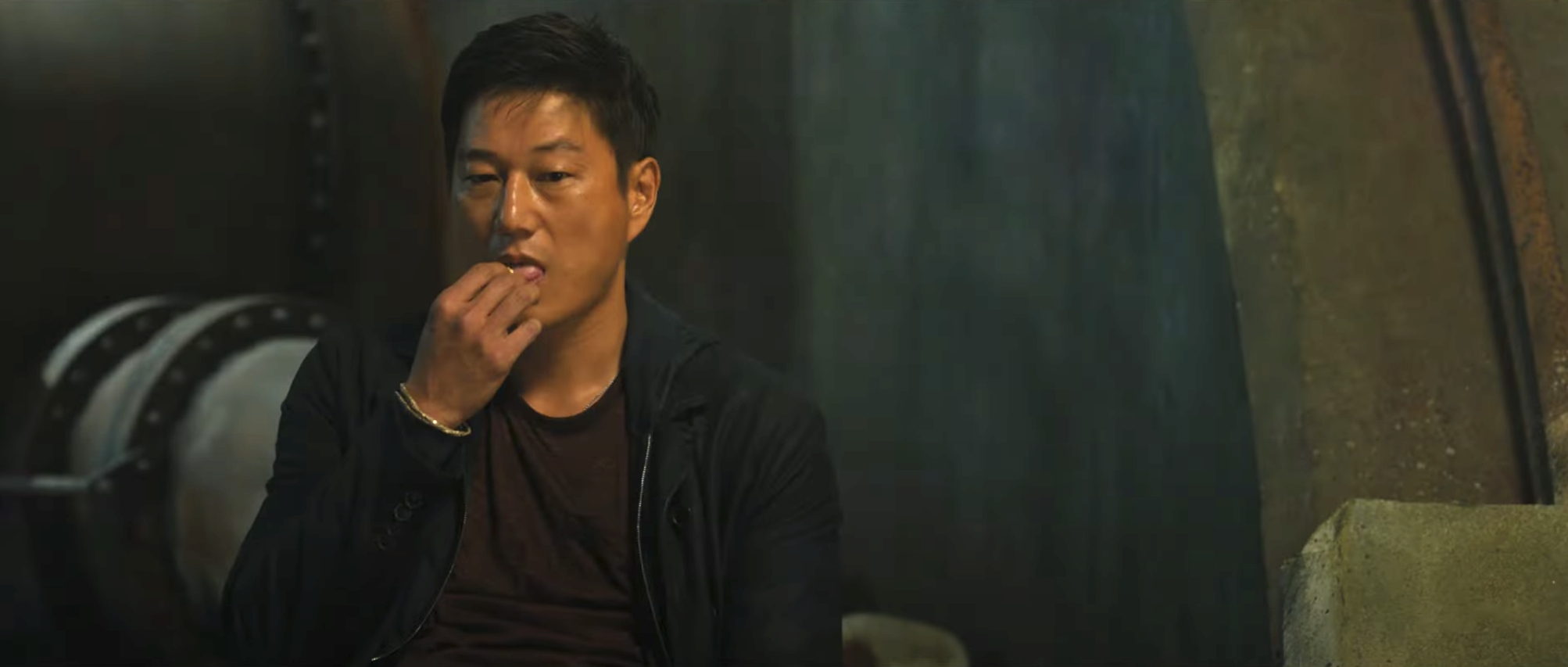 I know we've all been over the thing where Han or some Han-adjacent facsimile is alive and back in the action despite the fact that Han's death has been depicted in the franchise two separate times and the seventh movie opens with Dominic Toretto flying to Tokyo to, we are led to believe, collect Han's body and bring him home, but, I'm sorry, I'm still not over it. I suspect I'll never be over it. My working theory as of this writing — after previously rotating between "it's a robot," "it's his secret brother," and "ZOMBIE HAN" — is that Dom helped him fake his death and has called him back into action as an emergency measure, as tipped off by the "we need help" line and the thing where Han shows up holding a freaking bazooka or whatever. Does it make the thing where Paul Walker's character is alive and apparently not willing to come back and help his wife and brother-in-law and dear friends with the fate of the world on the line seem a little more flimsy? Uh, sure. But also, and I can't stress this next part enough: shut up and leave me alone.
But let's stay focused here. Let's get back to the action. Let's post a few GIFs from the trailer of people crashing through walls.
Like this one.
BAM.
POW.
But perhaps most importantly.
Ladies and gentlemen, this appears to be Dame Helen Mirren — who is in the Fast & Furious franchise, whose character is the mother of Jason Statham — drifting in a tricked-out speedmobile with Vin Diesel in the passenger seat. There is a lot going on in this trailer — magnet stuff, secret siblings, space stuff (I am very excited to talk about the space stuff) — but please do not let any of it distract you from the fact that this is a movie where Helen Mirren drifts to evade the police.
Hey, remember when I mentioned magnet stuff in that last sentence. Well, to quote Dominic Toretto, "CRANK IT ALL THE WAY UP."
MORE MAGNET STUFF.
NOW SHOW ME VIN DIESEL GROWLING "NOT TODAY."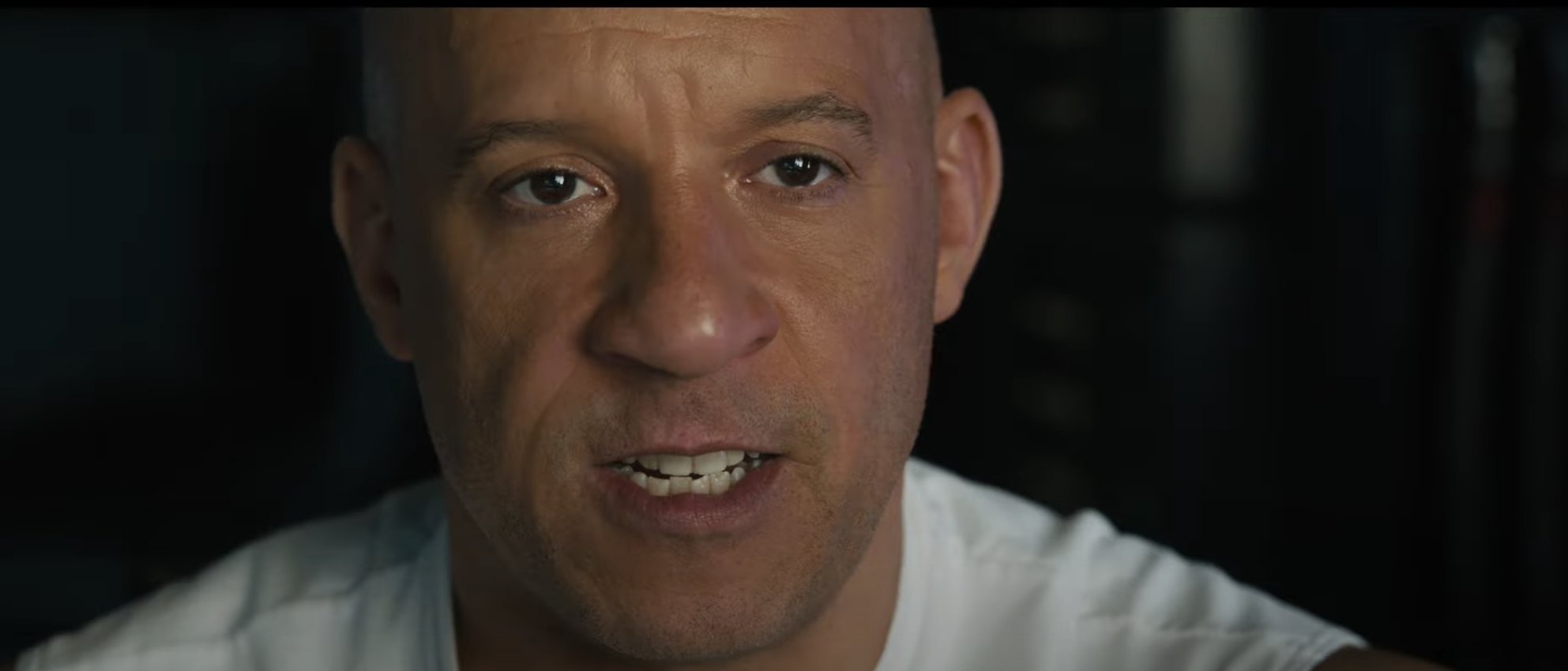 NOW SHOW ME A FREAKING TRUCK TAKING OUT AN AIRPLANE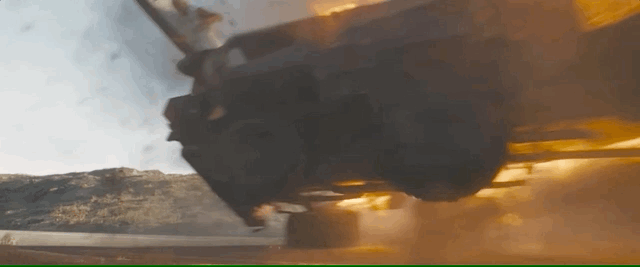 God, what a perfect movie. And it gets even better. Because after all that, after they show us the title of the movie like the trailer is about to end, after eight movies of preposterous action and hundreds of jokes by me and other lunatics about how this franchise will eventually end up in outer space, this happens.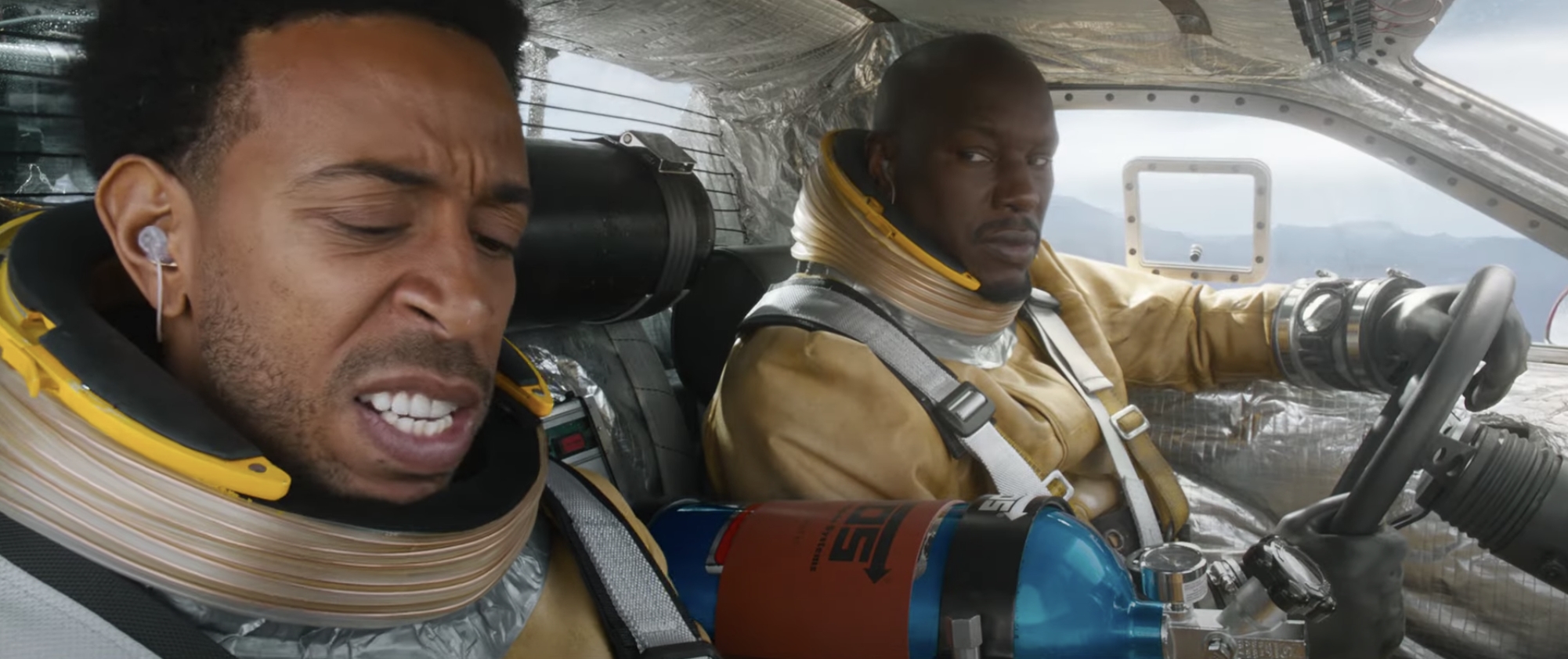 ARE LUDACRIS AND TYRESE IN SPACE SUITS?
ARE THEY IN A SPACESHIP?
IS THIS REALLY HAPPENING?
WAIT, IS THAT A CANISTER OF NOS BETWEEN THEM?
IS THIS A NOS-POWERED SPACESHIP?
YES.
SHOW ME TYRESE AND LUDACRIS GOING TO THE COSMOS.
SHOW ME THE SPACE NOS.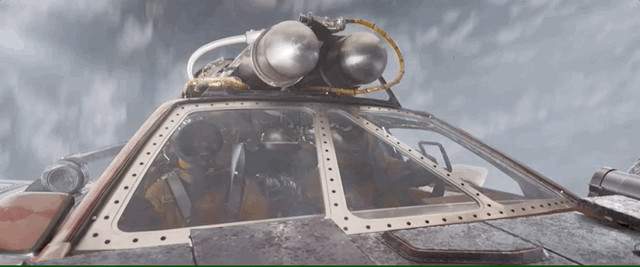 Three things are worth noting here:
It is perfect that castmembers spent almost an entire year teasing the franchise maybe going to space and it appears to just be Ludacris and Tyrese like mildly puncturing the atmosphere in some sort of duct-taped rocket
This is the best movie franchise in the whole world and I will not hear counterarguments
We're going to be okay, guys
I'll grab the burgers. You get the Coronas. This summer looks incredible