Over the holidays I rewatched First Man, a brilliant movie that, for reasons I can't truly figure out, is being neglected this awards season so far. I do think it's a movie that almost requires a second viewing because it's not at all what your brain thinks it's going to be and it needs a little time to adjust. It's a story about Neil Armstrong, but it also plays more like a small indie film about grief, only the person dealing with grief also happens to be the first person to ever walk on the moon.
Anyway, I shared my thoughts on Twitter. Twitter, what a weird thing! It's insane we use it. But, regardless, it's the kind of tweet I expected to get maybe five likes and maybe a couple of other people replying, "I like it, too." Instead, it kind of took off, with lots of people commenting and "liking" and retweeting and whatnot.
I mention this because, with all this, came out the people who are STILL convinced that there's no American flag on the moon in the movie.
This all started out of the Venice Film Festival where this was (somehow) erroneously reported. The problem here is since the movie was only playing at a film festival in Italy, there was no real way to rebuke this report until it played on this side of the world and Americans could see it. But by then it was too late, as the false report really set in to people's minds, aided and inflamed by right-wing media. And talking to people close to the production, there is a sense that this false report did have an effect on First Man's box office in the United States.
But what's crazy now is people still believe there's no American flag on the moon in First Man. It's gone so far as there are actually people who think there are no American flags at all in the movie.
First Man is available on digital download as of Tuesday. I'll be honest, at first I thought it might be funny to go through First Man and screenshot all the American flags in the film. But here's the thing: there are so many American flags in First Man this post wound up taking a lot longer than I ever expected and I quickly regretted it. In fact, I kept a running count of how long the American flag actually appears on screen in one way or another in First Man and, by my calculations, if you watch First Man, it's the equivalent of just staring at an American flag for five minutes and one second. Over five minutes just looking at an American flag! Try doing that! That's a long time!
Anyway, for the last time, let's go through all the American flags in First Man.
We see our first American flag at the funeral of Neil Armstrong's (Ryan Gosling) friend and fellow NASA pilot, Elliot See (Patrick Fugit):
The next American flags are on the uniforms of Armstrong and David Scott (Christopher Abbott) as they pilot Gemini 8, the first successful docking of one ship with another in space.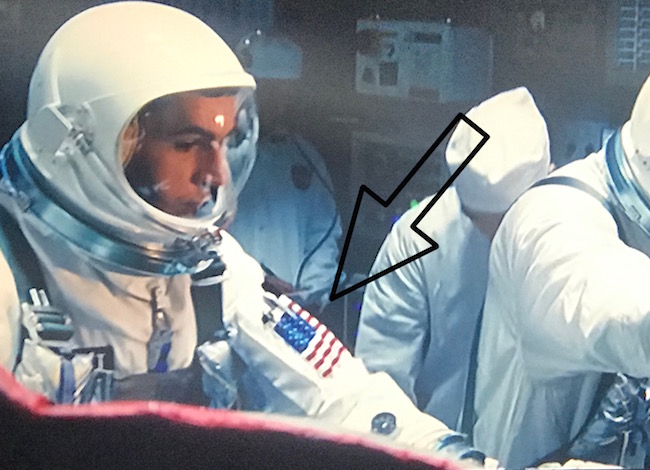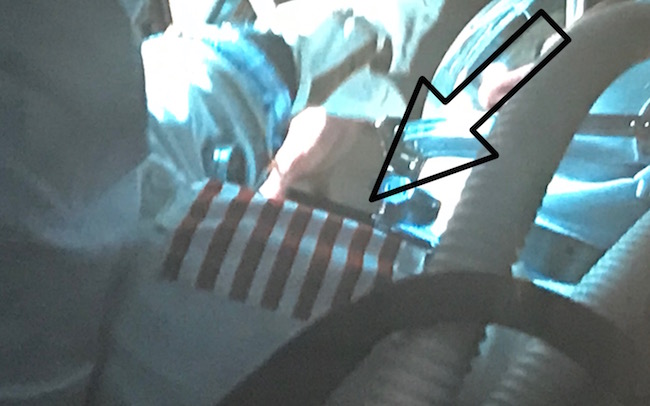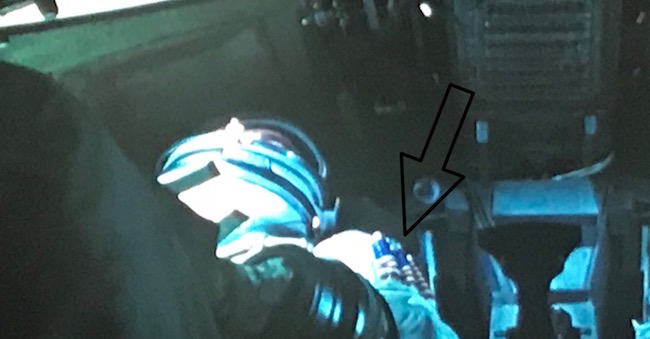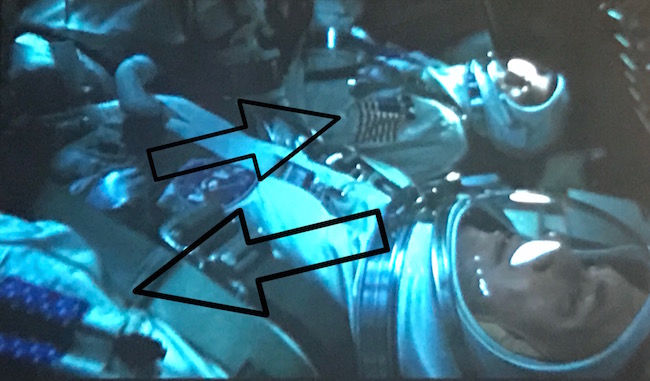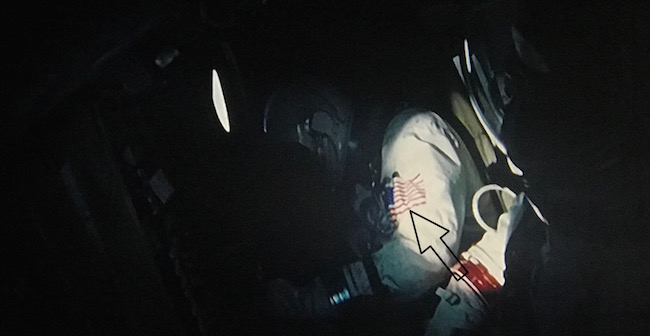 As the mission is happening, Neil Armstrong's son raises an American flag at the Armstrong's house. (It's insane that anyone thinks this movie is "unpatriotic," yet this shot exists in the movie.)
After the successful Gemini 8 docking procedure, a malfunction causes the spacecraft to go into a spin, putting the lives of the pilots in jeopardy.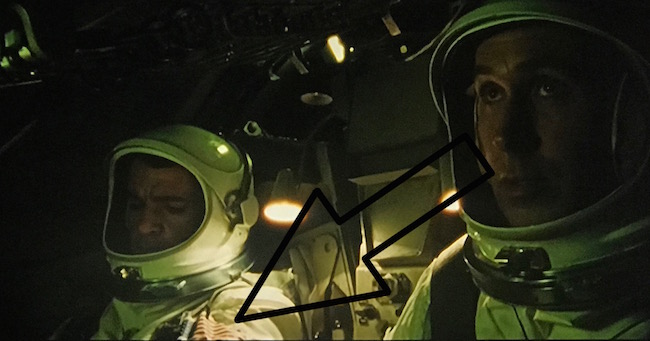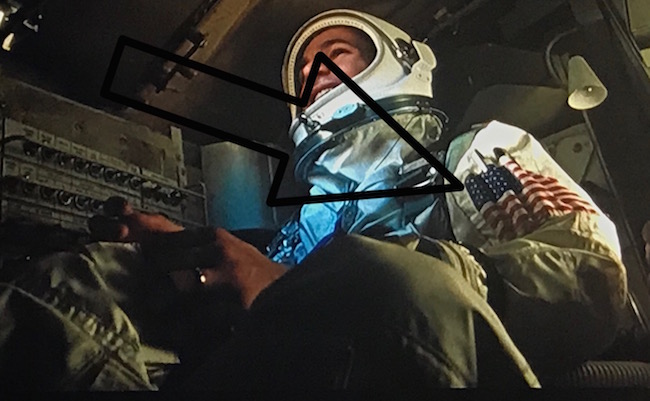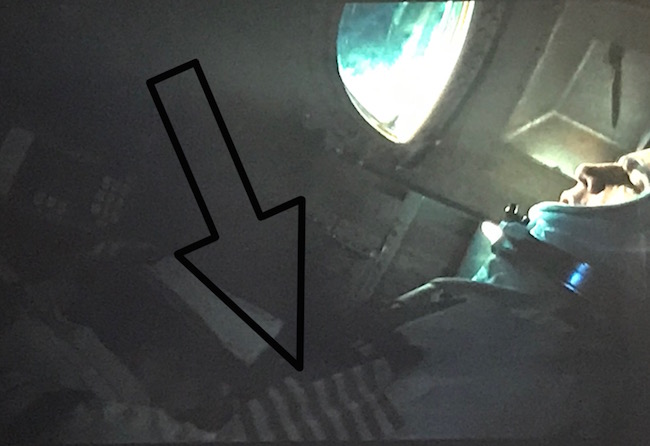 At a debriefing, Armstrong is told that an investigation has concluded there was no pilot error involved. While Armstrong is being told this news, there's an American flag in the room.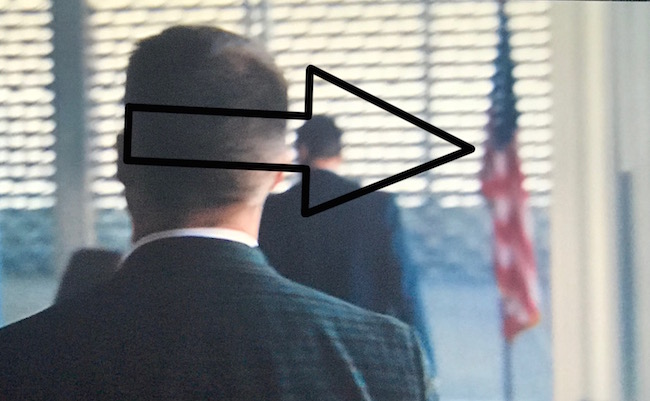 Right before the events of the tragic Apollo 1 accident, the astronauts are all wearing American flags on their uniforms.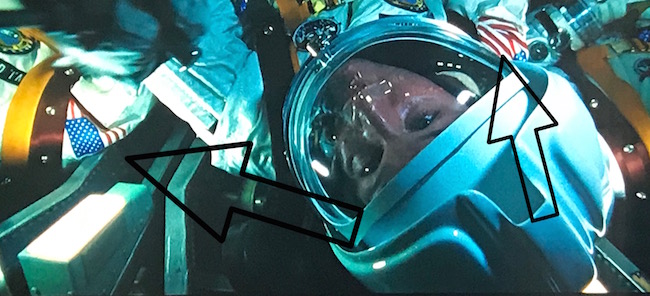 At a press conference before the Apollo 11 mission, Neil, Buzz Aldrin (Corey Stoll), and Michael Collins (Lukas Haas) all take questions from reporters. What's behind them? Well, it's Ol' Glory.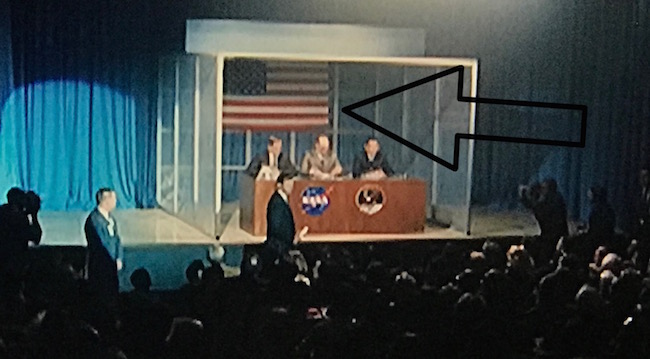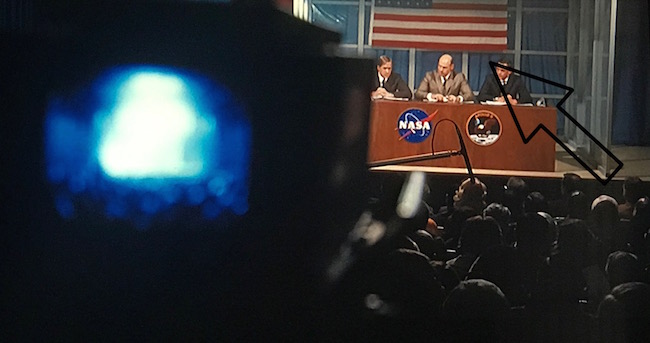 As the Apollo 11 astronauts make their way to the launching pad, we see the American flag on their uniforms.
Seated in the capsule, we see the American flag numerous times as the rocket is launched.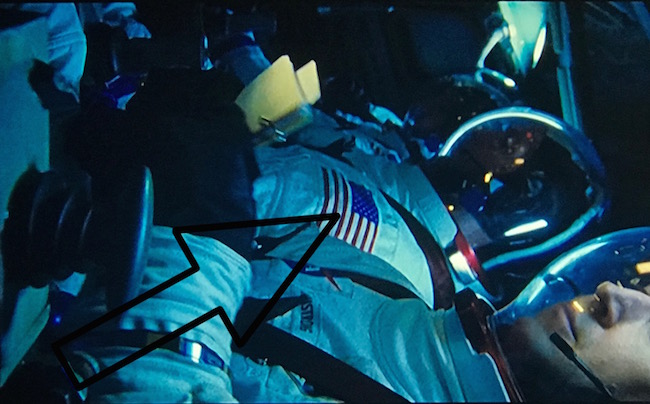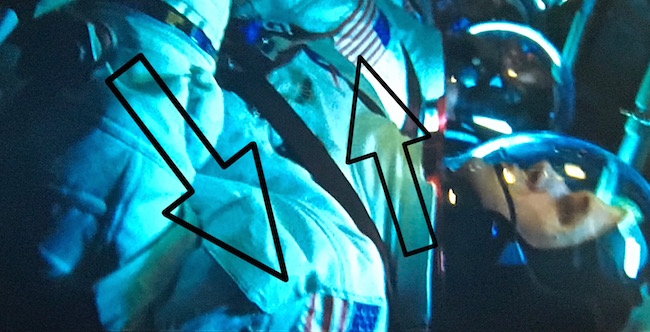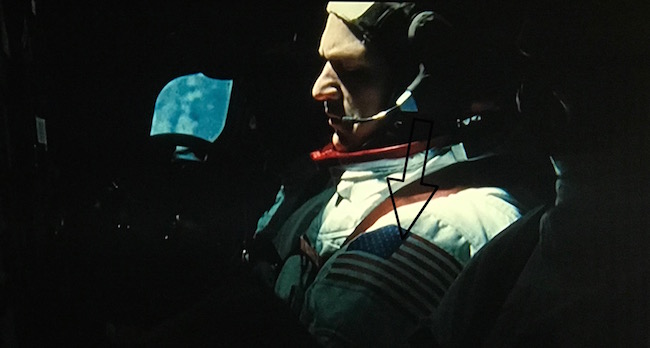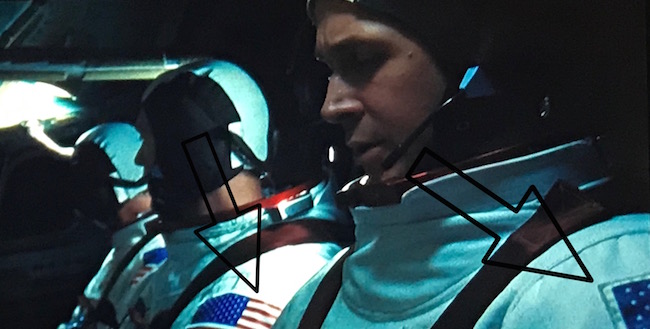 On their way to the moon, there's plenty of time for discussions and listening to music. We see the American flag almost nonstop during this sequence.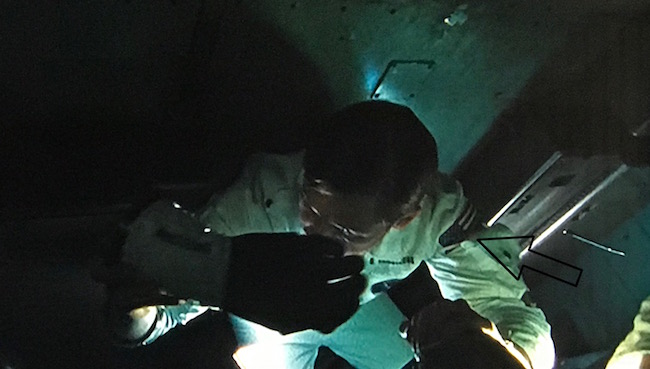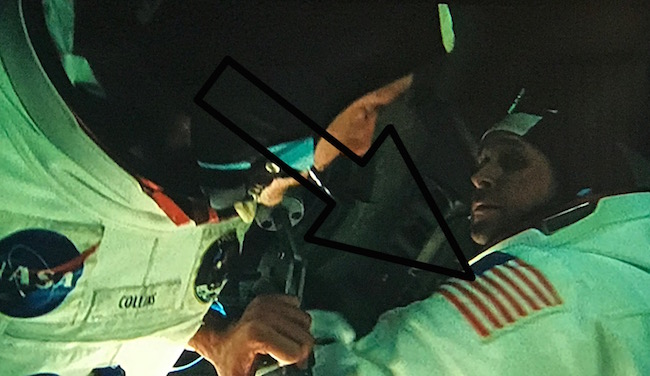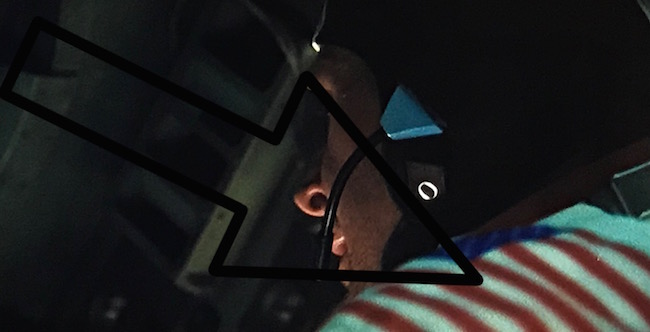 Now Neil Armstrong and Buzz Aldren are in the Eagle, headed down to the moon. What do we see as they fly? Well, it's the American flag.
Neil Armstrong is about to go out onto the moon. He's wearing an American flag.
We see a shot of the outside of the ship. Yep, there's an American flag.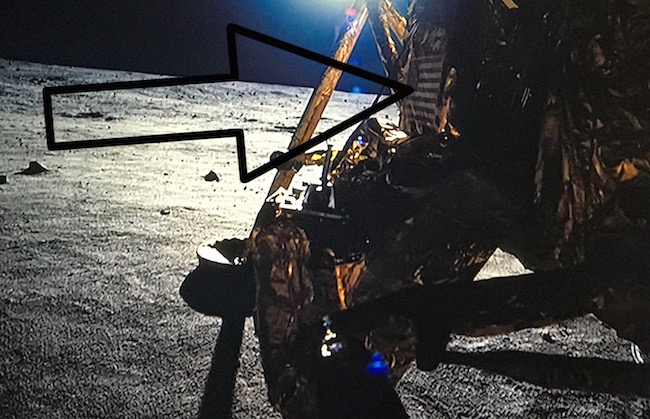 Neil Armstrong is about to set foot on the moon, and in the shot is the American flag.
Neil Armstong is now walking on the moon. As he does this we are almost always looking at an American flag. Buzz Aldrin soon exits and the two start digging a hole. What could they possibly be digging a hole for?
After Neil and Buzz start digging, we see a wide angle of their lunar base. What's that? Oh yes, that's an American flag planted in the ground.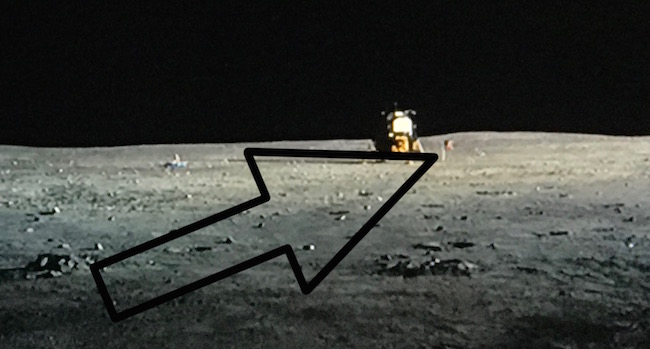 Neil is not done walking around on the moon and we see his American flag again.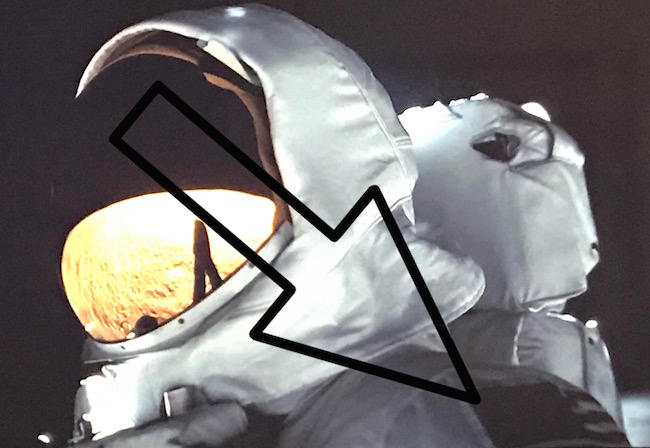 Back on Earth, people are waving American flags. Though, probably in anger, "Hey, numbskulls, you forgot to take some of these with you!" But they are all wrong, Neil and Buzz took the American flag with them to the moon.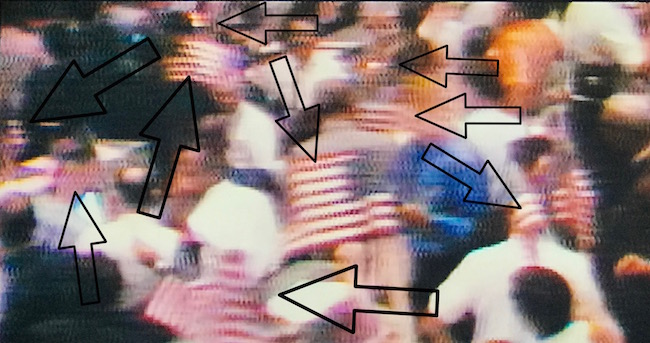 Another shot of what's happening back on Earth, and yet another shot of, you guessed it, an American flag.
Everyone has returned safely from the moon (spoiler alert), but the astronauts are now in quarantine as a precaution. As a gift, Neil Armstrong receives a basket full of American flags.
Outside the Armstrong house, we see that American flag is still raised.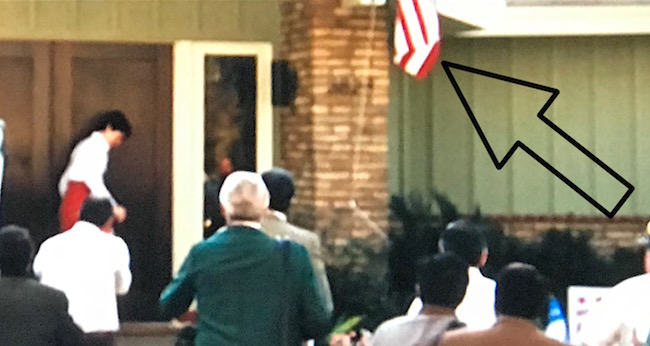 A well-wisher has made a homemade sign for Neil Armstrong, that, of course, includes its own American flag.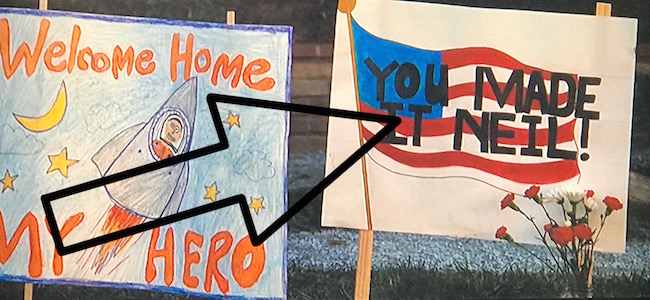 That's it. There they all are. This project took forever but, at least, from now on, when someone tries to tell you there are no American flags in First Man, you can just send them this post. We've done all the work for you.
Also, if you haven't seen First Man because someone tricked you into thinking the American flags were taken out, you don't have any excuses now. It's a fantastic film. And it's chock full of American flags.
You can contact Mike Ryan directly on Twitter.