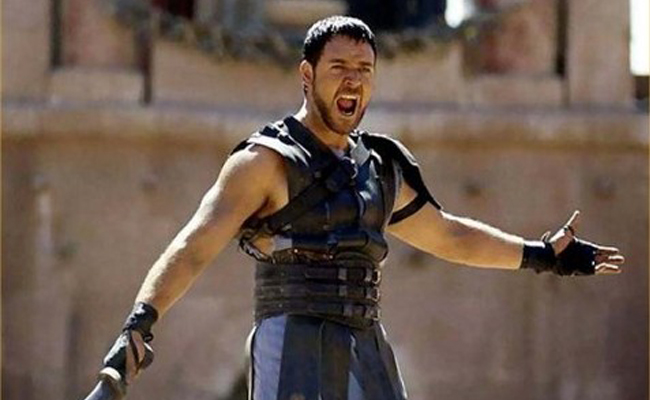 Thursday was a big day for people who love the '90s. First we heard about a third Bad Boys. Then we learned that Mike Myers has been secretly (though not surprisingly) hard at work on a new Austin Powers fourquel. And now this: According to Deadline, the unstoppable Ridley Scott has started work (or as the article put it, "begun forward progress") on a two decades-later sequel to Gladiator, his swords-and-sandals epic, which won Best Picture, Best Actor (for Russell Crowe), and three other, technical Oscars back in the year 2000.
"But," you say, out loud in a lonely room, "Crowe's commander-turned-gladiator Maximus Decimus Meridius died in the previous film." Yes, he did. And so Scott will follow in the footsteps of the sixth Rocky sequel Creed: It will pick things back up with the next generation.
That's right: Gladiator 2 will follow Lucius. You remember Lucius, right? He wasn't Maximus' son, who was murdered in the first act. He's the son of the sister (Connie Nielsen) of the man who ordered said assassination, Joaquin Phoenix's Commodus. Played by young Spencer Treat Clark, Lucius was nothing like his tongue-slapping, incestuous psychopath of an uncle. In fact, when his uncle ordered him and his mother killed, it was Maximus who saved their lives. (Our advice: Slip Crowe in there as a mentoring ghost à la his Jor-El in Man of Steel.)

In the past, Scott has been averse to sequels. He had nothing to do with Blade Runner 2049, and the follow-ups to Alien were directed by others, including James Cameron and David Fincher, before he got back into the game with Prometheus and Alien: Covenant. Even then, he went far, far afield from the original. So perhaps you shouldn't expect a mere rehash. Maybe young Lucius won't be betrayed by an evil emperor and sold into slavery only to secretly rebrand himself as a popular ass-kicker hell-bent on revenge.
Of course, Scott, 80, has quite a to-do list. He's currently making Raised by Wolves, his first foray into television. And then he has a biopic about photojournalist Lyndsey Addario, starring Scarlett Johansson. And then he has a movie about the young Merlin. His IMDb page, which may or may not be reliable, also lists a Battle of Britain movie, a special ops thriller called Queen & Country, and another Alien, which might not happen because the last one underperformed. But this business is crazy, and projects get shuffled around, so who knows?
By the way, Spencer Treat Clark, 31, just reprised his role as Bruce Willis' son from Unbreakable in the forthcoming Glass. So not only is he still around but he has a history with belated sequels to movies he made when he was 12 or 13.
(Via Deadline)