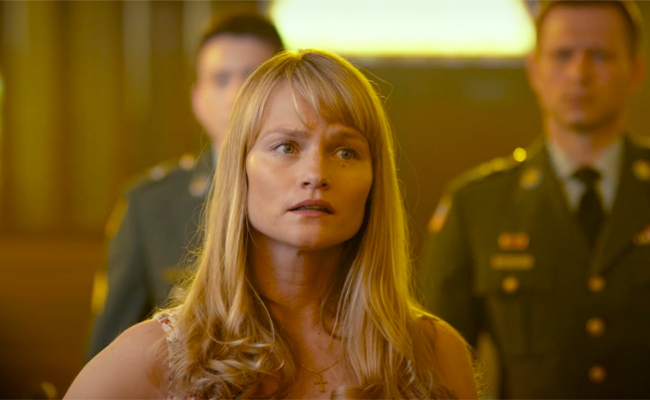 This morning I was taking a look at my list of future releases, as I do, when I came upon a project I didn't recognize: God Bless The Broken Road, from Freestyle Releasing. I tried to Google it, but mostly I got videos for a Rascal Flatts song. Turns out, that's because the film is actually based on the song ("Bless The Broken Road"). And God Bless The Broken Road turned out to be one of those movies that just keeps getting better and better the more you learn about it.
Here are some facts you should know about God Bless The Broken Road:
– According to the IMDB description, "The film combines elements of faith, country music, and stock car racing while paying tribute to those who serve in the United States Military." That is the best thing I've ever read. I hope the premiere includes a flyover by pistol drone.
– It was directed by Harold Cronk, the director of God's Not Dead and God's Not Dead 2 (yes, I actually saw that one).
– The film was based on a Rascal Flatts song. Okay, technically "Bless This Broken Road" was first recorded by The Nitty Gritty Dirt Band in 1994, but Rascal Flatts's version is the highest charting. You can read the lyrics here. I'm going to go out on a limb and say that in this version, the ambiguous "you" is the Lord. Technically it's not the first film to be based on a song, though none of them seem especially well known. Did you know there was a Chinese film based on Lady Gaga's "Bad Romance?" Huh.
– God Bless The Broken Road stars former San Diego Chargers running back LaDainian Tomlinson.
– LaDainian Tomlinson gets the first lines of the trailer.
– He acts… about as well you might expect of an NFL hall of famer.
– The opening shots of the trailer also include a slow-motion dramatically falling tambourine.
– Cameos by Jordin Sparks and Robin Givens
Finally, a film that respects God, the troops, country music, and NASCAR! Reminds me of the time I whacked my large stepson Braydin over the head with my spitter because he didn't remove his Fox Racing hat when the official Dale Jr. Camaro drove by. Pray to the McMansion, son, in this house we respect developers.
God Bless The Broken Road opens September 7th, presumably because someone was able to talk them out of September 11th. Suffice it to say, I can't wait. Where would America be without shameless hucksters? Press F to pay respects, everyone. Forever and ever Amen.