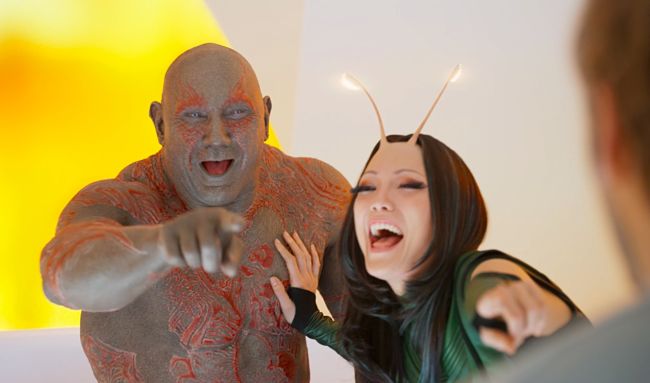 Both Awesome Mix Vol. 1, from Guardians of the Galaxy, and Awesome Mix Vol. 2, from Guardians of the Galaxy Vol. 2, peaked in the top-five of the U.S. Billboard 200 and finished among their respective years' best-selling albums. That's an impressive accomplishment for a soundtrack, especially a Kendrick Lamar-less soundtrack with songs from 10cc and Glen Campbell. Most of the tracks date back to the '60s, '70s, and '80s, but while making Guardians, writer and director James Gunn had his own, more contemporary Awesome Mix.
"I finally got around to making a @Spotify playlist of Awesome Mix Vol. 0, the secret, personal mix I made to play on the set of @Guardians Vol. 1," Gunn tweeted, "especially for the drunken partying scenes in the Boot of Jemiah." The playlist begins not with Electric Light Orchestra, like Vol. 1, but something way more high energy: Mindless Self Indulgence's "Never Wanted to Dance."
Star-Lord disagrees with that sentiment.
There are also songs from Andrew W.K. ("Party Hard," naturally), the Wombats ("Let's Dance to Joy Division"), Gogol Bordello ("Start Wearing Purple"), Old 97's ("Timebomb"), and My Chemical Romance ("Teenagers," which is an odd choice — "You Know What They Do to Guys Like Us in Prison" would make more sense). You can listen to the entire Spotify playlist here.