Whenever Tim Burton's Beetlejuice is mentioned in a circle of cinephiles, words like "unique," "original" and even "insane" are tossed around in a game of dodge the adjective. Burton's Pee Wee's Big Adventure was a hit in 1985, and thus he began getting offers and scripts at an alarming rate, none of which piqued his interest — until he received Beetlejuice. The outrageously fresh script called for a ghoulish pimp who is summoned by dead dependents like a sort of evil afterlife genie. Beetlejuice's titular role would go to Michael Keaton — who should probably be holding a best actor Oscar right now, but isn't — and he added the exclamation point on an already entertaining character.
While much of the film's success — it more than quadrupled its budget at the box office — should be owed to Keaton's performance and Burton's direction, a lot of the film's charm comes from the production design, art direction and misc-en-scene headed by Bo Welch, Tom Duffield and Tom Ackerman, respectively.
We caught up with art director Tom Duffield, cinematographer Tom Ackerman and production designer Bo Welch to reminisce about the making of a dark comedy classic and learn some interesting behind-the-scenes facts about Beetlejuice.
Getting To Know Tim Burton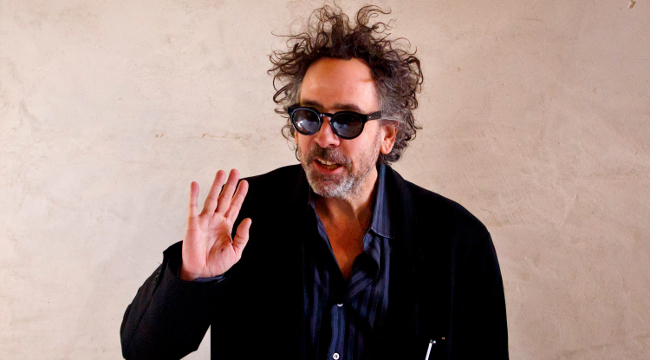 Tom Ackerman, Cinematographer: I had met Tim and worked with him on a previous project at Disney. The live-action original version of Frankenweenie. It was that in itself a wonderful opportunity and it was photographically a great chance to explore that sort of black-and-white rank horror film idiom, and at the same time tell this sweet-yet-bizarre story of the reassembled dog, a la Frankenstein. That was a great outing, and Tim and I stayed in touch. When Pee Wee's Big Adventure was announced and went into production, Tim had wanted me to shoot the picture. But frankly, at that time, I didn't have quite enough major studio credits.
Bo Welch, Production Designer: I was just finishing my first job as a production designer on a feature film, which was Lost Boys. That was at Warner Bros. and we shot in Santa Cruz and built some sets on stage at Warner Bros. Tim Burton had an office at Warner Bros. because he had just done Pee Wee Herman's Big Adventure. My agent at the time was trying to get me my all-important second job. He called Tim and said he should meet me and I think Tim wandered through a couple of our sets and liked what he saw, I guess [laughs]. So, I was able to meet with him at Warner Bros. It's not a very exciting story… then he hired me.
Ackerman: I had done a couple of indie movies including a thing called Roadhouse 66 and Girls Just Want to Have Fun at New World, which did some business and became a cult classic. But as far as Warner Bros. was concerned I wasn't quite there yet in terms of shooting a big studio movie like Pee Wee. However, by the time Frankenweenie got the green light I had done Back to School, which was one of the year's 10 hit movies. It did extremely well at the box office. It was well-regarded, as well-regarded as comedies can be critically. Alan Metter directed a Harold Ramis script and Rodney was fantastic. And we had a great cast. Since Back to School had put me in the studio green light list, when Tim wanted me to come in on Frankenweenie, I got the job.
Welch: Any time you start a collaboration with a new director there's a certain amount of, "I'm there to help them make their movie," or at least that's the way I was raised as a designer. Very often nowadays there's a committee involved. A director has been downgraded, but that's nowadays on big movies. Then, they still gave the director the freedom to make a movie. Especially a movie like Beetlejuice, which was relatively small budget in the scheme of things. And with Tim's background as an animator he has a very specific visual sense.