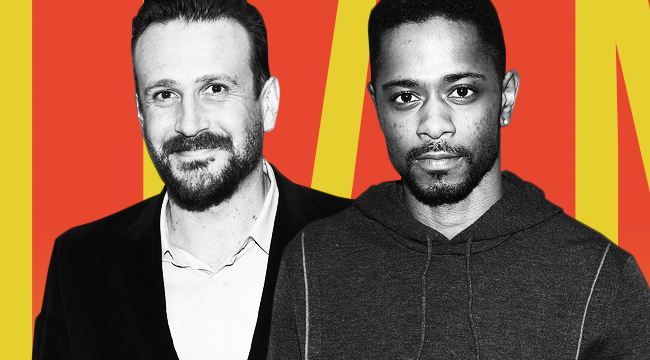 So, yes, on the surface, doing an interview with  Jason Segel and Lakeith Stanfield at the same time is a bit of an odd paring, because I hadn't really thought about them as a pair of any kind before. And they are both in the Sundance film Come Sunday together, but even in that movie they don't really share many scenes. But there are some interesting parallels: Both had or have critically acclaimed television shows (Freaks and Geeks and How I Met Your Mother for Segel; Atlanta for Stanfield) while also making breakout films Forgetting Sarah Marshall; Short Term 12, Get Out). Segel is now at a reflective point in his career, taking an almost step back from the pure fame of his past and searching for more meaningful projects. While Stanfield is where Segel was a few years ago, about to become a household name, if he isn't already.
They co-star in Joshua Maston's Come Sunday, the true story of Tulsa minister Carlton Pearson (Chiwetel Ejiofor) who defied the conventional teaching and dared to suggest that maybe it's possible a loving God doesn't send people to Hell – which caused a huge uproar in the late '90s. Segel plays Henry, Carlton's partner who is opposed to this new way of thinking, while Stanfield plays Reggie, the church organist who struggles with the church's teaching and the fact he's a gay man.
I met Segel and Stanfield early on Monday morning in a condo off Park City's Main Street. It may seem like you haven't heard a lot from Segel lately but, as he explains ahead, that's by design. And we will all be hearing a lot more from Stanfield soon, who I dubbed the King of Sundance (Stanfield prefers "Prince of Sundance") between this film and the breakout hit Sorry to Bother You. Also, he has quite the story about watching Get Out with Snoop Dogg (whom Stanfield played in Straight Outta Compton). As you can probably guess, marijuana was involved.
Lakeith is like the King of Sundance.
Jason Segel: I know. How cool is that?
How does that feel?
Lakeith Stanfield: More like "The Prince."
The Prince of Sundance, got it. Sorry to Bother You is something else…
Stanfield: Yeah, it's crazy. I've never seen anything quite like it either. It's crazy.
This role isn't the Jason Segel people are used to. What did you like about this? Are you looking for mostly serious roles?