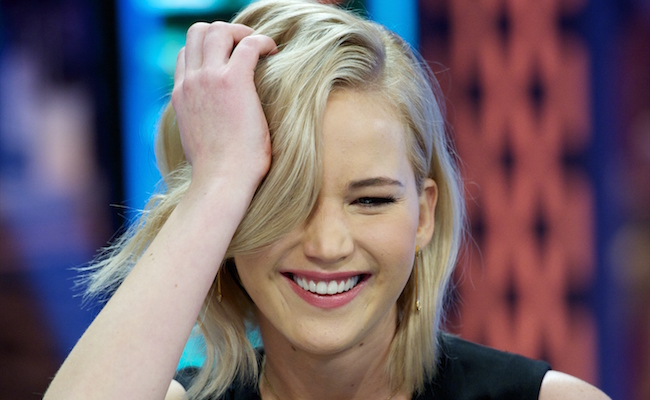 Academy Award winning actress/irrepressible charmer/red carpet danger Jennifer Lawrence ranks as one of Hollywood's most in-demand talents, but the Joy star admits that she likes to play the fame card to get out of the limelight and plunk herself at home.
In a chat with tote bag and radio empire NPR, she explained that people losing their sh*t over her has enabled her hankering to stay at home. JLaw told Terry Gross that signing on to anchor the Hunger Games juggernaut gave her just the scenario she was looking for.
JENNIFER LAWRENCE: But I remember there was a moment when I was on set of The Hunger Games, and I was, like, thinking about my life, and I was like, you know what, I don't like going out. I'm a total homebody. I'm always looking for excuses not to go out. I was like, I'm actually probably built for this. I can now use famous as an excuse. I can't go there. I'm too famous. And I do.

(LAUGHTER)

TERRY GROSS: I don't think I've ever heard that before, that it's a great excuse to not go out.

JENNIFER LAWRENCE: You would if you were – if we had each other's numbers. I'd be like, no, why don't you guys come over here and we'll drink wine? I'm too famous to go to that restaurant.
Be sure to keep this in mind next time you invite Jennifer Lawrence to join you at Sizzler.
Lawrence, who's new cinematic offering Joy comes out on Christmas Day, also spoke some more about her essay on pay disparity between men in women in Hollywood.
I was aware of gender inequality, of the, you know, 21 percent general pay gap between men and women. And, you know, when that hack happened and I saw those numbers, I really didn't look at that and say something unfair was done to me. I think that it's very possible that, you know, when we're talking about this gender bias, that it also exists in us as women. That we – it's very possible, as individuals – are doing this to ourselves, that we have a historical, global reputation that isn't being a baller or a badass or being aggressive. You know, that's not attractive to do those things…

I figured if I had a voice, I should use it in case there are other women out there that are not getting paid or not asking for money the way that they should be because of the same kind of relatable feelings that I was having.
Looking for even more Jennifer Lawrence goodness? Why not check out her recent appearance on Late Night where she confessed to once having a crush on Seth Meyers?
(via NPR)