13 Hours: The Secret Soldiers of Benghazi, Michael Bay's "least propagandistic [movie] yet," is being released almost exactly a year after similarly patriotic American Sniper came out. This is not a coincidence. Clint Eastwood's unexpected hit made $547.4 million at the box office and earned six Oscar nominations (and one win). 13 Hours isn't expected to do as well — it's competing against Star Wars: The Force Awakens and The Revenant, for one thing — but you wouldn't know it by the film's premiere in Dallas on Tuesday.
Michael Bay doesn't do small, and there was nothing small about debuting your movie in a football stadium. The Dallas Cowboys' football stadium, no less, where quarterback Tony Romo was present. As was the entire cast, including a newly buff John Krasinski, and "real-life surviving soldiers."
Also, Chris Cornell?
13 Hours was shown on the enormous screen hanging above the field. Before the screening, the audience was treated to musical performances from The Band Perry, Chris Cornell, and self-described "patriotic rock band" Madison Rising.

The evening was outsized — attendance figures were not immediately available, but an eyeball estimate put the crowd at 25,000 — with a red carpet set up on the field, and images from the film displayed as ET's Kevin Frazier interviewed soldiers and filmmakers. (Via)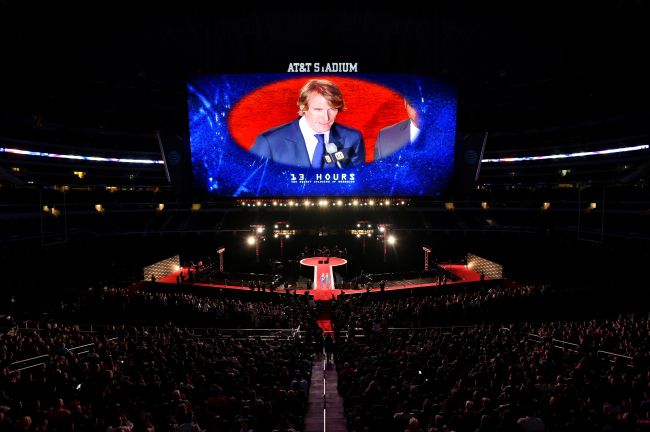 Football, loud patriotism, Michael Bay. For better or worse, that's America.
(Via Star-Telegram)