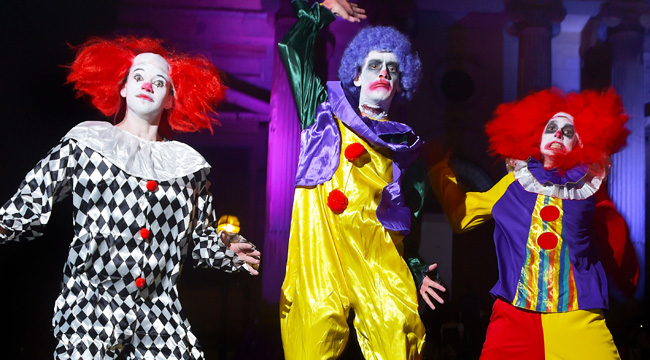 Clowns are back in terrifying style. Last month, one terrorized Green Bay after small-town Wisconsin endured the same fate last year. And now they're in the Carolinas with many people swearing up and down that multiple clowns are trying to lure kids into the woods. There's reportedly some machete wielding-vigilante running after the clowns, and none of it makes sense. Even odder, law enforcement can never seem to locate these menaces to society once police arrive on the scene.
Still, authorities have warned people in South Carolina to keep children inside after sunset and to stay vigilant. But what if all of this was not only a ruse, but a commercial one as well? Buried far at the bottom of many news reports about these alleged clowns is a theory about a viral marketing scheme. Reuters dropped this theory, and other news outlets are tossing around the possibility. Witness this paragraph from the end of The Independent's report:
One theory is that the clowns are a PR stunt connected to the release of an independent horror movie, entitled 31 and directed by Rob Zombie.
And news channel WYFF in Greenville goes further into detail:
One theory about the sightings in Greenville County is that they could be connected with marketing for the upcoming Rob Zombie film 31, set to open in select theaters on Sept. 1. The promotional poster is a scary clown in whiteface makeup that looks similar to images being shared on social media, allegedly from local sightings.
Would Rob Zombie do this? Honestly, the truly perplexing aspect of this theory is the very true detail that — after directing several mainstream horror films — he turned to crowdfunding for 31, which is about a handful of carnival workers who must try to survive an entire night after being taken hostage by murderous clowns. The film's trailer is actually rather scary, and viral marketing would make sense because the Internet eats that crap up.
However, IndieWire relays distributor Saban Films' statement: "The company and the film 31 are not associated in any way with the creepy clowns and costumed characters found roaming the South." Well, folks would be forgiven for having fallen for the theory after looking at this poster.
Still, what are we to make of police reporting to the scene of (and issuing warnings about) these supposed clown sightings? People would be awfully upset if some other type of promotional scheme has swallowed law enforcement resources. But — gulp — maybe there really are crazy clowns running through the forest. *hides*