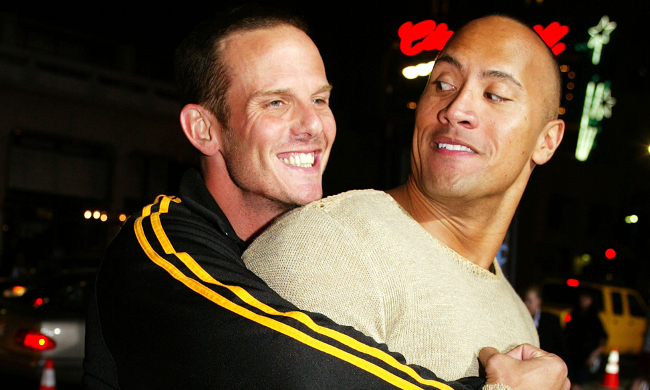 Before Dwayne "The Rock" Johnson tried to shed his wrestling nickname, anointed himself "Franchise Viagra," and helped the Fast and Furious empire become a billion-dollar hitmaker, the legendary WWE Superstar relied on his poontang pie-slinging in-ring persona to carry some films that didn't do so well at the box office. While his breakout role as The Scorpion King was successful, his following leading roles in films like Doom and Gridiron Gang produced underwhelming returns, and his 2003 action comedy The Rundown actually lost money. And yet, despite that letdown, director Peter Berg has never stopped talking about making a sequel.
In 2013, while promoting Lone Survivor, Berg claimed he had spoken to Johnson about making The Rundown 2, and that led to speculation that the two were "in talks." Interestingly, Berg also said that he had "an actor in mind" but couldn't say who that was — poor Seann William Scott, though – and we now know who he was talking about. While promoting Deepwater Horizon, his latest big-screen adaptation of a harrowing true story of bravery in the face of certain death, Berg told Collider that The Rundown 2 could still happen, and it even has a script. Oh, and he finally named names.
Do you foresee yourself taking a bit of a break or can I get you to do The Rundown 2?

BERG: We've been talking about it. You know, I wanted to do it with Kevin Hart and Dwayne Johnson. If I could get Jonah Hill, I'd do it tomorrow. If I could get Dwayne and Jonah Hill, I'd do it tomorrow.

Do you think that's even possible?

BERG: Anything's possible. We want to do it, it's just hard to get everybody, you know. It's on our minds. We actually wrote a script. But I want Jonah Hill, so reach out to Jonah. Pressure Jonah to do it. If Jonah Hill would do it, I'm in. (Via Collider)
It's shocking that Berg didn't say "Kevin Hart and The Rock" to a studio executive and get a blank check on the spot. Surprisingly, Hill has never worked with the former WWE champ on the big screen, but they are connected by a tabloid report from 2015. According to OK Magazine, as Hill's weight became a concern, the actor sought Johnson's help in getting in better shape. Did it work? Was it even true? Who knows! But it might make for a good conversation starter for Berg so he can make this movie already.
You know, if The Rock even has time for it.