As has been noted in the past, Tom Hardy doesn't have the best attitude with interviews and the media. Notably, there was the time he shut down a reporter who questioned him about his sexuality, but apparently the actor has had several other less than stellar encounters with members of the media. And here, right before the holidays, one member decided that enough was enough.
Drew McWeeny over at HitFix was apparently set to interview Hardy for The Revenant at a press junket, but ended up having to wait and wait until Hardy decided not to do the scheduled interview after all. This led to McWeeny unleashing a very NSFW tirade on Twitter that called out Hardy for his bad behavior, noting that it was the second time this year that the actor has pulled out of an interview:







In his defense, Hardy does come from a fairly rough background. And he has even admitted that he's difficult to deal with in the past, according to an interview in Esquire:
"I have a reputation for being difficult. And I am. I am, actually," he says. "But I'm not unreasonable. It used to be that if somebody hurt me I'd lash out a bit, in order to get them to stop. It ultimately comes from fear."
But coming to his defense in this particular situation is likely difficult, and the bridge has been burnt. McWeeny essentially says as much in this Twitter exchange: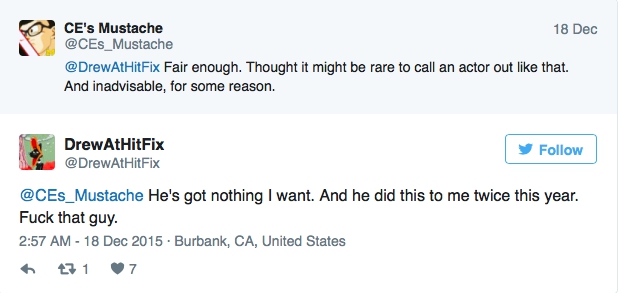 I'm not sure where I stand, but it is certainly not fun to wait hours for a scheduled interview and then have it canceled. Patience can be strong, but even that is pushing it.
(Via E! / Some E Cards / Bro Bible)
Now Watch: Will Leonardo DiCaprio Finally Win An Oscar With 'The Revenant'?