Willie Nelson is an absolute institution in American music, with a recording career spanning seven decades. He's also known for other things like cookware, his mysterious bond with Snoop Dogg, and small business. Oh and weed, too. Definitely pot (though he wasn't always a pothead).
But in between the prolific recording and smoking, Willie has popped up on the big and little screens more times than you probably remember. In fact, he's appeared in scripted roles nearly 50 times, according to iMDB. So, just to give a refresher course for Willie's 82nd birthday, here are five times Willie stepped in front of the camera.
Miami Vice (1986)
The man known as the Red-Headed Stranger appeared on the pastel-colored detective show in an episode titled "El Viejo" as a mysterious older man who knows way more about an enormous Bolivian cocaine deal than he's letting on. The episode also features a very young Steve Buscemi as a squirrelly drug dealer.
Also, did you know that Willie and Don Johnson recorded a song together? Enjoy.
Half Baked (1998)
Though Dave Chappelle may have issues with how the film ultimately turned out, Half Baked remains a classic stoner comedy for many reasons. High on that list is the numerous cameos, including Willie credited as "Historian Smoker."
Space Ghost Coast To Coast (2001 & 2003)
While it's technically a talk show, Space Ghost Coast To Coast is weird enough that it nearly counts as acting. When you pretend to get a man composed of magma high, that's an acting commitment. And Willie was such a good guest, he appeared on the show twice.
King Of The Hill (1997)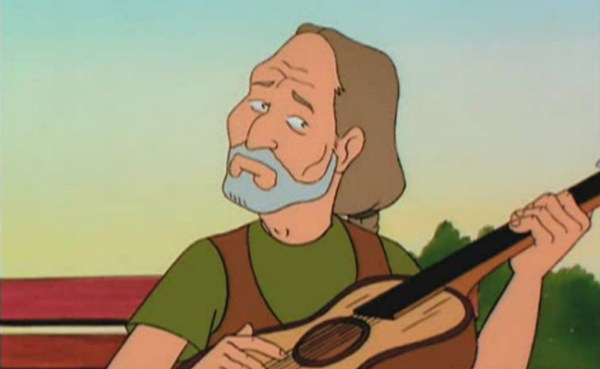 Willie has done a fair amount of voice acting as well, including a stop on The Simpsons, but everyone has had a cameo there. He had an entire episode, on the other hand, dedicated to him on King Of The Hill. "Hank's Got The Willies" detailed Hank trying to set things right with his country music hero after accidentally hitting him in the face. It was only right these two Texas institutions would meet.
Surfer, Dude (2008)
Just a few years prior to the McConaissance that we currently live in, Matthew McConaughey made this strange stoner beach film with his future True Detective partner Woody Harrelson. The movie also featured Willie as a farmer of numerous herbs and plants, but you can figure which one would bring all three of these men together.