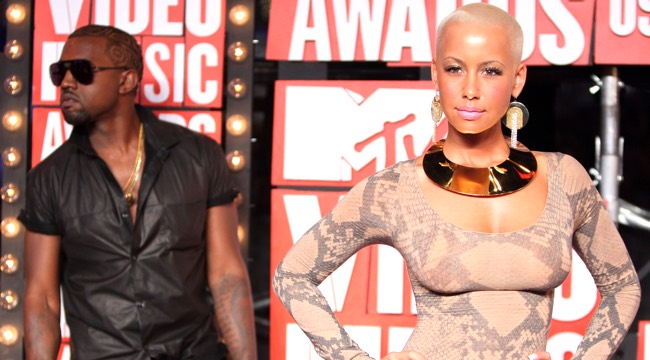 Amber Rose recently held an LA #Slutwalk where she gathered with other ladies to protest victim blaming. During the walk, Amber took the mic to diss Kanye West for saying he needed 30 showers after dating her (before Kim Kardashian would accept his love). Amber has lived quite the life and supported herself as a teenager by stripping. She doesn't regret doing what she had to do to earn a living, but she refuses to be defined by it.
Amber also declines to be defined by the men she's dated. While promoting her How To Be A Bad B*tch book, Amber noted GQ's inauspicious introduction to her November feature:
"Amber Rose wrote the book on it. No, seriously: Kanye's infamous ex, Wiz Khalifa's baby mama, America's toughest bald babe since Sigourney Weaver in Alien 3, is about to publish a book of life lessons called How to Be a Bad B*tch. Like Amber herself, it's all heart. Unlike Amber, it's not that thick!"
GQ didn't do so terribly by comparing Amber to Sigourney Weaver in terms of fierceness, but Amber must be exhausted by continued references to her exes. Especially when it comes to Kanye's shower comment. Wiz Khalifa also talked some trash, but Kanye definitely did worse. Amber took to Instagram with this rebuttal:
Really @gq??? I'm so much more then Kanye's Ex or Wiz's baby's mama. Damn, why the f*ck did u guys reach out to me for this article and photoshoot? To dumb me down? I talked about feminism and my Slutwalk… Wtf nice title smh I expected so much more from u guys and I'm so disappointed. I was so excited to be featured in GQ not realizing I was shooting for a tabloid. My slutwalk was for ignorant sh*t like this. Oh "Her beautiful dark twisted journey to the top"? Nice pun."
She has a point. The reference to Kanye's My Beautiful Dark Twisted Fantasy took the intro wayyyy over the top.
(Via GQ)