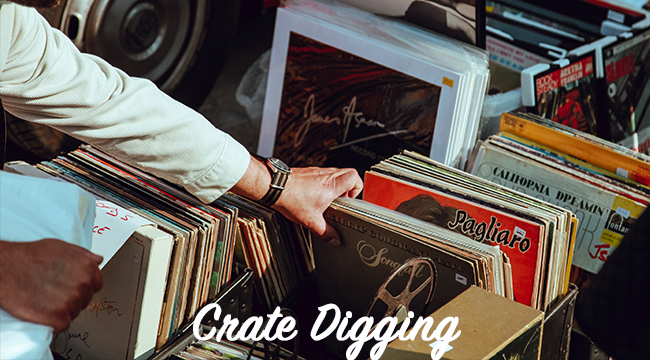 Crate Digging is Uproxx Music's monthly exploration of the depths of DIY music distribution platform Bandcamp, in an effort to unearth some hidden gem albums that just might find their spot among your favorites.
Although there have been a handful of marquee releases over the past few weeks (Anderson .Paak, Vince Staples, and Robyn, to name a few), generally speaking, the onslaught of high-profile music releases tends to slow down some towards the end of the year. That makes it a great time to take a break from the mainstream and explore some lesser-known records, so if you're looking for something different, Bandcamp is a fantastic destination to find it. In November, there were a few standout pop, indie rock, and disco-inspired records that found their way onto the service, so check out five of the better albums from Bandcamp below.
5. Starwolf — Ti Amo, Stargazer
Modern funky electropop is like pizza: At its worst, it's still pretty darn good. That's not to say that Starwolf's latest is low quality, of course, but to say that in a genre where it's easy to just get by, the St. Louis group excels. There are very few points where the music doesn't compel you to dance, and you'll be grooving to the big-time Chromeo vibes on "Ti Amo, Stargazer."
4. Lucill — Lucill EP
Just because it's dream pop doesn't mean that it has to be slow and meandering. The Montreal-based Lucill proves that on his debut EP, which falls somewhere between Diiv and Beach House stylistically. He creates immersive environments that are ethereal and reverb-drenched, but he also makes some time to rock, like during the guitar solo on the bass-driven EP-opener "Le rêve."
3. Blush — Danger
Disco got a bad rap after it died with the emergence of the '80s, but now that the market isn't oversaturated with the stuff, it's a hell of a lot of fun. There are fun things happening in neo-disco right now, and Blush is doing a fine job of fitting into that scene. The Sacramento duo works some indie vibes into the mix too, such as on the slinky "Saturday" and the funky "Love."
2. Lukka — Encounter
Borrowing from an older aesthetic is nothing new, and neither is turning that aesthetic into something that both honors the source material while pushing it into the modern age. That doesn't mean that New York's Lukka doesn't do it well, though. Incorporating influences from the rock and pop of the '60s and '70s, Lukka makes some compelling music here, like the kinetic spaciness of "Blackhole Fusion," the straightforward psychedelic rock of "Tin Can," and the garage pop of "Hang On For A Minute."
1. Zoee — My Body Knows You
Although pop music historically has a reputation for playing it safe and catering to the most general audience possible, the genre has seen a lot of boundary-pushers over the years. Joining those ranks is Zoee, aka London-based musician Harriet Zoe Pittard. Her electronic-influenced pop shows shades of Grimes on songs like "Curse" and "My Body Knows You," a comparison that shouldn't be taken lightly.