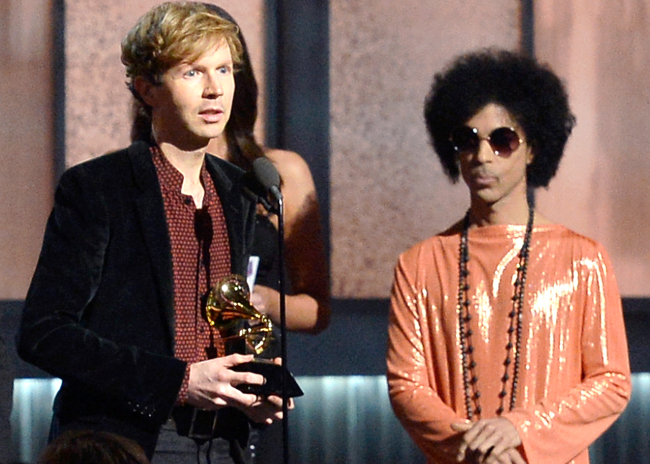 For as much as people talked about Kanye West almost causing a scene at the Grammys before claiming that Beck and/or the Grammys needed to "respect artistry" and give his Album of the Year award to Beyoncé, the guy whose opinion matters most hasn't had to say much about it. More than two weeks after West made millions of viewers shout, "Oh no, not again!" with his speech interruption bluff, Beck was again asked about the awkward and funny moment while he attended Elton John's Oscars party on Sunday night. Because if you're not invited to the big show, you should at least watch it with a living legend.
Just as Beck played along with West's sort-of-joke at the 57th Grammy Awards, the "Morning Phase" creator simply brushed the whole thing off as no big deal.
"You know. I don't know. I think the whole thing is… it's just one of those things that plays out, like a top that spins," the rocker told Variety at Elton John's Oscar viewing party Sunday night. "I really just try and not to take it personally."

Beck seemingly still respects West as an artist, adding, "There are so many musicians who I admire and look up to and get inspired by and just when I think all the good songs that have been written already, and [then] someone goes and does something — and Kanye has done that many times." (Via Variety)
I still wish they'd put an end to this topic by having a 10-minute televised conversation about music moderated by Prince, who would then spend 50-minutes leading a jam session. Dave Grohl could play drums. It would be awesome.