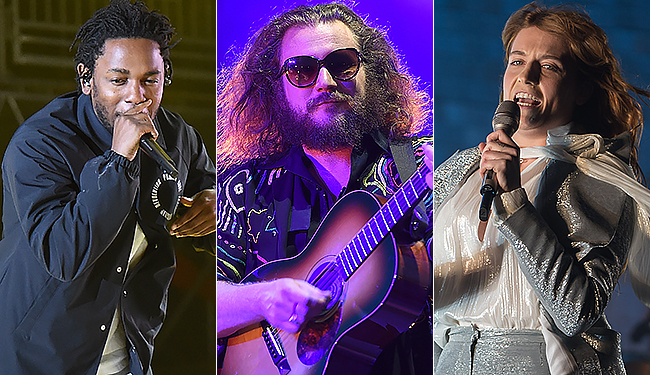 It's been a really good year for music so far. It feels like we say that every year, but we've already had some of the game's biggest names (Kendrick Lamar, Drake, Sufjan Stevens) drop albums worthy of their reputation, up-and-coming critical darlings (Father John Misty, Jamie xx, Elder) take the next step, and out-of-nowhere newbies (Leon Bridges, Tobias Jesso Jr.) make waves.
And there's still six months to go.
With the holiday weekend upon us, the Uproxx Music staff looks back at the sounds (and sights) we loved most in the first half of 2015, and the musical developments we're most looking forward to before the ball drops and the calendar turns to 2016.
Our Favorite Albums
Father John Misty – I Love You, Honeybear
I was first blessed enough to hear this album in January, a couple weeks before its release date. It was my favorite album of the year then, and even though I've had brief flirting obsessions with other records, I keep returning to I Love You, Honeybear. It's an album of juxtapositions: arrangements equally sparse and ornate, lyrics equally cynical and sincere, emotions equally intimate and withdrawn. And it overwhelms me every time I hear it. It's a folk album if you reduce it to its core, but has depths that go miles beyond its peers in that space. It doesn't hurt that it closes with "I Went To The Store One Day," possibly the best love song I've ever heard. It's just a remarkable thing, and proof that there's still life to be found in genres we sometimes consider stale. – Tom Mantzouranis
Kendrick Lamar – To Pimp A Butterfly
Somehow, To Pimp A Butterfly is even more ambitious than his critically acclaimed good kid, m.A.A.d city — which means the dense and ever-shifting LP is a more difficult listen. This is a good problem to have. Why? Not only does it solidify Lamar as more than just a one-time wunderkind, it also puts his music in that rare space where you could consider it literary. From "Institutionalized" 's unsparing view of celebrity from the vantage point of a once-poor rapper, to the Ralph Ellison-like introspection that permeates TPAB's interludes and soul, this isn't an album for the uncommitted. However, listeners are the better for hearing its 16 tracks all the way through, as the album speaks more on the state of what it means to be black than this paragraph could. – Ryan Joseph
Sleater-Kinney – No Cities To Love
Evidently, Sleater-Kinney spent their decade off hoarding rock-and-roll energy, only to unleash it all at once on No Cities to Love. They not only have not lost a step, but this album is as strong as anything they have released, and even better than some of it. Hopefully they don't make us wait another 10 years to hear something new; if this is what they've still got in their arsenal, it would be a crime to hold out on us. – Chris Morgan
Starlito – Black Sheep Don't Grin
Starlito's long been one of hip-hop's more overlooked artists, and that's unlikely to change off the strength of one release. That's why Black Sheep… has to be listened to in companion with the free mixtape released before it, Theories. The two work together to show what makes Lito a dual threat. He's a rapper's rapper who's able to tackle just about any beat and rarely gets outshined on tracks with guests. And he's equally adept at digging deep inside to give listeners a look at all of his fears, frustration  and highest hopes, all while keeping one hand on the butt of his gun and an assortment of drugs within arm's reach. With all those conflicting thoughts and emotions within one artist, Lito makes you wonder, why waste time listening to others? – John Gotty
Future – 56 Nights
Future's ascent to the upper echelon of rap began late last year with Monster, but it really came to a head with the brief but superb 56 Nights. With just eight songs, there are no misses, and the coupling of two of the year's best rap records – "March Madness" and "Trap N*ggas" – two-thirds of the way through only strengthens the potent EP. While Kendrick Lamar may have wooed critics by adding lush layers to a complicated and powerful concept album, Future kept it simple, hitting the trap and drug beats he knows best and mastering them. Nabbing all his production from the Atlanta-based 808 Mafia gives the mixtape a cohesive sound, and Future a pallet that's perfect for his amplified, auto-tuned drug-fueled musings. – Bansky
Florence + the Machine – How Big, How Blue, How Beautiful
How Big, How Blue, How Beautiful might just be my Florence + the Machine "a-ha moment." Sure, I've belted the likes of "Dog Days Are Over" and "Shake It Out" during many a karaoke session, but this record in particular — the band's third album following 2011's Ceremonials — converted me to a full-time believer. Perhaps it's Welch's tremendous vocals, which seem to soar higher than I thought possible? Or the sheer spot-on consistency of arena-sized hook after arena-sized hook? Or maybe it's just its beating heart — or rather, Welch's broken, bloodied yet still-beating ticker. She's down, but she's not out; rather, she embraces the sadness and madness and, in the process, becomes more than just the sum of her radio hits: She's a true artist. – Michelle Geslani
Drake – If You're Reading This It's Too Late
I could try to get cute with this pick and choose something a bit less obvious, but no. There's no album that hits with more power while I'm at my strongest and my most vulnerable than If You're Reading This It's Too Late. Though considered an album by most standards, Drake refers to the project as a mixtape. People balked at that idea because of the price tag, but it's a fitting designation. It's Drake dominating the darker, grime-influenced sounds that are hot contemporarily, versus creating a new sound that others will follow. The latter is reserved for his proper studio albums. And besides, all of y'all bought it anyway and I haven't heard any complaints. – Michael Depland
Godspeed You! Black Emperor – Asunder, Sweet and Other Distress
This is a Godspeed album, which is to say it is loud, meandering, bombastic, beautiful and haunting all at the same time. When I am not transcribing, I always work to music, and that music is all over the place, much like I am. But there's something about GY!BE that always puts me in the right place and the right mood to make words happen, and Asunder, Sweet And Other Distress is probably my favorite output by them since Lift Your Skinny Fists Like Antennas To Heaven dropped at the turn of the millennium. – Martin Rickman
My Morning Jacket – The Waterfall
For all intents and purposes, to me "favorite" means "most listened to." By that standard, The Waterfall has dominated my listening so far in 2015. There's just so much to listen to and absorb. I'm also a sucker for albums that fit a variety of situations, and this one checks off at least a half-dozen boxes — it's BBQ music, yardwork music, beach music, rainy-summer-day music, dear-God-I'm-tired-and-unfortunately-I'm-driving-and-I-really-need-something-to-keep-me-going music. At this point, I trust My Morning Jacket so much I'd totally let them dog-sit for me. Maybe even watch my kid for a weekend. – Ryan O'Connell
Sufjan Stevens – Carrie & Lowell
Sufjan Stevens returned in a big way by delivering one of the most heartfelt albums of the year. Unlike on his previous album, Age of Adz, Stevens decided to strip out the electronics and focus on lots of banjo, guitar, and piano. Carrie & Lowell is inspired by the death of Stevens' mother, and you can tell that the subject matter is incredibly personal and meaningful to him. – James Sullivan
Shamir – Ratchet
No offense meant to Jamie xx, but the competition for best pop-dance music album this year isn't even close. Shamir Bailey's debut is a post-internet hodgepodge of dance and pop history that still manages to work as a cohesive whole. Shamir's delivery holds together an album that jumps between late-stage Britney Spears ("Vegas"), peak Donna Summers ("Call It Off"), gay-club anthems ("On the Regular"), and Purity Ring-core ("Demon"). The fact that the singer at the center of it all isn't old enough to drink merely adds to Ratchet's excellence. – Alex Galbraith
Our Favorite Albums You Probably Heard Nothing About
Sorority Noise – Joy, Departed
Can we stop talking about the "emo revival?" The genre never went away, critics have just decided to pay attention to it again. But what is true is that the younger generation of emo bands is beginning to grow and mature beyond the genre's confines. On their second full-length, Sorority Noise have some sh*t to get off their chest, and they do so via painstaking lyrics about addiction and the toll it takes on relationships (with others and with yourself) and chaotic music that injects orchestral flourishes and heavy catharsis into the genre's more typical formulas. It packs a lot of heft into 10 brief songs. – Tom Mantzouranis
Bully – Feels Like
This debut album was just released, so if you did miss out on it, there is still plenty of time to get on the bandwagon. Feels Like is brimming with energy and raw nerve, a rip-roaring experience from top to bottom. This won't be the last you hear of Bully, and should only be the beginning of something big, at least if there is any justice in music. – Chris Morgan
Torres – Sprinter
Sprinter is the powerful second record from Torres, whose lyricism is as raw and pointed as her guitar chops. Though her 2013 self-titled debut put her on the map, it's this latest one that sees her really coming into her own and conquering the landscape beneath her. She melds indie rock, folk, and even grunge (with the help of Portishead's Adrian Utley and PJ Harvey's Ian Olliver) as she peers into the darkest corners of her mind and wrestles with fears of abandonment and rejection. In much the same way Courtney Barnett's taken the year by storm, Torres is a name you should — and probably will — hear a lot in the coming months. – Michelle Geslani
STS x RJD2 – STS x RJD2
Together, STS and RJD2 have crafted an album which reminds listeners of vintage OutKast and Goodie Mob, without sounding outdated. It's the rare record that can be played front to back without any skips, as STS effortlessly rhymes over RJD2's production like they've been working together for decades. Check out "All I Wanted Was a Caddy" to see what I'm talking about. – Eddie Fu
Nao – February 15 EP
This is what Stevie Wonder would sound like if he came along in the age of Frank Ocean and PBR&B. "Inhale Exhale" 's stuttering bassline is one of the best grooves of the year, and "Zillionaire" is Soulquarianism for the Tumblr set. – Alex Galbraith
Miami Horror – All Possible Futures
Often grouped in with the other indie-tronica groups of the early '10s like Passion Pit, Cut Copy, or Empire Of The Sun, Australia's Miami Horror does its best to separate itself from the pack on its sophomore album. Dreamy and Eno-esque at turns, dancefloor-packing at other times, the growth on All Possible Futures is something that must be noticed. It truly feels like one of those albums you'd never take out of your glove compartment or off your phone to make space. Old faithful records like that are truly hard to come by. – Michael Depland
Young Dolph – High Class Street Music 5 (The Plug Best Friend)
Young Dolph is one emcee in a long tradition of street-corner hustlers turned rappers. What makes The Plug Best Friend stand out from the pack is the Paper Route Empire head honcho's growth as an artist. Early in his career, he showed signs of promise alongside noticeable flaws like just cramming too many damn words into his bars and being downright repetitive. With more experience under his belt, Dolph's delivery is fluid, his Southern drawl lathered on thick for emphasis. He's mastered the Tony Montana-character type with strong command. As he keeps gaining momentum, expect the Memphis native to take his growth from regional to national. When he does, we'll be looking back at HCS5 as a turning point. – John Gotty
Oddisee – The Good Fight
Like Black Milk, Oddisee has undergone the transition from producer to emcee, yielding similar success. The Good Fight is littered with excellent production behind meaningful lyrics (he does not curse once throughout the project), making for an easy tracklist to listen to without diluting a message. It's an instant upgrade to your Sunday Morning playlist. – Ryan Alfieri
Our Favorite Videos
Open Mike Eagle – "Celebrity Reduction Prayer"
This brilliant lyrical satirization of our country's obsession with celebrities (and becoming them) is matched with a visual that sees Open Mike Eagle go about his day in a world where people are obsessed with broadcasting their every move online for the world to see. It's a smart, well-executed concept, but it's also aesthetically pleasing – the filtered hues that coat the scenery match the song's breezy feel, until both crescendo and crash together. – Tom Mantzouranis
FIDLAR – "40 oz. On Repeat"
How much fun do you think FIDLAR had filming this video? The group mimics a ton of famously recognizable videos – Britney Spears, Eminem, Beastie Boys, Korn and Devo are all taken on here – and look like they're having a blast doing it. – James Sullivan
Big Sean feat. Chris Brown & Ty Dolla $ign – "Play No Games"
It's a video that plays complete and utterly outlandish homage to the show Martin. Of course this is going to be my favorite video of the year. This should not be a surprise to anyone. – Martin Rickman
Mark Ronson feat. Mystikal – "Feel Right"
I want to be the kid in this video, but will accept that I'm more likely the janitor. Sometimes life isn't fair. And speaking of fair, I've said it before and I'll say it again:  you can love "Uptown Funk" all you want, but this is the jam off Uptown Special we should all be bowing too. – Ryan O'Connell
Wolkoff feat. The Hood Internet – "Going Back"
A short, VHS-sourced ambrosia of vaporwave imagery set to a slow, dreamy summer jam. Obtained straight from the era of the "Money for Nothing" video, this Reboot-esque introductory video sets the table for an artist with a bright future that will hopefully help pop music return to an era where women in their late 20s aren't singing pre-teen pop songs that sound like they belong on the Frozen soundtrack. – Trevor Risk
What We Can't Wait For In The Year's Second Half
The Wrens finally return
In this short-attention-span society, unless they've reached a certain status, artists typically can't afford to go, say, three years between releases and expect audiences to be waiting with open arms. So how did a tiny indie band from New Jersey get away with waiting 12 years to follow up their breakthrough album? Because The Meadowlands, The Wrens' 2003 sophomore album, is a generational masterpiece. And because they've always been up front with fans about their lack of punctuality. Throughout all the starts-and-stops and false hopes on its followup, it looks like this thing is actually coming out in 2015. I've never been so excited to hear someone sing about their mid-life crisis. – Tom Mantzouranis
Disclosure's Caracal
Disclosure's 2013 breakthrough album, Settle, was a crescendo of so much great work, spearheaded by breakaway hit "Latch." We've heard bits and pieces of what their new album might be, but there's a big shadow to escape with their debut's success. Rumored guests include Lorde, Nao, and of course, Sam Smith. Here's hoping they can do it again. – Michael Depland
DOOMSTARKS happening. (Probably. Hopefully.)
It feels like Ghostface Killah's and MF DOOM's DOOMSTARKS collaboration has been rumored about forever, but it seems like Ghostface's assertion that an album will drop this year will come true. DOOM appeared on "Ray Gun" from Ghostface's collaboration with BADBADNOTGOOD, and they'll be performing new songs together at the III Points Festival, with DOOM appearing on screen "from the other side of time" (Note: This is not the weirdest thing DOOM has ever done). These are two of the best artists in hip-hop, and finally they may be giving the people what they want. – Chris Morgan
Chromatics' Dear Tommy
It's not as if we haven't had a batch of new Chromatics tunes to satiate us in this new year, but when Dear Tommy was announced last December it seemed like it would be out not much longer after that. Here we are in July still waiting, and each new track released gets me more ready for a full album so I can jump in the pool of sound and fully immerse myself in it. – Martin Rickman
FIDLAR's Too
FIDLAR is expected to release its second album Sept. 4, which means we have just a little over a month before all garage-rock hell breaks loose. It's the glorious kind of pandemonium, though; the type that shapes the most memorable, drunken nights and soundtracks those insane, Andrew WK-caliber shenanigans that go on to become the stuff of legends. For Christ's sake, the band's name is an acronym for "F*ck It Dog, Life's a Risk." Allow me to relay a short, but sweet anecdote: A few years back, I was so pumped during a FIDLAR show that, upon hearing them cover Blink-182's "Dammit," I literally stopped peeing (I probably should have mentioned that part of this story takes place in a venue bathroom), zipped up my shorts, and threw my body into the pit. I emerged shortly after covered in beer, sweat, and probably spit, but it was a great couple of minutes that I'll never forget. – Michelle Geslani
Lil Wayne's Free Weezy Album / Tha Carter V
Tha Carter V could be lost forever to Weezy's legal issues with Cash Money Records, but at least there's some hope. He recently announced that his long-awaited Free Weezy Album will drop Saturday, aka July 4, aka Independence Day (we see what you did there, Wayne). Hopefully, the record will feature the same hunger and fiery rhymes he displayed on his A$AP's "M'$" verse and the Tidal exclusive, "Glory", because Tunechi in top form is something the game's been missing. – Eddie Fu
Titus Andronicus' The Most Lamentable Tragedy
From the start of first single "Dimed Out," I instantly thought "well, this album is going to rule." Then I found out The Most Lamentable Tragedy is a 29-song rock-opera, and it got me even more excited. Patrick Stickles and the guys in Titus Andronicus are exactly the kind of out-of-control rock band the world needs. – James Sullivan
The Arcs' Yours Dreamily
Consider me a Dan Auerbach devotee. If I was a little younger, I'd be writing him letters. Based on the first song released from this project, it sounds delightful and totally different than what he's done either with the Black Keys or on his last solo album. And Richard Swift is involved and "Lady Luck" is one of my favorite songs — although I have to admit, liking this so much does make me feel a little bad for Keys' drummer Patrick Carney. – Ryan O'Connell
Young Thug's Hy!£UN35
Young Thug's Barter 6 was a solid addition to his already lengthy catalog of mixtapes, but the melodic tape only served to remind fans of the possibility of what a full-length, label-backed retail album can be for the Atlanta rapper. The day before the mixtape's release, his label made a point to announce that that debut would be coming this August in the form of Hy!£UN35 (HiTunes) and the anticipation began immediately. With all of the big names co-signing Thugger recently, including Kanye West, who allegedly wants to produce an entire Thug project, Hy!£UN35 could be a star-studded affair. Add to Thugger's ability to constantly nab the best production Atlanta has to offer and this has the makings of something special. – Bansky
Whatever Mac Miller has planned next
Mac has made quite an interesting career turn in the last two years, transforming from the care-free kid who made Blue Slide Park to churning out the darker, airy, drug-induced Watching Movies With the Sound Off. Moving to Los Angeles has put Miller in connection with underground producers such as Clams Casino, and the musical strides were evident in his last studio release. If he can clean up his delivery and put together a more focused project, Mac Miller's next release could be something special. – Ryan Alfieri