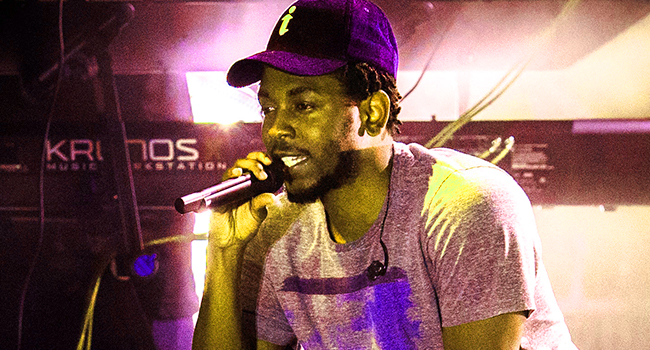 More than once over the last several years, Kendrick Lamar has crowned himself as the "Greatest Rapper Alive." While you can argue the validity of that statement all DAMN day, you can't deny the incredible body of work that he's put together since first hitting the scene around 2010 with his head-turning mixtape Overly Dedicated. Over the past five years, the man has logged three, stone-cold classics in a row, Good Kid, M.A.A.D. City, To Pimp A Butterfly and most recently DAMN, placing himself firmly in the pantheon of the greatest musical minds of the 21st century along the way.
Limiting this list to just his 15 greatest songs was an exceedingly tall order. Basically every single track from Good Kid, M.A.A.D. City was in play at one point or another — minus the bonus tracks — most of To Pimp A Butterfly — minus the interludes — and just over half of DAMN. Then you've got the loosies, the mixtape cuts; Section .80 has to represent somewhere. After careful consideration and hours — years really — of listening, here are the best tracks from Kendrick Lamar's career, ranked from merely great to stupendously amazing.
15. "Untitled 07"
We'll probably never know the true reason why Kendrick decided to drop this batch of previously shelved tracks packaged as Untitled Unmastered in the spring of 2016. Maybe LeBron James had something to do with it? Maybe it was in the cards all along? It doesn't matter either way. While it's fair to say Kendrick was wise to leave a lot of these songs off To Pimp A Butterfly, he might have erred by excluding "Untitled 07." There's an ominous tone to the music of this song that Kendrick embodies through the verses. He sounds like a tempter, plying the act of enlightenment itself. Achieve it and you'll "levitate, levitate, levitate, levitate."
14. "The Art Of Peer Pressure"
"The Art Of Peer Pressure" is a cautionary tale about how life can go disastrously wrong if you aren't strong enough to follow your own path and use better judgement. It's the "true mother*ckin' story told by Kendrick Lamar on Rosecrans" about how he and his friends went out for a ride in a white Toyota, raised hell in the hood, broke into someone's home, made off with their finest "Nintendos, DVDs, plasma screen TVs" before getting tracked down by the cops. The driver makes a right, a left, then another right, managing to evade them, and allowing Kendrick to avoid his first offense. Who knows how things might have turned out otherwise? "One lucky night with the homies."
13. "Humble"
Before 2017, Kendrick had accomplished quite a bit in his relatively short career. The one trophy the remained absent from his case however, was a No. 1 hit single. "Humble" changed all that. Produced by Mike Will Made-It, "Humble" is propelled by an endlessly infectious, super-bouncy hook, that Kendrick uses as a launching pad to warn all the other rappers out there to be mindful of his greatness. You want to get a true sense of the imprint this song has already left on the culture? When I saw Kendrick on his most recent tour, just a few months after "Humble" dropped, he let the crowd take over for him just a few lines into this cut, and they nailed the entire thing completely a capella. The. Entire. Thing. It was absolutely astounding.
12. "How Much A Dollar Cost"
Do you know what Barack Obama's favorite song in 2015 was? That's right, "How Much A Dollar Cost" off To Pimp A Butterfly. While you may be able to gripe about the musical tastes of Presidents prior to Obama, this is a man who included Nina Simone's "Sinnerman" on his workout playlist, so clearly he knows what he's doing. It's not hard to hear what Obama, and many others admire so much about this particular song. It's an extremely deep entry, finding Kendrick interacting with God posing as a homeless man begging for change on the street. He rejects the man's entreaties and is humbled as a result. "He looked at me and said, 'Your potential is bittersweet' / I looked at him and said, 'Every nickel is mines to keep' / He looked at me and said, 'Know the truth, it'll set you free.'"
11. "Cartoon & Cereal"
The long lost Kendrick song. "Cartoon & Cereal" was allegedly supposed to appear as the opening track of Good Kid M.A.A.D. City, but was pulled at the last minute because it was leaked, or there was sampling issues… actually, the circumstances remain kind of murky. Despite that fact, the mysterious nether realm it occupies only has added to it's legend. "Not to worry, every warrior will come and see euphoria," Kendrick promises in the rapid fire initial verse. That line, easy to miss amidst his frenetic flow is key. It's almost a mission statement, a message to himself, and a reminder to others. "Yeah, that's the bar," he told Genius. "I said that specific line — continue to believe in me and believe in what I'm doing, because I won't fail you." This is one of the few tracks in Kendrick's canon where he nearly gets washed by a guest star, in this case Gunplay who brings straight heat to his verse. Note: I said nearly.
10. "King Kunta"
"I got a bone to pick," Kendrick growls over a bouncy Thundercat bassline. "I don't want you monkey-mouth mother*ckers sitting on my throne again!" The third track off To Pimp A Butterfly, "King Kunta" contains multitudes. It's an aggressively penned "To Whom It May Concern" to the entire rap community, kidding themselves into believing they run this sh*t. Kendrick is King, and through vivid reference Ralph Ellison's Invisible Man and Alex Haley's Roots, he not only states his claim on the throne, he mocks everyone who believes they could usurp him. "I was gonna kill a couple rappers, but they did it to themselves / Everybody's suicidal, they ain't even need my help." And who could forget this epic sub, possibly aimed at Drake, "I can dig rappin', but a rapper with a ghost writer / What the f*ck happened? / I swore I wouldn't tell, but most of ya'll sharing bars / Like you got the bottom bunk in a two-man cell." Ruthless.
9. "Sing About Me, I'm Dying Of Thirst"
One of the longest entries in Kendrick's catalog, "Sing About Me, I'm Dying Of Thirst" is also one of the deepest as well. It's multi-part tale of life in the streets of his beloved Compton as told through a wide range of different perspectives. Kendrick brings the characters to life in such a startling, unvarnished way, you can't help but wonder if these are real people he's encountered along the way, like the vindictive man who listens to the demons in his head that scream "Get 'em!" Or the young woman who turns to prostitution to make her way through, "In the parking lot, Gonzales Park." It's a world from which Kendrick is never really sure he'll ever escape. Where death is but a stray bullet away at all times, but it's that same fear and anxiety that fuels him. "And every day the glass mirror get tougher to watch / I tie my stomach in knots / And I'm not sure why I'm infatuated with death / My imagination is surely an aggravation of threats."
8. "The Heart Part II"
The first track from Kendrick's mixtape Overly Dedicated is the one that made many heads perk up their ears and take notice of this young kid from Compton for the first time. Rapping over The Roots' "A Piece of Light," Kendrick opens up and lets every thought, feeling and emotion flow out of his heart and flood out of the speakers. "I remember saying to myself, 'I just wanna show a spew of emotion on a record. I don't care how long the bars are, but people are literally gonna have to feel me,'" he told Rolling Stone. If it doesn't sound polished, if the multitude of voices he deploys don't quite come together, it's all part of the effect. This is Kendrick the raw talent, knowing instinctually what he wants to get across while still figuring out the most effective way of doing so. "Look the mastermind, took the master's mind / Just the perfect time, just to master mine."
7. "A.D.H.D."
While Section .80, Kendrick's debut album, is a solid record that any rapper would be happy to include among his catalog, I think it's fair to say that it pales in comparison to his latest three releases. The exception, the song that truly points to his future greatness is the single "A.D.H.D." Produced by his frequent collaborate Sounwave, the music is hazy; an almost indecipherable swirl of synths and reverb-drenched snares. Kendrick himself sits at the center of the cyclone, whipping the miasma further with the aid of Bay Area kush, Ecstasy, Vicodin, "eight doobies to the face," and a generation of kids "sippin' cough syrup like it's water."
6. "Swimming Pools"
Alcohol is a motherf*cker. Its a temptress of the highest order. It pulls you in with the promise to change your way of thinking, change your state of being, and blot out the reality you no longer wish to confront. "Some people like the way it feels / Some people wanna kill their sorrows." In the wrong hands, in the wrong doses, it can take over your life completely. While many in the rap field flow rhapsodic about popping bottles, Kendrick deals in the harsh aftermath and the enablers standing by to get you there as quick as possible. "Why you babysittin' only two or three shots? / I'ma show you how to turn it up a notch."
5. "U"
Kendrick's single "i" get most of the attention, what with it's breezy Isley Brothers soul sample, but it's counterpart, the To Pimp A Butterfly album cut "u" is far and away the more bracing, though-provoking piece of music. Opening with a pair of pained screams, and some avant garde, freestyle saxophone, Kendrick tears apart his own psyche, upending himself for his selfish behavior, his pride, his insecurity, and the false idol he presents to the masses. "You preached in front of 100,000 but never reached her / I f*ckin' tell you, you f*ckin' failure — you ain't no leader! / I never liked you, forever despise you — I don't need you! / The world don't need you, don't let them deceive you." It's incredibly rare to find an artist willing to plumb deep down into the darkest corners of their heart and shine a light on it for the whole world to see. It's even rarer for the experience to be this compelling.
4. "God"

This song clearly means quite a bit to Kendrick. Every night on his DAMN tour, rather than bust out a classic fan favorite, or a big, crowd-boosting hit, Kung Fu Kenny comes out for the encore and takes his audience to church with this profound musical excursion. It's a hell of an experience to watch one man bask in the glory and adoration of 20,000 people, singing "This what God feel like" over and over again. Many of us will never know that singular feeling and Kendrick himself doesn't seem to take it for granted. Though we hold him up a deity, the man himself is quick to point out his mortal nature. He isn't God, but a messenger in his service. "Everything in life is a gamble/ Nothin' in life I can't handle / Seen it all, done it all, felt pain more / For the cause, I done put blood on sword."
3. "The Blacker The Berry"
"The Blacker The Berry" is a breathtaking experience, where Kendrick breathlessly rages against those who hold his race in such obvious contempt. Over a bracing boom-bap beat, he stands defiant, defending his culture and his heritage while raging at those who would seek to destroy it. "Came from the bottom of mankind / My hair is nappy, my dick is big, my nose is round and wide / You hate me don't you / You hate my people, your plan is to terminate my culture / You're f*cking evil / I want you to recognize that I'm a proud monkey / You vandalize my perception, but can't take style from me." The Jamaican dancehall stalwart Assassin delivers a similar message through the chorus. "How you no see the whip, left scars pon' me back / But now we have a big whip parked pon' the block / All them say we doomed from the start, cah' we black / Remember this, every race start from the block, jus 'member dat." Remember that.
2. "M.A.A.D. City"
Musically, there isn't a more thrilling song in Kendrick's arsenal than "M.A.A.D. City." From the nearly whispered vocal entry, the explosion of "yack-yack-yacks," and they swirling keyboard riff, everything about this track is eye-wideningly powerful. The first blast of a tsumani, followed by the steady, unending roll of the churning ocean. Go see him live and you'll watch the crowd absolutely explode when the beat drops. "M.A.A.D. City" is another day in the life of K Dot, driving down Rosecrans with his friends, watching people catch a bullet while high off his ass on a blunt laced with PCP. It's a story filled with rival gangs, robberies and "Bodies on top of bodies, IV's on top of IV's."
1. "Alright"
"Alright" isn't just merely a song. "Alright" has done something that few songs ever, ever, ever manage to achieve. "Alright" captured the feeling of a moment and became an anthem. It became a clarion call for a portion of society that felt unduly victimized, persecuted and ignored. In 2015, when it seemed like every day the headlines were dominated by another innocent black person being shot, choked; killed, by a member of law enforcement, as the people took to the streets to protest, they chanted the simple, straightforward chorus to Kendrick's deeply profound To Pimp A Butterfly creation. "Alright" became the "We Shall Overcome" for the 21st century.
"Alright" is filled with empathy. Kendrick understands what's going on. He's wounded by it tremendously. "When our pride was low / Lookin' at the world like, 'Where do we go?'" He hates the police who, "Wanna kill us dead in the street fo sho'" but with nowhere else to turn he trusts in God. "I'm at the preacher's door / My knees gettin' weak, and my gun might blow / But we gon' be alright." The message is a powerful one, and it resonated with millions of people across the country, who came together in one voice to speak truth to power.