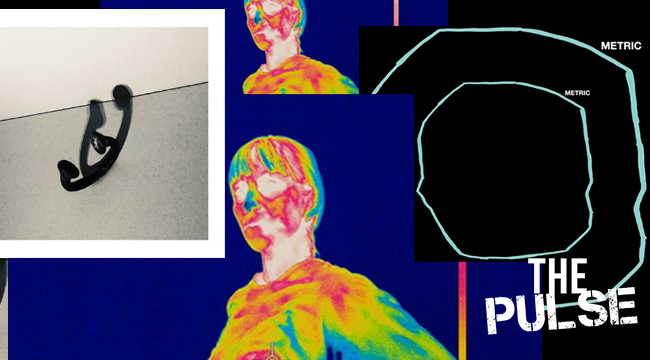 The Pulse is the Uproxx Music guide to the best new albums, mixtapes, and other music releases that matter this week. Find our complete list of the records coming out in September here.
There are a few notable occurrences happening in the hip-hop world this week: Lupe Fiasco not only didn't delay his album, but he actually released it early. Brockhampton is back with their first record since Ameer Vann left the group following some controversy. Machine Gun Kelly dropped a new EP while he's in the midst of a big-time feud with Eminem. If you want storylines, this week's got 'em.
Indie is pretty happening too: Metric is back with their first album in a while, Mount Eerie dropped a personally significant live record, and if you like folk groups, you'll be happy to hear that Mountain Men are back with their first album since 2010.
Lupe Fiasco — Drogas Wave
Usually, with new albums, they're either released on time, as a surprise, or on a delay, but they're not really moved ahead much. Now, Fiasco got eager and decided to drop Drogas Wave, the sequel to last year's Drogas Light, earlier than anticipated, and it's a long one, clocking in at an hour and 38 minutes.
Brockhampton — Iridescence
After a rough stretch for the group, Brockhampton has weathered the storm and they're back with their post-controversy release. Iridescence is their first album following the departure of Ameer Vann, and it features songs like "Tonya," a soulful track they premiered on The Tonight Show earlier this year.
Metric — Art Of Doubt
Metric has spent some time this year opening for the Smashing Pumpkins, and now they're mounting a comeback of their own. The Canadian indie group has returned with their first album since 2015, and it features track like the fuzzy rocker "Dark Saturday," the electronic-tinged epic "Now Or Never Now," and the spacy and aggressive "Dressed To Suppress."
Machine Gun Kelly — Binge
Kelly has decided to take on the formidable task of going toe-to-toe in a feud with Eminem, and the latest result of that beef is his latest EP. Most notably, it features the diss track "Rap Devil," and he's coming in hot from the very start: "Somebody grab him some clippers, His f**kin' beard is weird."
Joyce Manor — Million Dollars To Kill Me
A penchant for melody and hooks has emerged from Joyce Manor's fast-paced punk beginnings, and that shows on their latest record. Highlights include midtempo rocker "Think I'm Still In Love With You" and the bright fuzz guitar pop of "Silly Games."
Mount Eerie — After
Late last year, Mount Eerie gave a performance at the stunning 13th century gothic church Jacobikerk for the Le Guess Who? Festival in Utrecht, Netherlands. It was a moment so special for Phil Elverum that he decided to release the audio as a live album, which he previously said brings a new life to the songs featured.
Listen to After here.
Christine And The Queens — Chris
It seems Europeans are more inclined to be bilingual than Americans are, and this French group showed that be releasing their new album in both English and French versions. It sounds great in either language, including album highlight "Doesn't Matter," a fine piece of punchy and dynamic pop.
Mutual Benefit — Thunder Follows The Light
Their 2013 album Love's Crushing Diamond was a Bandcamp hit, and they've built a nice discography for themselves since then. The latest entry is Thunder Follows The Light, a record of more gentle and calming indie folk fans have come to love.
Mountain Man — Magic Ship
It's been quiet on the Mountain Man front, but now the Appalachian folk trio is back with their sophomore album, eight years after their alluring debut. If you're looking for something different, this is it: The only instruments at play here are the three voices of the band members, working together to make legitimate songs out of thin air.