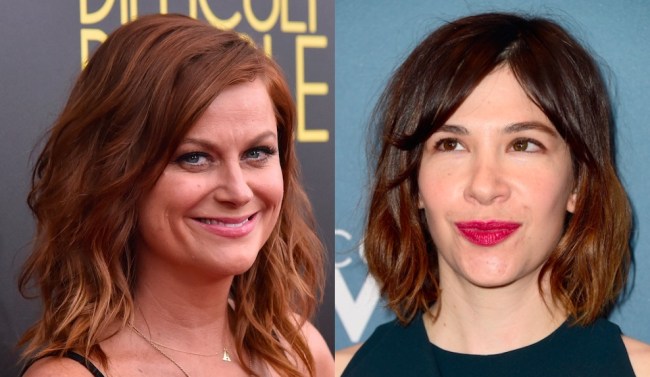 The dream of the 1990s is dead, but love isn't. Sleater-Kinney's Carrie Brownstein is currently touring the country behind her excellent new book, Hunger Makes Me a Modern Girl, and she brought along good buddy Amy Poehler for a recent stop in Pasadena, California. The usually impossibly-annoying Q&A session with fans was interrupted by two women with a request:
Carrie, would you marry… us?
"The couple told Carrie they'd heard from a friend that she was an ordained minister," a member of the audience tells Us Weekly. "They asked if they could get married on the spot, as they'd come prepared with their marriage license."

"Amy was visibly excited and shocked, and turned to Carrie [and said] 'You gotta do it!' The crowd cheered and applauded wildly." (Via)
Brownstein did it, and after she wrote an impromptu speech and Poehler sat down on the piano (she joked, "I only know the first part of 'Greensleeves'"), Kendall Oshiro and Genevieve Hernandez became wife-and-wife.
"It was a sincere, thoughtful, and impressive speech, considering the spontaneity," our spy says of Brownstein's delivery. "Amy remained seated at the piano, looking emotional and delighted for them." (Via)
Getting married by Brownstein is the indie rock version of being blessed by the Pope.
(Via Us Weekly)