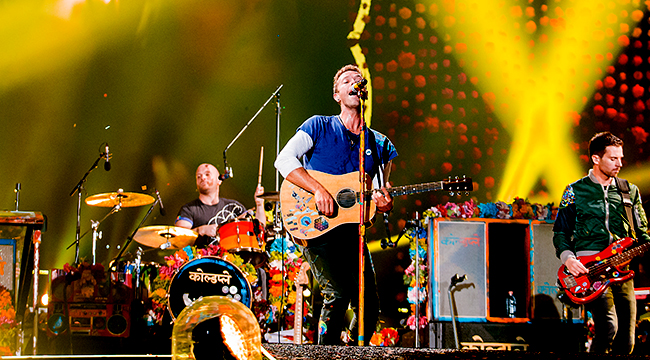 Chris Martin of Coldplay is a lot of things. He's the leader of the most successful band of this century, an award-winning songwriter with seven Grammy awards on his mantle, and a stadium-sized frontman in a time when that's a dying breed. He's a member of one of the only rock groups that currently can claim to be too big for most music festivals, a special place mostly occupied by pop stars (Taylor Swift, Rihanna) and rappers (Drake). He's a devoted father, a surprisingly decent actor, co-coiner of the phrase "conscious uncoupling," and loyal buddy to Jay-Z and Beyonce.
But one thing Chris Martin is not is cool.
It's this fact that makes Coldplay an easy target for detractors, who take one look at their Sgt. Peppers' Amazing Technicolor Dreamcoat aesthetic and take a hard pass. In the new documentary A Head Full Of Dreams, which traces the band's history from schoolboys to dancing under a storm of neon confetti, there is a segment that even acknowledges the detractors, including being called "music for bedwetters." Surely some of this comes from the band's penchant for a soaring ballad, the earnest and inspiring lyrics, and their desire to draw from other musical trends like EDM and hip-hop. But a lot of that is pegged squarely on Martin, his omnipresent toothy grin, and his seemingly neverending well of positivity.
The film shows this to be an integral part of Martin's character dating back to before Coldplay was a band. And it's a remarkable bit of prosperity that director Mat Whitecross has been following Martin, Jonny Buckland, Will Champion, and Guy Berryman around since that time, resulting in the kind of archival footage and insider access that is almost impossible to gain from a source outside a band. And because of this, it never feels like the kind of film that was heavily vetted by the group, making themselves look like both the consummate professionals that everyone imagines. No, Coldplay are presented as goofy, ambitious, unpretentious, and wholesome. They seem like guys you could be next door neighbors with and that you'd roll your eyes at when they waxed on about their goals over a pint or a joint. When Noel Gallagher shows up in the film to collaborate on the track, Martin acknowledges that the "grumpy" songwriter couldn't have a more different worldview, and it's up to the audience to parse that as a reason why Oasis belongs to Britain and Coldplay belongs to the world.
It's a revealing look that begins at the movie's opening moment. The film starts with Martin claiming he didn't even want to watch the completed film, saying that he trusted Whitecross to treat the band generously. Anyone who has ever been on camera or had their voice recorded can relate to this, that dread that comes with watching or listening to yourself and not recognizing the person on the other end of the tape. It's a wonderful contrast to how Martin is displayed elsewhere, who's seen flailing about, twirling, leaping into the air while fireworks pop behind him. The person that looks so free on stage is not necessarily the same one who writes the songs or raises children or started a band decades ago. That person on stage needs to be fearless to survive, but the person off the stage has very much been learning as he goes, he's just a big kid whose awkwardness and lust for life have followed him since childhood.
The film notes some of Coldplay's contemporaries when they were emerging, performing between artists flash-in-the-pans like Papa Roach and SR-71 at alternative radio festivals, but they were also blowing up at the same time as The Strokes and The White Stripes, an infiltration that was erasing the McG-directed late-'90s and making rock music equally fun and cool. It's a mythology that has dominated rock music for decades, complete with its leather jacket imagery, cigarette on the lips, and defiance from the straight-laced pop norms. This might be why Coldplay is often categorized as much as a pop band as a rock one, but that Venn diagram seems to skew much more in the latter category unless they are collaborating with Beyonce, Avicii, or The Chainsmokers.
Martin even takes a stab at describing the band in the film, serving up as much eloquence as a Waffle House menu when he says, "Bacon and eggs and mushrooms and chips are put on the same plate, and become something greater than those individual parts. It becomes a cohesive whole. It's tasty. Our sound is tasty." If it wasn't for the grin on his face and the clear knowledge that what he was saying was absolutely ridiculous, it would be insufferable. But A Head Full Of Dreams presents a band so comfortable in their own weird-ass skin that it comes across as just another charming idiosyncrasy.
Whitecross' film lacks conflict, though drummer Champion is kicked out of the band for a moment due to label pressure and the various members have their own low points, but it does serve a purpose. Martin has long been the figurehead of the group, but the movie is clear to paint the portrait of the four-piece, or even five-piece, puzzle. As clumsily as Martin describes Coldplay as pub fare, there is a true fascination in seeing the band meet, four moons orbiting the same planet and ultimately uniting behind Martin's incredible songwriting. It's then that the viewer realizes all the goes into making Coldplay the juggernaut that it is, that the friendship at the center of the band is the thing holding it together and making it as special as it has become. Even their one-time manager and current creative director Phil Harvey is presented as an essential element, the unofficial fifth member. They're the kind of people not opposed to group hugs, to act like monkeys while Brian Eno is in the room, and to shout out platitudes like "anything is possible" while actually meaning it.
But if there's one moment in the film that sums up Coldplay, it's a shot from 1998. Martin might have a head full of dreams, but here he has a mouth full of braces, and he announces while looking straight into the camera that his band would be on national TV and a giant sensation within four years. "We're gonna be so huge," he says before literally hopping from excitement, the kind of exuberance that can only come from youthful naïveté. You want to pat the good-natured kid on the head and say "sure you will, sweetie" after he emphasizes the date so that he can be held accountable for the statement. But two years later they would release "Yellow" and in that four-year window would be Grammys, Brit Awards and the album that many consider their best, A Rush Of Blood To The Head. Even back then, it's clear as day just how much the band was invested in what they were doing, how tenacious they were, and how committed they were to their dreams. At that moment, they're about as uncool as a rock band could seem. And it's absolutely the reason why millions have fallen in love with them.
A Head Full Of Dreams is out today via Amazon Prime. Watch it here.