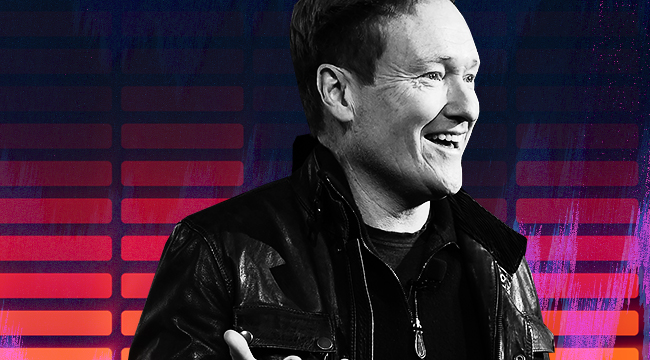 Last week, it was announced that TBS' Conan — the late night basic-cable outpost hosted by one-time NBC fixture Conan O'Brien — would be excising live musical performances in 2019 as part of a pivot to a new half-hour format. The news was spun as yet another way that the new Conan will be "leaner" than its higher-profile network competitors. But for many of us who remember when O'Brien was host of NBC's Late Night in the '90s and '00s, it was a little strange, and even kind of sad. For more than 15 years, O'Brien presided over one of the best and most exciting TV showcases for emerging artists and bands ever. And nothing has replaced it.
Originally founded by David Letterman in 1982, the Late Night franchise established itself early on as a backdoor portal for the outskirts of music culture to enter the mainstream. Late Night was where R.E.M. performed for a national audience for the first time, and Captain Beefheart appeared as a panel guest multiple times. This embrace of the fringes was borne partly out of necessity, as Johnny Carson expressly forbade Letterman's people from booking guests that were pursued by The Tonight Show. But it quickly became a foundational aesthetic of Late Night — if you want to see things that are simply verboten elsewhere on television, tune in here.
This tradition continued under O'Brien's watch. The first-ever musical guest upon O'Brien's notoriously shaky debut in 1993 was Radiohead, at the height of "Creep"-mania, back when Thom Yorke tried to look like Kurt Cobain and dance like Morrissey. "I really like these guys!" O'Brien chirped, a nervous endorsement that conveyed how unusual it was to see a relatively unknown British band on network TV in the early '90s.
Up through O'Brien departure from the franchise in 2009, Late Night was the place to see indie and alternative rock bands that weren't famous enough yet to get booked on any other television show. It was where Uncle Tupelo went to die, and Wilco came to be born. Arcade Fire also debuted on Late Night, while The White Stripes concluded there. Underground royalty too hip for Saturday Night Live — like Bjork, The Breeders, Pavement, At The Drive-In, Hum, and many others — were always welcome. And then there was the truly weird, like Ween, who were encouraged to out-Ween themselves.
What, again, is a little strange and kind of sad about all of this is that the musical offerings from that era of Late Night seem even more revolutionary now. Not the bands themselves, maybe, as many of them are now practically classic rock. I'm talking about the spirit. Regularly putting on musical acts that are virtually unknown to a mainstream audience, making a late night show an avenue for actual discovery — not to mention spontaneity, surprise, and plain old genuine excitement — who is doing that now?
Bands have always had a somewhat dubious place amid the standard construction of a late night TV talk show. It's what you put on at the end, right before the credits roll, around when the viewer is already dozing off. And yet none of the other major late night shows appear to be on the verge of following Conan's lead. On the contrary, there have been attempts to make musical performances at least appear more interesting.
The Tonight Show With Jimmy Fallon consistently has the youngest, freshest acts — this summer has included spots by YG, Rae Sremmurd, and Leon Bridges — though it's still pretty straight-forward when it comes to presentation. (A recent performance by Janet Jackson and Daddy Yankee felt like the sort of tired, variety-show Kabuki that clogs up the Grammys every year.) Over at The Late Show With Stephen Colbert, meanwhile, the inverse is true: The musical offerings are a little older (Beck, Luke Combs, OneRepublic) while the production is more elaborate, like shooting Arctic Monkeys in black and white. Colbert also breaks convention by introducing each act, LP record in hand, from the audience, SNL-style. (Fallon only does this occasionally, otherwise sticking behind his desk.)
The show that puts the most thought (and apparently takes the most pride) in its musical performances is Jimmy Kimmel Live!, home of the so-called "Jimmy Kimmel Live Concert Series," which presents performers both on an outdoor stage and an intimate interior space outfitted to look and feel like a club. (Which means that Kimmel is also unshackled from the desk when he introduces the musical act.)
Surveying the major late night shows over the past month or so, there was little that even approached the old Late Night's adventurousness. The current iteration of Late Night hosted by Seth Meyers has admirably taken flyers on resolutely un-famous (and yet seriously great) bands like Sheer Mag and Gang Of Youths, whose recklessly go-for-broke performance from March is by far the year's most memorable. And TruTV's recently canceled The Chris Gethard Show hosted a variety of under-the-radar indie acts — including Metz, Chris Farren, Charly Bliss, Ezra Furman, Japanese Breakfast, and Pup — calling back to the show's early '10s roots in New York City public access television. And let's not forget the extremely easy-to-forget Last Call with Carson Daly, the only TV show so far with the smarts to feature the inexhaustible punk-rock dynamo Jeff Rosenstock.
Music performances on late night TV have never sounded or looked better. The marginal Last Call, no matter its Siberian time slot, is especially striking in that regard. But this slickness isn't always a benefit. I kind of wish these shows were a little grimier, to be honest, at least when it comes to their show-closing soundtracks. The grandness of these programs is designed for the pop stars and major-label beneficiaries that now regularly populate them.
The music performances from late night TV that stick out the most in my mind from the past several years were by acts that did not belong on network TV. Odd Future's menacing turn on Fallon's Late Night in 2011; Deerhunter breaking the fourth wall on the same show in 2013; the snotty Chicago garage band Orwells writhing on The Late Show's floor in 2014 — all of them straddle the line of good and bad, success and failure, professionalism and chaos. This is the opposite of the celebrity-obsessed cuteness of Carpool Karaoke. They feel alive in a way so many of these shows don't now.
Things are far too staid in late night, musically and otherwise — which is the opposite of how it should be, and yet reflective of how culture generally feels right now. We live in a time where there are more media outlets serving a wider range of people than ever in the history of human civilization. And yet, those outlets feel more homogenized, sanitized, centralized, and corporatized than ever. Whether the driver is ratings, web traffic, or algorithms, the pull of culture now is always toward the familiar, fatuous middle of franchise reboots, comic book adaptations, and pop music "perfection." This inevitably influences how we see that world — the middle assumes outsized importance, and the margins are further, well, marginalized.
David Letterman made time to interview Captain Beefheart when there were just two late night talk shows on network TV. Which of the umpteen late-night shows currently on the air would dare put on the 2018 weirdo equivalent of Captain Beefheart?