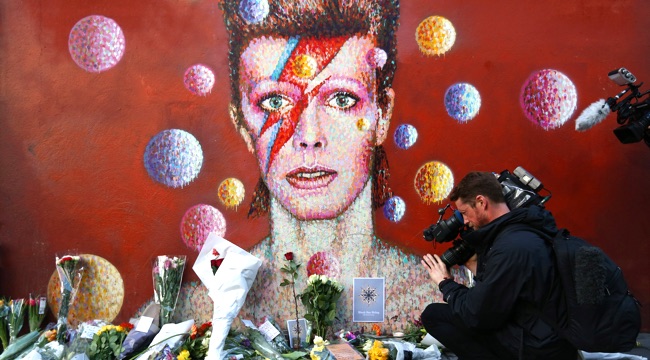 Just a week after his death, David Bowie has reached an accomplishment that has eluded him his entire career: a Number One album in the United States.
Yes, Blackstar, presumably the final album of Bowie's career, is also his first album to top the charts. The album sold 181,000 in its first week (174,000 in pure album sales), enough to knock Adele's 25, out of the top spot, which it has had a stranglehold on ever since its release. This isn't the first time Bowie has unseated Adele this week, as he also broke her record for most YouTube plays for one artist in a single week.
Prior to this, Bowie's highest charting in the U.S. was 1976's Station To Station, which peaked at No. 3, while the poppy Let's Dance made it up to the No. 4 in 1983. While this is the highest any Bowie album has charted, he has topped the Billboard Hot 100 before, with "Fame," "Let's Dance," and his cover of "Dancing In the Street" with Mick Jagger all becoming chart-topping hits.
Blackstar has also topped the charts in Bowie's United Kingdom, and in the wake of his death, there has been a renewed interest in his catalog, as 18 of his previous albums are currently in the UK charts.
(Via Pitchfork)