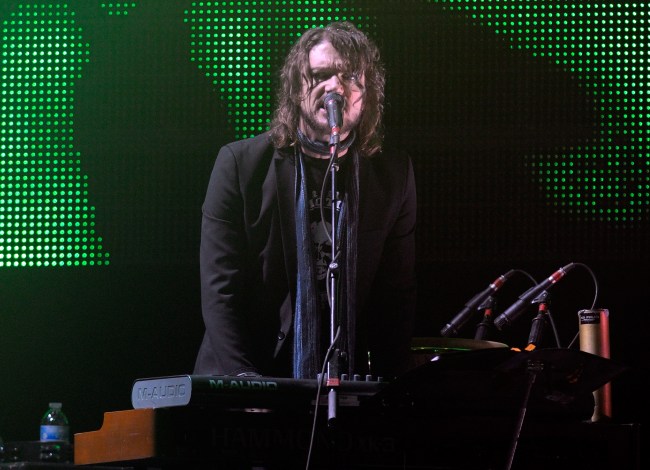 Dizzy Reed is musician best known for being the longtime keyboardist/pianist for Guns 'N Roses. He and the rest of the band were inducted into the Rock and Roll Hall of Fame in 2012. Currently, Reed is a member of the band, The Dead Daisies, a supergroup that also features current and former members of Mötley Crüe, Thin Lizzy, and others. The band's new album, Revolución, goes on sale July 31.
Dizzy was nice enough to take a few minutes out of his busy schedule recently to answer a few questions from us.
1. You walk into a bar. What do you order from the bartender?
Drinks for all my friends!!!
2. Who's your favorite person to follow on Twitter?
Casper the Ghost.
3. What's currently waiting for you on your DVR/TiVO?
Probably not what I wanted to record since my satellite TV "provider's" service doesn't seem to have their programming in order. I'm not going to name names but it's really hard to Direct what I want to watch on TV.
4. It's your last meal — what are you going out with?
A heroin sandwich.
5. What websites do you visit on a regular basis?
Conspiraciesare4real.com and Catastrophes4thebored.net.
6. What's the most frequently played song on your mobile device?
"You don't have to be lonely, at FarmersOnly.com." Can't get enough of that catchy jingle!!
7. The first face that comes to mind when you think "punchable"?
My own, especially when I was younger.
8. What's the last thing you Googled?
I wanted to find out what The Weeknd was singing about in the song "I Can't Feel My Face." As I suspected, it's about drugs. Well as a metaphor for love or some shit.
9. Dogs or cats?
Why do we have to separate, categorize, assume? Can't we all just get along?
10. Best concert of your life was…?
The first one- The Doobie Brothers, Golden Earring and War. I convinced myself that I could do what they were doing and I became intrigued by all of the people smoking funny smelling pipes and such. I was 11 years old.
11. What book are you most likely to give as a gift?
It depends if it's for Kindle or iPad.
12. What's the nicest thing anyone has ever done for you?
People do nice sh*t for me every day. I'm not going to single out one deed and leave out all the others.
13. South Park or Family Guy?
F*ck! That's impossible to answer!!
14. You have an entire day to do whatever you want. What would you do?
Sleep in, golf, try to watch the program I tried to record on TV, see what Casper's up to on Twitter, pet my cat AND my dog, watch South Park, then Family Guy, go to the bar and buy drinks for all my friends.
15. What movie can you not resist watching if it's on?
Step Brothers.
16. The sports team or teams you're most passionate about?
I was born in Chicago, I grew up in Denver. I have a few painful affiliations.
17. Where did you eat the best meal of your life?
At home, my Mom would've cooked it.
18. The last movie you saw in a theater?
What We Do in the Shadows. It was followed by a Q&A with some of the cast. Outstanding!!
19. Who was your first celebrity crush?
Witchy Poo.
20. What would you cook if Nic Cage was coming to your house for dinner?
Omelets made with Cage Free eggs! Get it? Hahahahahahahaha!!