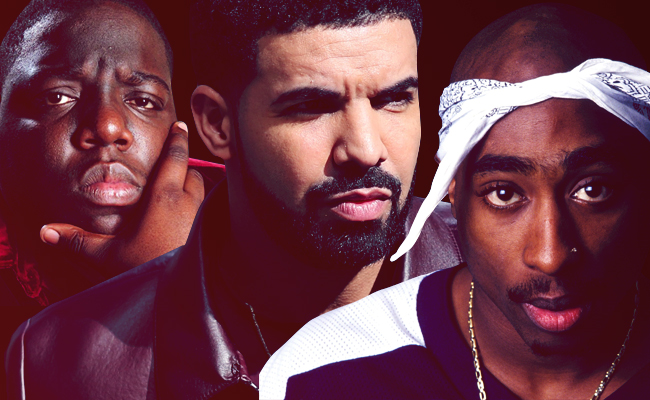 The double album generally comes at a major precipice in a hip-hop artist's career. Nearly every double-disc release in the genre was the capstone of a significant arc in an artist's journey. Few acts could resolve to will themselves through a gauntlet of twenty-five plus tracks on a whim. There were triumphant chest-pumps like Wu-Tang Forever, Outkast's Speakerboxxx/Love Below, and Nelly's Sweat/Suit, while others have been a back-against-the-wall eruption like Tupac's All Eyez On Me. Some albums were a little of both, like Notorious B.I.G.'s Life After Death, and Jay-Z's Blueprint 2. Drake's Scorpion, out last Friday, is the latest entry into the double-disc canon.
Scorpion has more solo tracks than any other major solo double album, which speaks not only to Drake's talent, but his ambition to shut everyone up and show what he can do — and he did it all. That's why he was the sole figure of the album's suspenseful trailer, not saying a single word as he drove to the studio. He knew all eyes were on him, and his musings showed that he was fixated on the mirror his damn self.
While Drake doesn't share any of the legal or street woes Tupac once experienced, he may certainly identify with lines like, "is you a friend or foe? N—-, you ain't know?," which Tupac incredulously directed at his one time friend Biggie on the emboldened "U Can't C Me." All Eyez On Me was the perfect title for Tupac's 1995 double album, which was released upon his release from prison and signing to Death Row Records. Tupac believed that the Brooklyn rapper (and his Bad Boy boss Puff Daddy) knew that he was going to be robbed and shot by the crew of New York underworld figure — and later hip-hop manager — Jimmy Henchmen's at New York's Quad Studios in 1994.
Tupac placed Bad Boy Records in his furious crosshairs, just like Drake was set to do with GOOD Music. Pusha T's caustic "Story Of Adidon" diss exposed Drake's child and a baffling photo of him in Blackface. The song followed Drake's "Duppy Freestyle," a reply to Pusha T's "Infrared" diss which Drake's frequent collaborator Kanye West produced. While Kanye tweeted that he was oblivious to "Story Of Adidon's" existence and told Pusha to end the beef, the admission didn't excuse the two from Drake's ire.
The Toronto rapper probably felt like his good deeds for Kanye — such as writing for the Ye album — had gone on to be punished with "Infrared" and "Adidon," which has parallels to Tupac's inkling that Biggie should've told him about the robbery plot. While Tupac's shooting was much more serious than Drake's diss, both of their perceived betrayals produced feelings of resentment and a longing for revenge evident on their albums.
According to Drake's investor J. Prince, Drake had "cocked and loaded" a reply to Pusha containing "career-ending" barbs at Kanye but ultimately shelved the song for fear of its damaging consequences. Even so, traces of Drake's dissatisfaction with his frenemies were all over Scorpion, just like Tupac's animus toward Bad Boy was on All Eyez On Me.
For all three artists, who had so much to say amidst their feelings of betrayal, the double album was a sprawling canvas for emotional divestment — and they sold boatloads of units while venting. All Eyez On Me and Life After Death are both diamond selling albums. Like Drake, Biggie was at the peak of his success, but all wasn't rosy in his world. With multiple tense encounters between Bad Boy and Death Row, and warring gang factions egging on their clash, the conflict was decidedly more serious than what we're accustomed to these days. Puff Daddy and Biggie decided to offset the mountain of drama with a mountain of hits and sales with Life After Death.
In the music video for album single "Mo Money Mo Problems," a clip played where Big dreaded that, "I think someone is trying to kill me," and the album reflected that paranoia, which Drake has mirrored with lines like, "I'm afraid that I'ma die before I get where I'm going" on 2015's "Now & Forever." Throughout Life After Death, Biggie scrutinized the permutations of premature death on songs like "You're Nobody Til Somebody Kills You" and "My Downfall."
Rhymes like, "there's times when I wish I was where I was back when I used to wish I was here," and "white vans parked across the street, real subtle guys" could easily fit on a 2018 redux of "My Downfall," but they're actually lines from Scorpion's "Emotionless" and "8 to 10," respectively. Drake doesn't allow the specter of death and revenge to consume him to the extent that it did Tupac or Biggie, but the album showcases more concessions of melancholy and paranoia than can usually be gleaned from Drake's carefree, charmingly awkward public persona. On the quintessentially contemplative "Is There More" he rues "a fear of havin' things on my mind when I die" and outright ponders on "Emotionless" that, "I don't know how I'ma make it out of here clean/can't even keep track of who plays for the other team."
That's probably why Jay-Z, a frenemy who just subliminally dissed him on Everything Is Love's "Boss" showed up a week later on Scorpion standout "Talk Up." Jay-Z, who's spent years griping about how lonely he feels at the top of rap, was a perfect figure for Scorpion's minimal feature list. He's a great example that in the rabid arena of rap, peers don't see your reign and aspire, they try to make it expire. Drake's felt that pressure — in varying degrees — from respected artists like Jay-Z, Meek Mill, Kendrick Lamar, and most recently Pusha. They're part of what turned him into what he described on "Nonstop:"
"I'm a unforgivin' wild-ass dog n—-
Somethin' wrong with 'em, got 'em all bitter
I'm a bill printer, I'm a grave digger
Yeah I am what I am"
The bitterness and envy he refers to has clearly soured his feelings on stardom, and made confrontation a dominant conceit of his recent catalog, especially on Scorpion.
Even "God's Plan," one of the album's upbeat moments, was dampened by a chorus that proclaims that, "I been movin' calm, don't start no trouble with me / Tryna keep it peaceful is a struggle for me." The lines are confounding when juxtaposed against the song's charitable video — but the Karena Evans-directed visual shows that Drake still has some light left in him.
Scorpion's B-side is packed with his typically emotive chronicles, like when he champions his mother's grace on "Sandra's Rose," but those tracks highlight a jarring contrast to Scorpion's despondent depths. Drake is Canadian, but he's comfortably embodying America's cognitive dissonance of championing mainstream heroes who are just as savage as they are sublime. It's why OJ's fall from grace is a morbidly fascinating inverse of the American dream. Even the American presidency, a position that children are encouraged to aspire for, is responsible for genocide and destitution on a daily basis.
It's only right that our entertainers represent the same divergence. Since becoming a megastar, Drake has gradually attempted to bolster an aura of menace around him — for instance, his Gamertag "TheBoyDuddus" refers to former Jamaican Drug Lord Christopher 'Dudus' Coke. The mournful mob boss imagery of his Take Care album art seemed ostentatious upon its 2013 release, but Drake's associates like Anthony "Fif" Soares and rapper Smoke Dawg have since been killed in Toronto — a circumstance which would leave anyone feeling jaded. Fif, who Drake called "his brother," was immortalized on More Life's "No Long Talk," where Drake noted that he "don't miss things" AKA he's a sharpshooter like Drake's other friend Baka Not Nice, also championed on the song as "quick to let the motherf*ckin' tec slam."
The adage goes that your company determines your character, and even with a seemingly good guy like Drake, standing too close to the figurative fire can be dangerous. Shady connections can beget the same kind of bad energy that sucked Tupac and Biggie into a fatalistic warp. Scorpion finds Drake musing darker than ever, rapping about giving out "Louis bags in exchange for body bags" on "Mob Ties." He speaks on the potential for the Pusha T beef to have veered left by noting, "n—-s gamblin' with they life for some content/that's the type of lottery that could get your top picked" on album opener "Survival."
He also graphically rhymes, "why you keep on shootin' if you know that n—- dead? / That's the only kind of sh*t that gets you some respect" on "I'm Upset." Lines like that are the realization of a corruption exemplified by his devolution from "diss me and you'll never hear a reply for it" on 2009's "Successful" to spitefully performing Meek Mill disses "Back To Back" and "Charged Up" months after he had been declared a unanimous victor in their 2015 clash. Everyone has a dark side, as its a byproduct of our humanity, but people often lose their way when they embrace it.
That may have happened to Drake, as he thought he would put Pusha T in a lyrical coffin once and for all with "Duppy Freestyle," but instead found himself on the receiving end of a more vicious diss with "Story Of Adidon." He took an undeniable loss in the beef, which places him in a similar spot to his idol Jay-Z in 2002 after Nas' "Ether" diss put the first chink in his armor. With Blueprint 2, Jay-Z harnessed the spirit of his close friend Biggie and resolved to take his back off the wall by going bigger than ever. Perhaps the logic of Jay and his engineer Guru, who initially raised the idea of a double album, was that even if he couldn't outdo "Ether," he could outsell Nas.
That's the game plan Drake executed on Scorpion, a project with first week sales that blow not just Pusha T out of the water but Kanye West — and the rest of the GOOD projects combined. Even if smug retorts to their camp such as "as luck would have it, I've settled into my role as the good guy, I guess luck is on your side" were just as impotent as Jay-Z's desperate slam of Nas' charity record on "Blueprint 2," it's hard to argue with the numbers.
Drake littered Scorpion's rap side with confessional ruminations that his sky was falling, but in reality, he's flying high. His titanic first-week sales numbers are a testament to his duality. The rap game's ultimate pop rapper has long advanced beyond the protective clutches of hip-hop culture — he has a worldwide fanbase, many of whom don't care about the Pusha T rift beyond the fleeting meme factor. Some Drake fans are even jokingly praising Pusha T for abruptly exposing baby Adonis and pushing Drake to the limits of his craft.
The double album's sales and mixed reception are a fitting circumstance for an artist who epitomizes compelling contradiction, elucidated by both a defensive Side A and defenseless Side B of Scorpion. Drake culminated a year of meteoric highs and embarrassing lows with an apprehensive, dejected album that longed to be both Sade and sadist at once.
There are elements of fatalism reminiscent of All Eyez On Me and Life After Death, as there were actually people out to get Drake. Pusha promised a "surgical summer" of Drake exposes before falling back. Scorpion's balance of up tempo bangers and sultry tracks harken to Nelly's Sweat/Suit and Outkast's final major album. His efforts to claim a moral victory over GOOD Music with minimal ammo parallel Jay-Z's hail mary missives against Nas on Blueprint 2. It's also fitting that he featured Michael Jackson and Jay-Z on the album, as Jigga brought out Michael Jackson on the Summer Jam stage in 2001 during the same set that he debuted his Mobb Deep and Nas diss "Takeover" — which beget "Ether."
Scorpion, which dropped on a full moon, felt cosmically aligned to be a double album. Drake's career arc had thrust him onto a luminous, lonely steeple similar to the space several of the double album's previous progenitors were situated at upon creation. That position was forced by Pusha T, who used a voyeuristic photo of Whitney Houston's drug-addled bathroom as the cover for his Daytona album — and may have influenced an equally candid Drake album. It's appropriate that the album is set to be his most listened to yet, as such a revelatory album is ripe for the zeitgeist that wants everything from a celebrity. Are the huge sales figures of albums like Scorpion, Ready To Die, and Life After Death a result of the double-the-music, double-the-sales phenomena, or do they reflect an eagerness to hear our rap heroes pushed to the limit?
Before Scorpion dropped, I wondered whether the album would resemble Jay-Z's Blueprint or Blueprint 2. The result is somewhere in between. The project doesn't have as many duds as Blueprint 2, but it still felt a bit underwhelming due to its resounding gloominess and numerous songs that could have simply been cut short. Chicago rapper Rhymefest recently said that after hearing Kanye West's infamously polarizing "bleached asshole" line from "Father Stretch My Hands Pt. 1" he pleaded to Kanye that his success depended on a balance of "vanity and humanity." The same is true for Drake, but Scorpion sees him largely devoid of both in dispirited, weary rhymes that continue the legacy of paranoid, massively consumed, double albums.
Scorpion is out now via Young Money/Cash Money. Get it here.