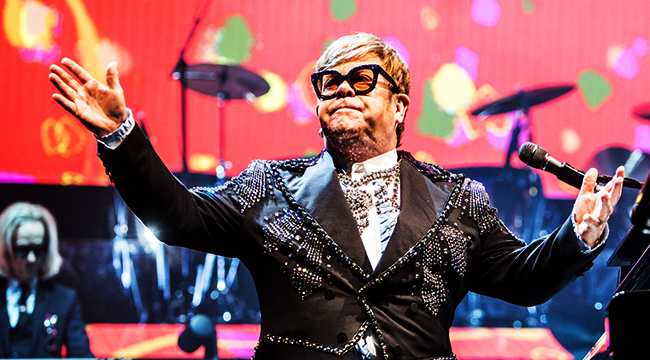 After every song performed at the first of his sold-out shows at the Staples Center during his Farewell Yellow Brick Road tour, Elton John turned to the crowd, arms outstretched, and received his ovation. This was no funeral for a friend; it was a celebration. Over twenty-four tracks spanning five decades, Sir Elton showed his depth, his candor, his showmanship, and his impact on the music landscape.
He also took plenty of time to reflect on a career in which he's done — and seen — just about everything a performer can.
"It was difficult to put together a setlist for this show," John said early into the two-plus hour concert, adding that if he played everything he wanted to for the willing crowd, "we'd have been here for a long time. Not at my age."
That age is 71, and includes more than fifty years of collaborating with songwriter Bernie Taupin, a relationship that's spanned the evolution of eight tracks into cassettes into CDs into iPods into YouTube views and well into Spotify steams. Longevity itself in a relationship that long is cause for merit, but to do so with a catalogue this rich and diverse is downright astounding.
Elton ferociously attacked favorites like "Benny And The Jets," "Crocodile Rock," "The B*tch Is Back," "Saturday Night's Alright For Fighting," and "Take Me To The Pilot." He produced extended jams out of "Rocket Man" and "Levon." He drew the appropriate amount of tears for "Tiny Dancer," "Someone Saved My Life Tonight," "Candle In The Wind," and, of course, an encore performance of the inimitable "Your Song." And, he carefully orchestrated an impressive version of "Indian Sunset" that went from a whisper to a roar. So much of experiencing John's music is in the curation — between thirty studio albums, a number of soundtracks, and plenty of collaborations — and at an Elton show he determines what he wants you to see, how he wants you to see it, and in which order.
Taken at face value, a farewell tour is a strange thing. When we lose our heroes suddenly, there's a mad scramble for appreciation. There's regret. Losing a musical idol unexpectedly can feel like grabbing at a rope that's slipped out of your hands — and continually coming up empty. On his own terms, John is eliminating that possibility. He will party. He will be showered with applause. He will bow gracefully. He will tell stories. And he'll enjoy every minute of it. It's hard to imagine him leaving the stage forever. (The piano player is born to play the piano.) He is, instead, ensuring that when his candle burns out, his legend never does.
There's something mystifying about how we are able to consume music today. For Elton, 1970 "feels like five minutes ago," as he told the Staples crowd. But for anyone under a certain age, it's an alien world. It's a wilderness through which to explore and investigate. The machines we are addicted to also allow us to dig and dig and learn as much as we wish. One click leads to ten leads to a hundred articles leads to thousands of words, and we can feel like we were there, or at least understand what being there meant.
The entirety of Elton John's life in music is available to us — all the time, on demand. So just as he's spent five decades performing this music, and his relationship to those songs changed, soured, strengthened, or evolved, every time "Your Song" was played (live, or on record), it became someone else's song for the first time. We're seeing generations growing up with that vast knowledge and sheer paralysis of choice around them at all times. For pop legends with discographies this comprehensive, there are that many more opportunities for entry points into that journey.
There's a rush to criticize bands like Greta Van Fleet for being too derivative or for jacking sounds. But it all started with pressing play again, and again, and again on songs that moved them. The same way we put the needle down, or called into a request line, or hit repeat on a CD, or make a playlist. Someone is just now walking through the looking glass, following the white rabbit, and hearing Led Zeppelin for the first time. Or Prince. Or Elton John.
Our relationship to pop icons won't fade away with time; rather, technology allows us to have a more informed and deeper bond to and with those artists. That's what comes with being privy to more information, more discovery, and more personality in the social media age. Today's Harry Styles or Camila Cabello faithful were reflected in Janet Jackson's Rhythm Nation or were seen through the eyes of screaming Beatles fans.
As Sir Elton performed "I'm Still Standing" near the tail-end of the set, the enormous screen behind him showed a montage of his achievements and appearances over the years. Even today he's interwoven into pop culture, whether it's a guest spot on The Simpsons, repeated appearances on The Graham Norton Show, a cameo in Kingsman: The Golden Circle, or popping up in a Snickers ad (with the rapper Boogie, no less), he's made sure never to stray too far from the public eye. It's conscious, of course, but it also speaks to his universality as a star. We want our heroes to be close by. We want them to continue to shape our world and to drop by unannounced to check in on us.
So while this may be farewell to Elton John in a touring sense, it's far from a goodbye to his music. He's still standing, bigger and better than he ever did.