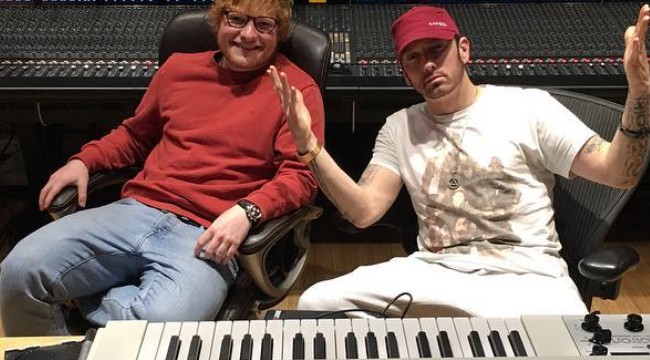 Eminem is wishing his fans an "unhappy" Valentine's Day in the latest reveal from his video for 'The River.' The song, which features Ed Sheeran, is the latest single from last year's Revival album and, in true Em fashion, deals with dysfunctional relationships. Matching perfectly with the viral marketing that has surrounded the album's rollout, Em released a video clip with a mystery woman (who was revealed to be actress Sarah Ashley Toups) in a hotel.
Fans quickly figured out that it was promotion for the video, because OF COURSE Eminem wouldn't be caught dead in a seedy hotel.

The preview released today features the same woman and a little bit more context as to what the video is about.
Staged around confessional scenes with Eminem, Ed Sheeran, and the mystery woman, the video looks like it will pick right up on the theme of the aforementioned song, which deals with an unexpected pregnancy between two lovers. The melodrama seems to be ramped up in the video, however, as it is filmed in a loose documentary style where Em can show off his impressive acting chops. Check out the teaser above and stay tuned for the video for "The River" to drop un-ironically on February 14th.