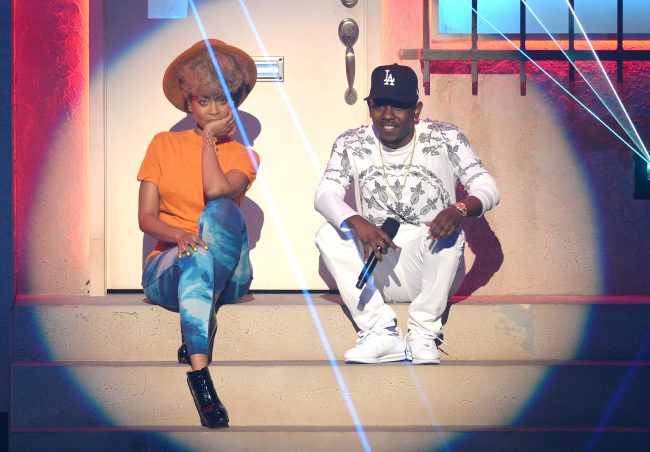 As the old saying goes, sometimes a pun is just a pun.
Actually, I'm not confident this is actually a common idiom at all, but it was the case in the Kendrick Lamar/Erykah Badu romance rumors that came of an incredibly hot verse from earlier this year.
A line uttered on Kanye West's latest album, The Life of Pablo, led many to believe the "Alright" rapper and the modern R&B legend were romantically entwined.
The lyric in question, found on "No More Parties in L.A," has the 29-year-old rapper stating, "Um, well, cutie, I like your bougie booty / Come Erykah Badu me, well, let's make a movie." The not so subtle sexual innuendo drove many to believe an underground love affair existed between the two, in particular sparking from their duet at the 2013 BET Awards.
Although the song with the incriminating lyric dropped months ago, it wasn't until this past Monday that Badu took to Twitter to address the rumors.
Accompanied by a photo of the two onstage from those same 2013 BET Awards where all the rumors started, the 45-year-old singer-songwriter asserts she hasn't seen or heard from Lamar since the time that photo was taken.
Following the "Hello" singer's vindicating tweet, she took the time to answer some of her 1.76 million Twitter followers' questions. One fan inquired, "so what really happened?" to which Badu explained, a whole lot of nothing.
Later, Badu was prompted to respond to an oh so eloquent assertion by one Twitter user employing a moniker inspired by the 50 Shades of Grey franchise.

A self described "lady in the street," the tweeter contends, "y'all f*cked." Badu, however, said that she is mistaken.
As nothing ends a conversation quite like an emoji, the legendary singer did just that in officially putting an end to the gossip.