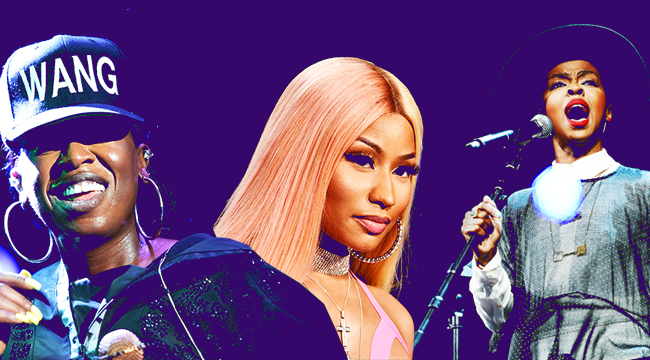 On the 2004 song "What Can I Do?" Chicago rapper Shawnna spits the following:
"Ya'll don't understand me, I don't want a Grammy
Just hand me a handful of goddamn whammys
Fluffed out and fancy, pack where they can't see
Ridin', bumpin' 'How High' in da Camry."
In retrospect, this lyric might seem odd: A female rapper at the height of her career who had two critically-acclaimed, successful collaborations with hip-hop heavyweight Ludacris was on the radio explicitly stating she wasn't interested in winning a Grammy? Though the award is considered to be the highest honor for musicians, instead, Shawnna says she'd prefer a handful of drugs.
When placed within its context alongside a feature from Missy Elliott — who at the time was herself a three-time Grammy-winning artist — the lyric tells a different kind of tale: One of a female rapper redefining what winning looks like for herself and other female rappers, as well as what the state of success looked like at that time for female rappers in general.
To favor a "handful of whammys," and a car ride bumping Method Man and Redman over a Grammy was Shawnna's way of portraying her own pessimism about the state of the music industry she wanted to thrive in. It was a way of asserting her belief that the awards weren't made for her in the first place, and predicted an abruptly tumultuous future for female rappers that was to come.
Earlier this year, Billboard rightfully described hip-hop's relationship to the Grammys as both "complicated" and "contentious," and given this is the starting point for the Grammys relationship to hip-hop in general, their connection to female artists in that realm is far worse than whatever "complicated" alludes to. Remember, the mere inclusion of hip-hop as its own genre worthy of standalone categories was an uphill battle, and looking at the history of female rappers within the institution, close analysis reveals the hip-hop categories were never designed to recognize women who rap at all.
However, during the 1990s and the very beginning of the 2000s, female rappers did well enough in hip-hop that the Recording Academy was unable to ignore them. There was Lady Of Rage rapping on Snoop Dogg songs, Queen Latifah pushing political discourse over jazzy samples, Da Brat going quick as hell over Jermaine Dupri-produced beats, and Yo-Yo teaming up with Jamaican rap queen Patra to give us diaspora-connecting bops.
Foxy Brown was everywhere, out-rapping Nas on his own song by doing math, and Lauryn Hill made everyone forget the names of the other Fugees members, as her poetic flow dominated the soul-touching verses. This momentum carried through to the 1995 Grammys, where Queen Latifah won the award for Best Rap Solo Performance with her viral political hit "U.N.I.T.Y," and Salt-N-Pepa won for Best Rap Performance by a Duo or Group. Then the following year, rapper Lisa Lopes, aka Left Eye, helped lead R&B girl-group TLC to two Grammy wins.
These wins, along with several rising female rap icons, helped set the stage for rapper and singer Lauryn Hill's unprecedented five Grammy-winning sweep in 1999, which at the time seemed to be the final straw tipping the scales towards full acceptance for female rappers in the Academy. With all of the wins that female rappers were grabbing — as well as a slew of nominations for artists like Missy Elliott, Da Brat, and Lil Kim — the Recording Academy had no choice but to create a separate category dedicated to female rappers. Thus, the Grammy Award for Best Female Rap Solo Performance was born in 2003.
The inception of this new category seemed like an affirmation of the years that female rappers had put in immense work while receiving little recognition from mainstream musical institutions in return. Rappers like Queen Latifah, MC Lyte, Roxanne Shante, and Lady Of Rage — all women who spent several years creating spitfire bars in a male-dominated industry — finally had a chance to stand in a category of their own, and be their own competitors.
In 2003, the nominees for the award were Charli Baltimore, Eve, Foxy Brown, Missy Elliott, and Lauryn Hill — female rap all-stars who'd spent years laying the groundwork for such an accomplishment — with Missy Elliott as the inaugural winner of the award. In 2004, the award again went to Missy Elliott, solidifying not only her own personal stardom as one of hip-hop's best MCs, but further showcasing the ability of women in hip-hop as well. However, exciting as all of this may have been, the glory of the new category was short-lived — in 2005 it was strangely merged back into the original, genderless category, Best Rap Solo Performance. Why?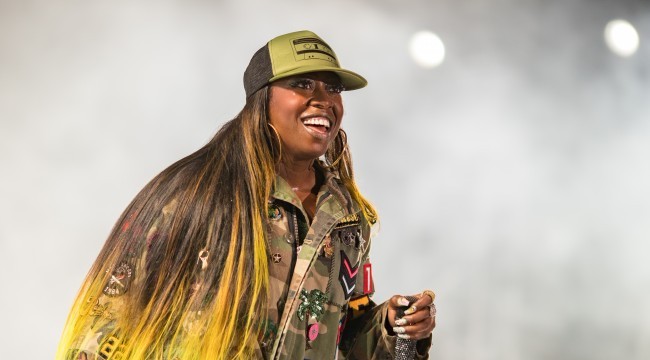 The decision to close the category down was met with some backlash, particularly from female rapper MC Lyte, who spent the following years campaigning for the return of the category. "It destroys [hip-hop] culture to not have the perspective of a woman," Lyte stated in 2008 when asked about the lack of representation for female rappers in mainstream awards shows. "It's like our story is not necessary, our point of view isn't mandatory."
The invalidation and erasure of female rappers' stories and perspectives that Lyte speaks of seemed to be affirmed in the near-silence that the closing of the category was met with. Aside from a few female rappers mentioning it in interviews, and MC Lyte's campaigning, the category's dismissal went down quietly. Not only did the music industry not put up a fight for it to remain, but the hip-hop community itself had nothing to say about it. After only two years of honoring just one woman, the Academy's efforts to honor women in hip-hop in rang hollow.
Speaking in retrospect, Recording Academy Vice President of Awards Bill Freimuth claimed the category was merged into the genderless Best Rap Solo Performance category because there "wasn't enough competition essentially, due to the lack of the number of releases in that category." Echoing this sentiment, Stephen Hill, BET's former executive VP of entertainment, music, and programming stated that it was simply "a numbers thing" that caused female rappers not to receive their awards and props.
And while it's true that there are fewer female rappers creating work than male counterparts, the conditions that created that environment also beg examination. In the early 2000s, record labels began disregarding the work of female rappers, shelving or postponing several of their projects. This happened to Foxy Brown in 2003 when her highly-anticipated follow up to her platinum Ill Na Na, Ill Na Na 2 — which included collaborations from artists like Lauryn Hill and Anita Baker — was shelved indefinitely. Her 2005 album Black Roses was also consistently postponed and never released.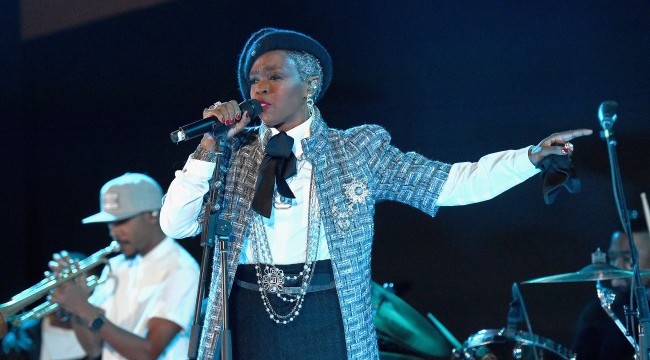 Similarly, between 2003-2006, projects from fellow female rappers like Khia, Jacki-O, Rah Digga, Jean Grae, and Charli Baltimore all were either shelved, postponed, or intentionally under-marketed by their labels. Shawnna's debut album Worth Tha Weight was postponed two years, then finally released in 2004 with little to no promotion from Def Jam. So the question isn't whether it's a "numbers thing" or not, as Hill suggests, but a question of who is at fault for the so-called numbers problem.
The "numbers things" which Hill spoke of is cyclical in nature; female rappers are underrepresented as Grammy award winners because they are underrepresented by major record labels, and they are underrepresented by major record labels because mainstream music institutions like the Grammys don't appreciate and recognize them. The incentive for both record labels and musical institutions is lost in the process, leaving the good work done by (mostly) women of color continually devalued. For those who say industry-centric awards like the Grammys don't matter, the writing is on the wall.
Then, there's the particularly insidious way that merging the Best Female Rap Solo Performance category into a "genderless" rap category worked against female rappers. In a music industry which sharply reflects the cis-hetero-patriarchal nature of our society, men (read: straight white men) will always be favored in a category which places them directly in competition with women. The "genderless" Best Rap Solo Performance category, which has since been merged with the Best Rap Performance by a Duo and renamed just the "Best Rap Performance" category in 2012, has never been won by a female rapper — outside of Missy Elliott's 2002 win, and her 2003 and 2004 female rapper victories.
Moreover, there's been a sharp decrease in even the nominations for female rappers in these categories since the merger — Nicki Minaj's 2011 Grammy nominations were the first time a female rapper had grabbed a solo nomination in over six years, when the female rapper category folded. In 2012, Minaj was also the first solo female rapper to ever perform at the Grammy Awards, solidifying not only her space in hip-hop but the fact that the Grammys have disregarded female rappers to the point of not having a single solo performance until 2012.
So, despite several decades of female rappers fighting for respect and recognition, they're consistently viewed as lesser-than by an academy and categories that seem designed to shut them out. Female rap, much like the music of LGBTQ rappers, is typically concerned with gender performance, overt sexuality, and transgression against misogynoir and cis-hetero-patriarchy. Unsurprisingly, this kind of subject matter does not seem to fit into any category at the Grammys, no matter how impressive or incredibly well made it is. (See: Beyonce's Lemonade for an example). In regards to lack of inclusion, when it comes to the Grammys, cis-hetero female rappers can be seen as in the same boat as LGBTQ rappers: Erased and overlooked, even controversially so.
Following last year's Grammy Awards, writer Myles E. Johnson similarly questioned what "winning" must mean for Black creators under white supremacy in an article for The New York Times, discussing Beyonce's Grammy snub that critics all around commented on. Johnson states: "Black people who do transgressive or radical work must redefine and reimagine what winning is in a white supremacist capitalist culture… If you are a black person who does not try to be palatable for a white audience, but instead focuses on your own culture and experience, this is seen as a transgressive act."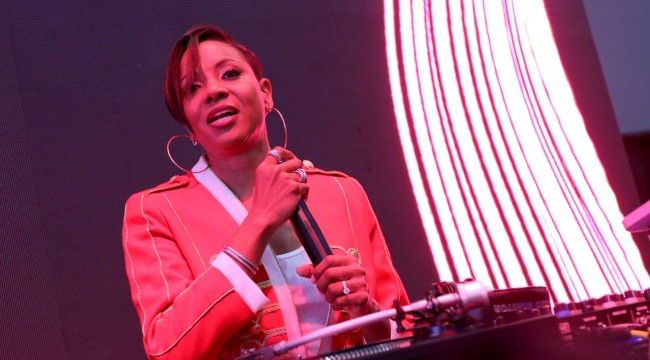 Black women and femmes who rap, as well as LGBTQ hip-hop artists like Mykki Blanco and Cakes Da Killa, are seen as an inherently transgressive in their artistry. In some ways they are — the personas of those artists, including their aesthetics and lyrics, are designed to call gender into question and make a spectacle of its performance. Mainstream America is still struggling with that. Female rappers, by their very existence within the Recording Academy, are often seen as transgressive, subversive, and to many, radical. They must, as Johnson puts it, redefine and reimagine not just what winning means in not only a "white supremacist capitalist culture," but within a culture and industry riddled with racism and sexism, that values quick and easy profit over anything else.
Given the history of female rap at the Grammys and the several years of lacking representation for women in hip-hop, a redefining and reimagining of these categories is desperately needed. The institution should create a new kind of category once again; one that values gender performance, femme energy, and grand statements on sexuality/gender. They should create a category that exists statically to support, value, and cultivate women and LGBTQ rappers in hip-hop, as well as in the space where hip-hop intersects R&B. The existence of this new category within the Grammys structure, one that explicitly values confronts gender and makes space for sexuality transgressions — essential movements that female rappers have led for decades now — will create a new definition of "winning" as well.