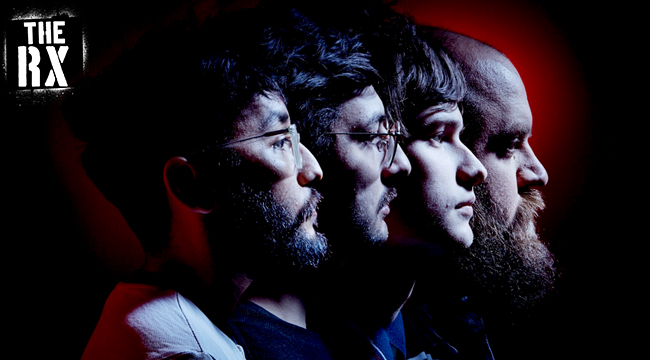 The RX is Uproxx Music's stamp of approval for the best albums, songs, and music stories throughout the year. Inclusion in this category is the highest distinction we can bestow, and signals the most important music being released throughout the year. The RX is the music you need, right now.
"It went Pablo Honey, The Bends, and then OK Computer — is that right?" Conor Murphy inquires. The singer for St. Louis-based indie-rock band Foxing is reaching for an analogy that makes him "feel like a real bag of shit," because of the potential delusions of grandeur, but nevertheless applies to the group's stunning new album, Nearer My God.
In Murphy's estimation, Foxing's tentative 2013 debut The Albatross is the band's Pablo Honey, and 2015's questing and introspective Dealer is their equivalent to The Bends. Which makes Nearer My God their OK Computer — the breathtaking breakthrough, a gamechanger not just for the band but all of rock music.
Really?
"This is no OK Computer," Murphy stammers, instinctively tamping down the appearance of grandiosity. "That thing is, what, like one of the top five greatest records of all-time? But for us that's what [Nearer My God] feels like. We're realizing what this band actually could sound like, where we can jump off and maybe make something like a Kid A, or maybe a Hail to the Thief."
As the frontman of one of the most important bands of '10s emo, Murphy has had self-deprecating humility forcibly imprinted on his psyche. And yet the thrill of Nearer My God, one of the year's most epic and adventurous rock records, is that Foxing isn't playing by the same small-stakes rules that most bands from that scene studiously follow. The product of endless demoing and tinkering that took place for more than two years, Nearer My God is a called shot aimed squarely for the fences, extrapolating Foxing's starry-eyed guitar jams with mind-melting ambient interludes, bombastic orchestral flourishes, and propulsive pop and R&B dynamics. Whereas most punk and emo outfits adhere to a bare-bones, mid-fi, basement-show aesthetic, Foxing dares to court sonic elegance, serving up a multi-course musical feast that takes a while to digest but eventually satisfies over the course of many listens.
"Right off the bat, a very conscious effort was made to make something that was sort of over our heads," says guitarist Eric Hudson, who co-produced Nearer My God with former Death Cab For Cutie guitarist Chris Walla. "In the sense that it was something that was challenging for us, something that was ambitious. We were trying to bite off more than we can chew, and trying to write things in a way we hadn't written before."
In 2016, while the band was still touring in support of Dealer, Hudson quit his job and made writing the next Foxing album his full-time work. (To carry over the Radiohead comparison, he is the Jonny Greenwood to Murphy's Thom Yorke.) Every day, he would go down to his basement and write and record song ideas. He would then piece those ideas into songs, and eventually show them to the rest of the band, particularly Murphy, the group's other primary songwriter. Some of these tunes started as fairly straight-forward rock songs — like the soaring title track, which was reworked over the course of many months into a ravishing electro-pop number.
"It was really a writing process through demoing," Hudson says. "With some of these songs, we haven't actually played them together live yet, even now."
Prior to Nearer My God, Foxing has been celebrated as an electrifying live band, known for building up to searing emotional peaks goosed by Murphy's wild, flailing on-stage moves. Time and again, fans would come up to them after gigs and rave about how much better they were live than on record. It happened so much that Murphy and Hudson came to believe that their albums, for all their merits, ultimately blended into the background whenever you put them on.
The goal with Nearer My God was to stand out by making music they might not even be able to replicate live, at least not without considerable re-imagining. That's certainly true of "Heartbeats," a densely layered dream-pop song that's reminiscent of the insistently cinematic anthems of M83.
"That song is made up of way too many parts to actually capture live," Murphy admits. "That being said, there's still an energy to that song that can be even better live. The chorus is this cool, kind of floating thing on record. But live we realized, 'Oh, this can be a really powerful rock thing,' and kind of different than what it sounds like on record."
Change, musical and otherwise, has been a constant for Foxing. Formed in 2011 from the ashes of the post-rock band Hunter Gatherer, Foxing has cycled through a series of different members during its tumultuous existence, recruiting Hudson, who had previously played with Murphy in two other bands, in 2013. During the making of Nearer My God, founding member John Coll departed in order to attend New York University. Though Coll has remained in the fold as the band's de facto music-video director, recently helming the striking clip for the mesmerizing single "Slapstick."
The most obvious point of musical evolution on Nearer My God is Foxing's novel integration of pop and R&B influences, most notably on the opening track, "Grand Paradise," which pits punk guitars against slinky beats and Murphy's fetching, soulful falsetto. Murphy and Hudson both enthused about the impact that Frank Ocean's Blonde had on the band when it was released in the summer of 2016. As it played in constant rotation in Foxing's tour van, Blonde became a crucial touchstone for the collaborators as they set about conceptualizing the sound of Nearer My God.
"The way he wrote songs, he didn't necessarily care about conventional pop structure or four-on-the-floor beats," Hudson says. "It was someone really pushing himself, and really spilling his heart out for everyone."
Sometimes the band's enthusiasm for certain pop production styles went too far. Nearer My God's most exploratory track, the nine-minute "Five Cups," at one point veered into hip-hop, with trap beats and booming bass lines. "We listened back to it and we were like, 'This is too much. This doesn't make any sense.' We'd be appropriating trap culture, and this is not only inappropriate musically but also socially," Murphy says. "It's a culture and a genre that is so far removed from us, who sit in our basement and play D&D. We truly have no business doing that."
What felt truer for Murphy was writing lyrics that addressed the current state of the world without commenting on it explicitly. Allusions to suffocation and entrapment pervade the songs — the idea that modern life has ensnared us all in a feedback loop of never-ending awfulness is more evoked than articulated, another trick that Foxing picked up from Radiohead.
"We're very paranoid and fearful people," Murphy says. "Rather than writing about love and relationships on this record, we focused a lot more on anxiety and paranoia and control, and fear that the world is going to end. That's really what we thought about more than anything on this record, mostly because we were reading the news every day."
But no matter the existential crises that lurk behind every corner, Nearer My God ultimately registers as an exuberant flex by a band that has successfully pushed itself to another level of musical expression. Whether Foxing will be remembered as a worthy heir to Radiohead remains an open question. But Nearer My God certainly establishes them as one of the year's most vital and exciting indie bands, fueled by a mix of ambition and modern-day trauma.
"Everything that's going wrong in the world right now is so close to being funny," Murphy says. "The only thing that makes it not hilarious is that it's happening to us, that it's real. If we can kind of turn all of that paranoia and fear into some sort of piece of art, it all of a sudden becomes something beautiful."
Nearer My God is out on 8/10 on Triple Crown Records. Buy it here.