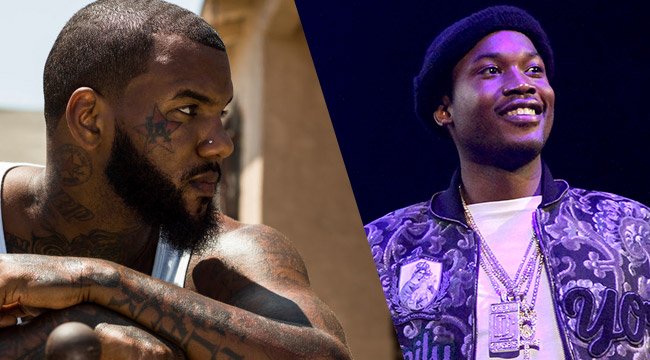 Another day, another beef Meek Mill finds himself in. This time it's The Game throwing shots at the Philly MC and to quote Jay Z, it's very vulgar.
Seemingly because the sun came up, Game unleashed '92 Bars' on Power 105 with his sights set squarely on Meek.
"Ever since that n*gga snitched on me we just don't speak/
See that sh*t you got with Drake is like a slow leak/
Blood will be dripping like Niagara if I poke Meek/
Nikki won't get no sleep I'm coming through at 4 A.M./
4 deep and leave a dead body on the sheet"
Them's fighting words. He also lets the world know he's been "wanting to give Nikki this pool stick" so Meek should "tell his little vibrant thing" to "f*ck with q-tip."
Where's the Kay Slay "Damn!" drop when you need it? This can't stand. I'm not saying Meek needs to make it violent because none of us want to see that, but he can't approach Game the way he did Drake. Especially since Game crossed a line Drake would never dream of by disrespecting his woman. If he thought he was the hip-hop laughing stock before, he won't be able to show his face at an open mic.
Apparently this all revolves around Meek snitching on Game for…things no one is quite clear on but perhaps this has something to do with it. Or maybe it doesn't. Knowing Game, he could've gotten out of bed a day or two ago, looked at a picture of Meek and decided he didn't like the cut of his jib so it was time to ride on him.
Game's 1992 drops October 14 and of course "92 Bars" is on the album. This isn't the last we've heard of this and I for one am extremely curious to find out what happens next.
Stream "92 Bars" below via Apple Music and purchase on iTunes now.