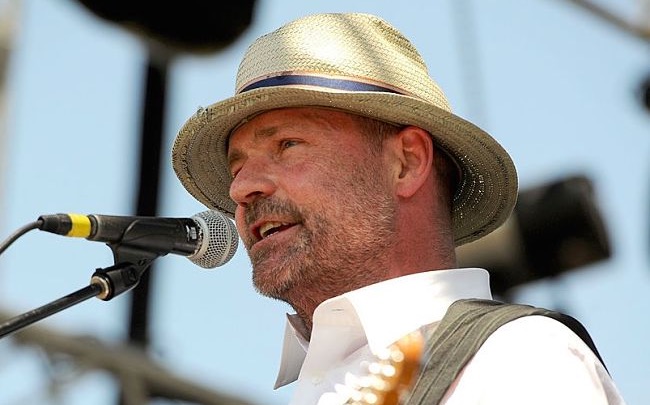 Gord Downie, the lead singer of the Tragically Hip, and an icon of Canadian rock history has died. He was 53 years old. Downie had been battling cancer for the last few years, even staging a final tour with his band across his home country in 2016 that drew sellout crowds within minutes. Millions of people either turned out — including Prime Minister Justin Trudeau — or tuned into the band's final performance at the Rogers K-Rock Centre in Kingston, Ontario on August 20.
While the Tragically Hip remained something of a mystery to Americans throughout most of their career, in Canada, they were a national treasure. Their three first albums, Up To Here, Road Apples, and Fully Completely released between 1989 and 1992 have been certified diamond. More than that, they have four multi-platinum records to their name along with another four single-platinum hits.
The Tragically Hip confirmed Downie's death this morning with a heartfelt statement from his family.
Last night Gord quietly passed away with his beloved children and family close by.

Gord knew this day was coming — his response was to spend this precious time as he always had — making music, making memories and expressing deep gratitude to his family and friends for a life well lived, often sealing it with a kiss…on the lips.

Gord said he had lived many lives. As a musician, he lived "the life" for over 30 years, lucky to do most of it with his high school buddies. At home, he worked just as tirelessly at being a good father, son, brother, husband, and friend. No one worked hard on every part of their life than Gord. No one.

We would like to thank the kind folks at KGH and Sunnybrook, Gord's bandmates, management team, friends and fans. Thank you for all the help and support over the past two years.

Thank you everyone for all the respect, admiration and love you have given Gord throughout the years — those tender offerings touched his heart and he takes them with him now as he walks among the stars.

Love you forever Gord.

The Downie Family
RIP Gord Downie. Our thoughts go out to his friends, family and bandmates.