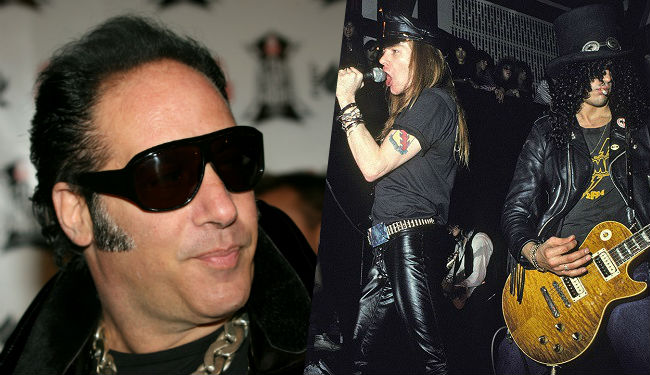 Guns N' Roses and Andrew Dice Clay. They are both pop culture entities that made their name in the late '80s and early '90s before disappearing, and are now sort of reemerging. Guns N' Roses have reunited with most of their "classic" lineup for the first time since 1993, and Andrew Dice Clay has made a turn in acting with roles in Blue Jasmine, Vinyl, and even did stand-up on The Tonight Show Starring Jimmy Fallon in his old character. However, there is more connecting Axl Rose and the gang with the Dice Man. If you hear Andrew Dice Clay tell it, he's fairly responsible for Guns N' Roses reuniting.
Clay did an interview with Rolling Stone to help promote his new Showtime series, Dice, and in it, he extensively talks about his role in getting Axl and Slash and Duff McKagan to bury the hatchet, as well as his experience at the reunion show that took place in Los Angeles on April Fools' Day.
Now, it should be said that Dice doesn't really take full credit, saying: "I don't know how to say this, because I don't want to take credit for anything, but I was very aggressive in trying to help this band get back together." Dice then proceeds to regale us with tales about running into Slash and Duff and making a hard sell about reuniting. As for the show, Dice had this to say: "I felt so happy for them. I was like a proud father of them. And they did a kick-ass show. Axl has lost nothing. He's king of rock & roll. That's it. He's got that thing, that X-factor. And Slash's guitar playing was just beyond belief."
Andrew Dice Clay probably isn't the first guy, or even the first famous guy, to tell the guys from Guns N' Roses that they should get back together, but, hey, the guy is having a moment, and he's happy a band he likes is back together. Maybe it's worth letting him have that one.

For more, check out our own documentary on one man's quest to reunite Guns N' Roses.
(Via Rolling Stone)