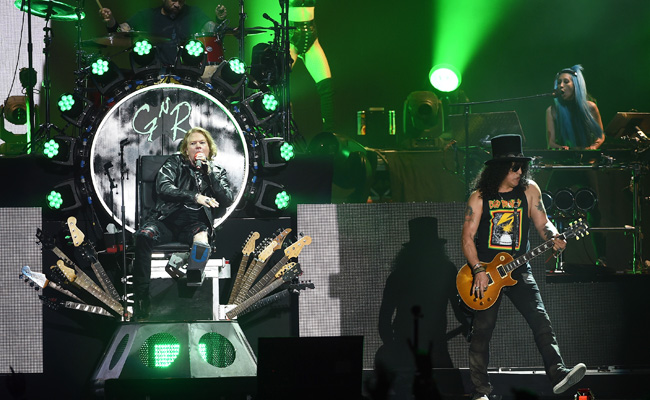 The first weekend of Coachella's Guns n' Roses set previewed a taste of what Axl Rose might be doing when he joins AC/DC on tour later this year. For the second round of this festival, which largely caters to people who David Spade cannot stand, the wayward band returned with the so-called "original lineup" in tow. The purists among us can't abide by this label with a severe lack of drummer Steven Adler and (even more importantly) rhythm guitarist Izzy Stradlin, but the original, semi-photogenic trifecta did their thing.
Yes, Rose, Slash, and Duff McKagan are still getting along or, at least, pretending to do so. All was well because we should simply be happy that Rose bothered to show up in a timely manner instead of feeding a weird Teenage Mutant Ninja Turtles obsession. By the way, McKagan posted this logo last weekend, and it sure looks like a kiss-off to Adler and Stradlin.

The band reportedly dedicated their set to Prince, but unlike so many other artists, they didn't take a stab at one of the Purple One's tunes. However, McKagan's guitar was embellished with the tiniest of tributes, a Prince logo.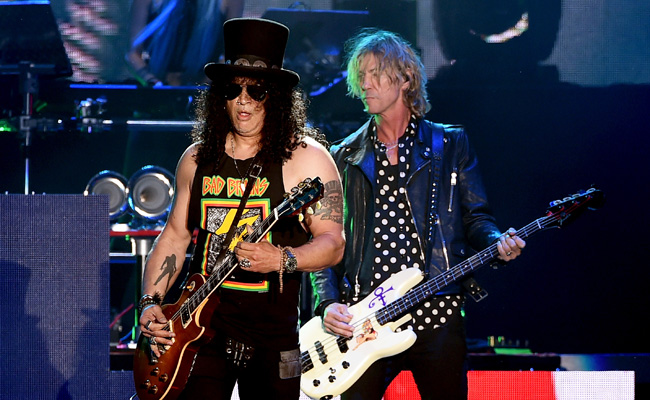 The band ripped through several of their more "classic" tunes while Rose nursed his broken foot from atop a magnificent throne of lies. Just kidding about those untruths, but the band did tear into an amped-up version of "Used To Love Her," which appeared as an acoustic tune on 1988's Lies. First, they performed "Out Ta Get Me" from 1987's Appetite for Destruction.
I'm not too sure what to think of this electric version of "Used To Love Her," for it seems like the boys needlessly dressed up a song for the kiddies. That's just my age showing through, and you may feel differently.
If you haven't seen the Guns n' Roses mini-docs, check out the whole series.