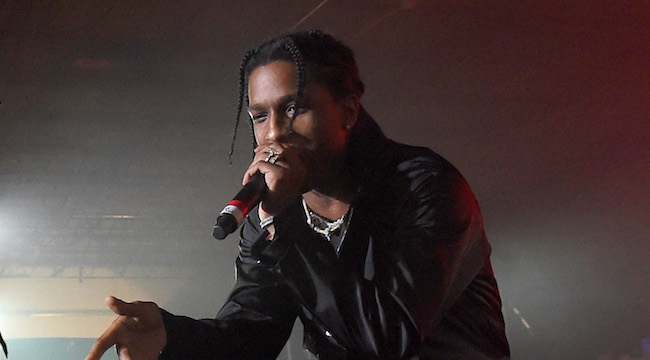 A$AP Rocky is continuing his Moby-fueled, emo-inspired reinvention with a new song and video "Herojuana Blunts." The song features tippy tap high hats and what sounds like a sample of a mellotron being sped up, slowed down, and warped over drippy vocals of A$AP singing about a girl with golden fangs who has cocaine up in her veins. The song echoes the psychedelic rock of the '70s with its overuse of vocal effects — Rocky's voice goes from balloon high pitch to b-movie villain, pitched down like a monster growling about world domination. It has its own kind of experimental trip that owes as much to the detuned Diana Ross vocals in vaporwave as it does to the snappy trap snare that percolates the verse.
Genre-bending is — of course — A$AP Rocky's new move. Just this week he dropped a song that sampled Moby's classic "Porcelain" before announcing over on Complex that "I might have to f*ck with Morrissey, on some Smiths sh*t, make some emo, real, retro-infusion, motherf*ckin' 2018 sh*t, man." Ideally, his "f*cking with" of Morrissey would have more to do with songs like "How Soon Is Now" and that one Smiths song about being sad, not Morrissey's recent comments about the "looney left."
You can check out the tripnotic "Herojuana Blunts" over here.