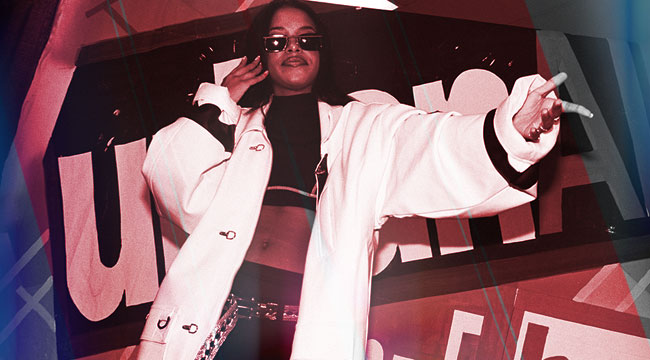 Mary J. Blige, the queen of hip-hop, walked hand-in-hand down a runway in 2000 with designer Tommy Hilfiger. Blige, clad in knee-high red boots and matching short shorts, was a glamorous figure and the perfect personification of hip hop's embrace of the traditionally-white fashion brands.
The ease in her step reflected a changing relationship between fashion and black music; she was glamorous and serene and embraced by the notoriously fastidious (and even downright racist) fashion world as a figure to respect — someone who had earned her place in their community.
But this relationship, despite its ubiquitousness in the mainstream, would not last long. Instead, it would morph from the longest era of uber-preppy co-signs like Tommy Hilfiger and Ralph Lauren, to the brief inclusion of high-fashion designers like Roberto Cavalli and Versace, and conclude in its latest and most important phase: Musician as designer.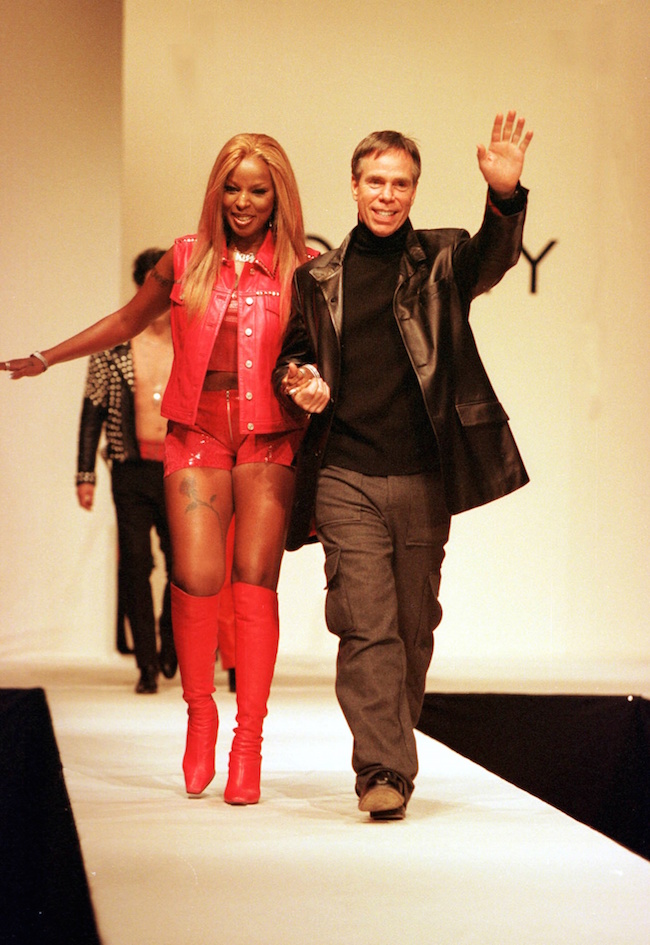 Hip-hop's embrace of fashion began as a strategic move. As the genre's influence and notoriety began to increase, so too did the artist's emergence into more mainstream places. Fashion became the easiest signifier for this social change.
By embracing preppy American brands like Nautica, hip-hop artists demolished ideas about who was allowed to wear certain pieces of clothing based on race; by embracing high-designer fashion, artists displayed their changing class status. And by designing their own brands, artists establish their place in the fashion world as well as the merits of their own individual style and its influence.
Early Years
As a genre, hip-hop was born out of strife. When it emerged in the late 1970s and early 80s, it served as a reflection of the inner city. On songs like Grandmaster Flash and The Furious Five's "The Message" or Kurtis Blow's "The Breaks," the realities of inner city life — violent crime, extreme poverty, and the need for a personal hustle — were front and center.
Hip-hop is a style that often looks backward to the past for inspiration, but it was also versatile enough to virtually take over the mainstream. In that initial era, men wore tight white t-shirts and pants, a reflection of the style runoff from the late '70s. Small accessories distinguished hip hop musicians from their peers. Blow became best known for his black Kangol hat, a look that spread quickly. White newsboy caps and red leather jackets were also popular.
Breakdancing groups often wore matching striped tracksuits in red and black. Sometimes they included sport brand logos like Adidas, but most times they were unadorned with logos. They wore tracksuits because it showed breakdancing was a physical activity and the tracksuits matched because performers often danced in collectives; they were a practical and a community-oriented fashion decision.
Polo Ralph Lauren was also popular and ubiquitous at the time. The label was the earliest incarnation of fashion as class eliminator. "It was head-to-toe Ralph," Peter Paul, the former director of marketing for Tommy Jeans, told Complex magazine in a recent oral history on the brand's relationship to hip-hop. "Ralph represented the Hamptons and wealth. We may have never been to ski lodges, but here were street kids grabbing it and repping it. His clothing was undeniable — and still is." But because hip-hop itself was still in many ways underground, initially it did not have the same cultural impact on the mainstream as other labels.

'80s Fashion Emergence
It wasn't until Run DMC released "My Adidas," in 1986 that a fashion label became a mainstream source of cultural empowerment in hip-hop. The streetwear and sportswear label was, by then, a staple of the hip-hop community. "We took the beat from the street and put it on TV / My Adidas are seen on the movie screen," the group rapped on the song. Run DMC took the fashion of the streets on their ride up to the top. The shoes went with them everywhere; the shoes represented where they'd been, and even though they've "got 50 pair," they are a symbol of personal grounding in the face of unprecedented success.
In the late '80s, gangsta rap and the golden age of hip hop further ingrained itself in the mainstream. Other hip hop subgenres like sex rap and party rap were also successful. Each genre had its own distinct style — from the baggy jeans and sunglasses of gangsta rap, to the sport-meets-streets aesthetics of the golden age, to the goofy, multi-patterned and hyper-color accessories of party rap –- but no one style perfectly represented hip hop. Multiplicity remained. It wasn't until the mid '90s that a unified hip hop aesthetic began to emerge.
By this time, hip-hop was no longer a fringe genre, and the fashion of hip hop was no longer on the margins. When Grand Puba of Brand Nubian rapped about Tommy Hilfiger with Blige on "What's the 411?" the relationship was solidified. Artists embraced brands like Tommy Hilfiger and many of those same brands embraced the artists in turn. It was a mutually-beneficial relationship. For hip-hop artists, it also served as entry point to new visibility.
'90s Preppiness
Throughout the '90s, white industrial and preppy brands such as Hilfiger, Polo Ralph Lauren, and Timberland became ubiquitous in the rap world. Gone were the nondescript, low-slung and extra baggy jeans of figureheads like Tupac Shakur or the Afrocentric incorporation of dashikis and kufis during the Golden Age of hip-hop.
The label look was a form of dress which had, until that time, been removed from contemporary Black American culture. And nothing about this look was subtle. Singers like Aaliyah embraced brands like Tommy Hilfiger and Tommy Jeans, sporting tube tops and men's boxers with the designer's name and logo printed boldly across the fabric. Men in groups like A Tribe Called Quest and Wu-Tang Clan and solo artists like Snoop Dogg wore oversized shirts with the word TOMMY slapped front and center. Later, stars embraced other brands. Timberland's sturdy, tan-colored work boots became a stage and street staple for performers and their fans alike. The crisp, clean, cool of Calvin Klein was worn across races.

Artists' embrace of such labels was more than just looking fresh — through clothes, they could enter a new class. Preppy, all-American, waspy aesthetics were almost strictly for white people, but with black artists now wearing the same aesthetics on Saturday Night Live, or in glossy music videos, they were able to diminish the power that look had previously held against their own people.
Hip-hop was not just storytelling from the streets. It was storytelling about making it out and entering a newer, better moment in one's life. The look was aspirational, too. As for the hip-hop audience, they were also able to acquire a status upgrade through brands. Wearing a Tommy Hilfiger emblazoned jacket meant you were able to navigate out of a class in which that kind of purchase wasn't possible.
Bling And High-Fashion Brands
Stars eventually moved away from the red, white and blue ostentatiousness of Hilfiger and similar labels. High-end designer fashion filled a new void. Some artists openly embraced high-end labels; consider the Notorious B.I.G. rapping about his "Moschino hoes" and "Versace hotties" on "Get Money" with Junior M.A.F.I.A. and Lil Kim.
The farthest reaches of this aesthetic (i.e. bling) became a definitive representation of the aspirations of the hip-hop community. No longer were traditionally preppy brands like Nautica the peak aspirational level for hip hop artists. Once the preppy look became ubiquitous among artists and their fans, it lost its appeal. If fresh is the goal, it can't be found in what everyone else has.
But high-end designers and flashy chains — the likes of which cost tens of thousands of dollars a piece — were a visible and consistent reminder of the wealth an artist had acquired. It was entrance into a new class status times ten. Hip-hop artists proved preppy was penetrable. But this new aesthetic — highly-limited items with price tags far beyond the scope of an average hip-hop fan's wallet — opened up an echelon of personal style for the artist again. They seemed to be saying, This is my thing. You'll never get to where I am.
In the course of this aesthetic ascension was the emergence of musicians as designers. These artists rejected the idea that their aspirational goals should be limited to other people's designs. Instead, they would make their own companies the special label to acquire. Beginning with artists like Def Jam founder Russell Simmons and his Phat Farm and Baby Phat, or Jay Z and Rocawear, and extending well into the new millennium, musician-turned fashion-designer became a way to overcome the last exclusionary hurdles of the fashion industry.
Many labels had no problem embracing artists wearing their clothes if it meant increased sales in a finicky market, but fashion and hip-hop remained two separate entities. The designers designed the clothes and the artists wore them. Now, artists could cut out the middle man. If it's the artists themselves who make style and trends, it doesn't matter what they're wearing as long as they're the ones endorsing it.


Other artists entered this new realm, too. Sean Combs created Sean John, one of the most high-end of the musician-designer labels. The brand regularly appeared during New York Fashion Week. Other artists of the new millennium like 50 Cent and Nelly also became designers, though they stuck to more straightforward streetwear looks. Producer Pharrell Williams created Billionaire Boys Club in 2005. It was an early representation of the kind of luxury streetwear currently dominating the market.
Soon enough, owning one's own label became the ultimate aspirational goal. Not every hip-hop musician could or would have their own label, but to have one meant your style — or at least your skill and personality — was important enough to warrant entry into the capitalistic consumer market of fashion.
Kanye West, Fashion Designer

In recent years, Kanye West has become the most successful and the most challenged musician-turned-designer. West's goals remain ambitious. He aimed — or perhaps, is still aiming — to enter the elusive couture fashion world. And in the three years since his Yeezy line emerged at fashion week, West has made considerable strides.
His fashion week appearances are regularly covered by fashion publications like Vogue and he gets models like his sister-in-law Kendall Jenner and the legendary Naomi Campbell to walk in his shows. But critics largely remain unconvinced. Besides his shoe collaborations (which continue to sell out in minutes online upon release), he has yet to find the sort of couture success of fashion industry peers like his good friend Riccardo Tisci.
Whether or not West can earn the respect of the industry and the sales of the fashion elite remain to be seen. It is one thing to wear elite fashion labels. It is another to convince people your designs are on par with those same labels.
Still, in all three of these fashion phases — preppy, designer labels and bling, and musician-turned-designer — the refusal to conform remains. Still integral to the spirit of the genre itself was hip-hop artists' sly usurping of fashion as a method for telling their own stories. Artists used the symbols of the mainstream, but made them specifically their own.
Artists used the names of designers to frame their own rags-to-riches narratives. They solidified their place in popular culture by legitimizing their own style with namesake or collective brands. And eventually, an artist was no longer wearing the freshest looks or wearing the most expensive looks. Now, they were creating the looks. They transcended the rules of fashion. They were the looks.