To understand the awesome shared history of hip-hop and activism you have to acknowledge that while music can shine a light on injustice, it can't, on its own, heal the wounds of oppression. We're not all waiting for that perfect anthem to save the day. The one that effortlessly samples from the heartache and the anger, the resiliency, and the mistrust, and maybe even the wilting hope found in the black community.
It's important to recognize that while hip-hop is its own entity, it's still just a part of a greater movement when it comes to speaking out against those injustices. Nothing and no one can stand alone in this fight.
People have long tried to reason with oppression. They've tried to shout at it, thrown bottles at it, cursed its name and lit the streets on fire beneath it. Hip-hop is on the right side of things because it's about thought and emotion, not a violent action. It is inspirational and it can galvanize. It can open people's eyes and reach them in a way that words gloriously composed and passionately shouted cannot — it cuts through the noise of the politicians and the pundits who think they know what it's like and what people want to hear even though they rarely come down face to face with the street.
The beat penetrates and breaks down barriers. The poetry holds onto you and can be a dispatch to the outside world about the shape of oppression as well as a rallying cry that can advance progress little by little when paired with passion and controlled, non-violent rage. But the signal needs a boost from time to time.
Today's hip-hop artists have the megaphone as rap stands as the beating heart of pop-music, but that hasn't always been the case. For a long time, socially conscious hip-hop was a fringe segment within a fringe genre. In light of this boom in social relevancy, though, there are multiple questions begging for an answer: Are these artists willing to leverage their hard-won popularity to speak out against the unrelenting cycle of unanswered violence and police brutality, systemic racism, and a caustic economic reality? Can they live up to the awesome example of hip-hop's socially conscious elders even if it means alienating listeners and fans? And most importantly, can these efforts help to not just spark awareness, but also real change?
We took a look at the long history of hip-hop and activism, examined its ability to be a force for good, and spoke to hip-hop legend Talib Kweli, hip-hop artist and St. Louis-based activist Tef Poe, and activist and Campaign Zero co-founder Johnetta Elzie in pursuit of these answers.
Music Has Always Been There
Hip-hop culture was born screaming in the 1970s as an outlet for black and brown New York City youth who were disproportionately affected by racism, classism, and poverty. With the benefit of an undeniable influence — and an innate ability to speak to the youth — the genre quickly evolved into a global form of expression. But its roots go deep beyond the pavement.
Music has always been there. During the time of slavery in America, black people used hymns and spirituals to carry on oral traditions since they had no written language to rely on. Certain songs were often used to pass coded messages that helped people escape to freedom. The connection continues throughout the history of black people's time here in America, from Billie Holiday's "Strange Fruit" protesting lynchings in the early 1900s to James Brown's "Say It Loud" becoming an unofficial anthem for the Black Power movement of the late 1960s and early 1970s.
Gil Scott-Heron and The Last Poets are justifiably viewed as forefathers to political hip-hop. They rose to prominence in the '70s after using their cadenced words to push back against Nixon-era politics and the immediate harms of the war on drugs that disproportionately affected their own people. Then they passed the torch.
"We were coming out of the black community with this thing called rap music, which was basically black men yelling at the top of their lungs about what we liked and what we didn't like," said Chuck D, of Public Enemy in a 2005 interview with The Progressive. "It was disturbing to the status quo. It really shook things up. And those in power didn't know what to make of us."
Released in 1990, Public Enemy's "Fight The Power" from their Fear Of A Black Planet album stands as a now-timeless anthem and a muscular call-out to all who believe that time will eventually erode the instruments of oppression. But the group had a long track record of weaving social messages into their songs prior to that breakout and they were far from the only hip-hop ambassadors at the time.
The first lines of Run-D.M.C.'s first song, "It's Like That," talk about unemployment and poverty, and the burden they can place on a community. That was released in 1983. Three years later, Boogie Down Productions (BDP) came into existence in the South Bronx, initially as a collaboration between KRS-One and Bronx social worker-turned DJ Scott La Rock (Sterling), though La Rock would get shot down in August of 1987.
"In some respects, rap music and violence seem to go hand in hand," said Scotty Morris [to The New York Times], Mr. Sterling's manager, who was in the jeep when the shooting occurred. "But it's not the music itself, it's the environment. Violence was here long before hip-hop."
The violent loss of La Rock and a fatality at a Public Enemy/BDP concert pushed the two groups toward action in the form of the Stop The Violence movement (which shares a name with a track from BDP's 1988 album, By All Means Necessary, an album notable for the track, "My Philosophy" which sought to define hip-hop and an album cover that featured KRS-One echoing an infamous shot of an armed Malcolm X peering out a window). The main result of that alliance was "Self Destruction," a socially conscious single that assembled a vast array of East Coast hip-hop forces in an effort to speak out against the rise of black-on-black violence in the community.
In a way, it was the hip-hop equivalent of "We Are The World," absent Huey Lewis and Cyndi Lauper. Instead, Big Daddy Kane, MC Lyte, Doug E. Fresh, Just-Ice, Heavy D and others served as a collective voice of reason, but according to a KRS-One interview with Vibe, label concerns with Def Jam and worries about the commercial profile of other artists kept such luminaries as Run-D.M.C., LL Cool J, and Will Smith off the track. Which is a shame, considering those actions may have limited the reach of the song's powerful message, which sought to promote a shift in mindset from the "One or two suckers, ignorant brothers / Trying to rob and steal from one another" who were creating a smear that stained the rap audience as a whole.
The Stop The Violence movement was followed by The West Coast Rap All-Stars, a similarly-purposed group of California-based hip-hop acts who came together to speak out against gangs and violence and released their own song, "We're All In The Same Gang," in 1990. Michael Concepcion, an early member of Los Angeles-based Crips who ended up wheelchair-bound as a result of street violence, helped organize the group, which featured Ice-T, members of N.W.A., Tone Loc, MC Hammer, Digital Underground, and several others.
Both movements were pivotal since they showed hip-hop artists working together to deliver unified messages to listeners during a time when it seemed that no one outside of the community seemed to be concerned about the proliferation of drugs and weapons making their way into the hands of young minorities. As Amoeba points out, "Heal Yourself" and "Close The Crackhouse," respectively released in 1991 and 1993, followed this same blueprint and featured many of the same stars in an effort to preach against the spread of AIDS, sexism, and crack.
Again, one song alone couldn't stem the tide of negative change, but what these efforts did do was push back and create a sense that rap music wasn't about perpetuating negative stereotypes. These musicians spoke out against them and encouraged young listeners to choose a different path, encouraging them to open books instead of opening fire.
Unfortunately, these socially conscious group efforts occurred around the same time as two heinous and visceral moments — Rodney King's beating by four L.A.P.D. officers (who were caught on video but still acquitted) and the 1992 Los Angeles riots that followed — which spoke to the tensions between the black community and law enforcement that had been brewing for years and which had been put on display by N.W.A. in 1988 with the song, "F*ck Tha Police," from their Straight Outta Compton album.
N.W.A. member Ice Cube spoke on just that in a 2015 interview with Billboard:
"We wanted to show the neighborhood affecting us, but then we had an effect right back on the neighborhood. We wanted to show that when we did a song like "F*ck Tha Police" that it wasn't just about us, it wasn't just about what happened to us. It was more of an anthem for people to be able to fight back and to have a song they can all rally around that feels the same way they feel. We wanted to show that our music had an impact on the community as a whole."
Diallo And A Call For Respect
While Stop The Violence had been sparked, in part, by the death of one of the hip-hop community's own (Scott La Rock), the Hip Hop For Respect project launched following the death of Amadou Diallo, a 23-year-old street vendor who was killed on February 4, 1999 at his front door by four plainclothes NYPD officers who fired 41 times.
Diallo's death sparked outrage throughout New York City, the country, and the artistic community, partially bolstered by intense media attention that, while commonplace now, seemed novel in the late 1990s. Bruce Springsteen was inspired to pen the song, "American Skin (41 Shots)," Wyclef released "Diallo," and several other musicians let loose cries of their own following the injustice as the police officers were acquitted.
Released by Rawkus Records [which was co-founded by Uproxx publisher and co-founder Jarret Myer] in January 2000, the Hip-Hop For Respect EP was the brainchild of late Rawkus publicist Devin Roberson and featured Talib Kweli and Yasiin Bey prominently in addition to several other key voices.
"We had a lot of MCs," Kweli told Uproxx. "We did a few songs because we had too many MCs show up. It was a great learning experience for me. We didn't get any… Organized Noise did the beat."
While the project wasn't considered a commercial success — which Kweli attributes to a lack of industry support — the message still got out through different channels and had an overall positive impact.
"A kid came up to me on the street and told me how he changed his whole rap style," Kweli said. "He thought he could only be a gangster rapper until he heard that record. I thought that was important for me to hear."
Unfortunately, Kweli doesn't feel that the music industry has become much more welcoming to politically-themed music over the past 16 years, at least on a commercial basis. As a matter of fact, he views "We Are The World" as a lone exception, and that's mostly thanks to the magic of Michael Jackson, Quincy Jones, and Lionel Richie. Without that magic, Kweli feels that making music that's connected to a social movement, that people enjoy listening to, is a true challenge.
"The Game made a powerful record ["Don't Shoot"] with Rick Ross and a bunch of other people after Mike Brown [an 18-year-old who was shot on August 9, 2014 by a police officer in Ferguson, Missouri]," Kweli said. "No one supported it. It was on all the blogs until there was another story about some gossip or some rap beef or something. There's no support in the way the industry currently is for that type of sincerity in a record. It makes people feel good to retweet it but ain't nobody listening to it or playing it."

Boots On The Ground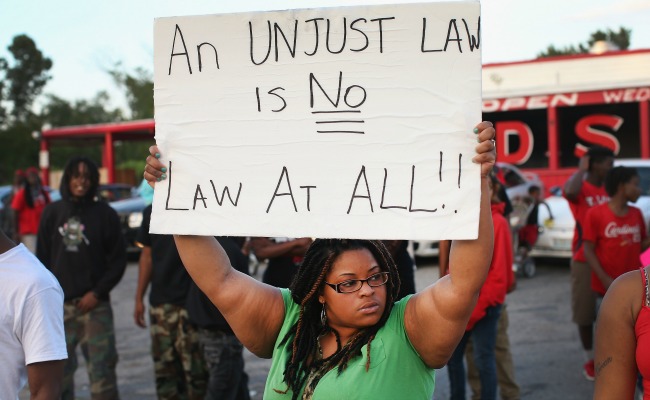 Rapper and activist Tef Poe was in Ferguson in 2014 as the people walked through the streets and came face-to-face with a police force that more-closely-resembled an invading army. Ever since then, he has continued his work in grassroots activism in his neighboring hometown of St. Louis, released music that reflects his experiences, and met with other activists from across the globe.
"I happen to come from a slave state, a very segregated state," Poe told Uproxx, referencing Missouri's long history of racism. "I kind of sprinkle that stuff in my music just for the cats that ain't gonna pick up a book, or not gonna watch CNN, or, you know, the people who ain't even gonna bother coming to a protest to even understand what all of this is about. That music is just an extension of getting those people engaged into what is actually happening now."
Poe's activism has taken him to Geneva, Switzerland as a guest for the United Nations and the pages of Time Magazine, where he wrote that "racial profiling in North County has transformed into a problem of monstrous proportions. Young black men and women have sadly realized that the police are here to do us more harm than good."
Like many of his contemporaries, Poe has put a lot of thought into the price of being labeled a "conscious rapper." As an independent artist, he has far more flexibility than most and can act without fearing the loss of major corporate support, but he has also become an easy target for right-wing media outlets, such as Breitbart, which currently has an article about Poe headlined "Anti-Trump Black Lives Matter Activist Is 'Hell Bent On Inciting Riots'" toward the top of his Google search results.
"I look at conscious rap as a cool thing. It's a good thing. It's a part of my identity on a certain level as well," says Poe. "But after a certain type of energy and a certain type of engagement is needed in these streets, conscious rap can get borderline corny."
To Poe, it's about more than dropping a protest track.
"It's a bit disarming," he said. "Because you'll be like 'Well damn. Fam dropped eight albums talking about this imaginary revolution that was gonna come, and now that the prospects of something like that actually happening and are popping off in the streets, these be the main people that you don't see.'"
While some activists and artists are far removed from their days of walking the streets, Poe is still there.
"The average activist is not gonna have that level of connectivity to the city that they actually come from," Poe said. "Actually, in most cases, it's the opposite. So for me, I wear that like a badge of honor. I walk around; people honk their horns. They stop; they rap with me. They know if they got a real problem, they can pull up on me. I'ma talk to 'em. If there's something I can do about it, I'ma try. If I can't, I'ma give them some words of encouragement, and maybe even try to point them in the right direction. The average activist is on a plane somewhere, or is too busy building their following on Twitter for that to be really relevant."
As Ferguson became a keystone in the modern day social justice movement and the formation of the Black Lives Matter coalition, Poe was a firsthand witness to scores of activists, members of the media and celebrities rushing to the area.
"When J. Cole was in Ferguson, I was excited," he said. "I was excited because he walked out there without security, for the most part. I saw him on the ground zero in the midst of the same bullshit I was in the midst of, and it wasn't a cartoon. So, I was like 'Shit. His head can get blown off, just like mine can in this environment.' So, I gained a bit of respect for him from that. I think the city did as well. And you know, [Talib] Kweli, that's a long-term relationship. We've always kinda worked on things together and shared some similar perspectives."
As far as media involvement is concerned, it's a double-edged sword. On one hand, exposure is good. People need to be reminded that injustice persists and that people aren't going to quietly accept it. But on the other hand, the "if it bleeds it leads" ethos of the mainstream press is still in full effect as we see near-constant coverage of riots compared to little coverage of peaceful protests.
"At this point, I feel like maybe some people, like some journalists and the media, are just asking any black person what they think about the movement, just to have a soundbite or something," Johnetta Elzie said in an interview with Uproxx. "I don't know if it's even set up to be like a genuine conversation."

Weighing Hip-Hop's Responsibility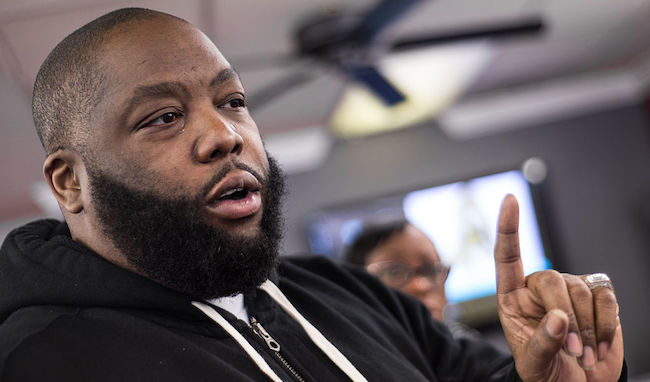 Given hip-hop's advanced reach coincides with recurring public focus on instances of police brutality and mounting fears (which have, in some cases, increased in the wake of Donald Trump's election victory), one might (rightly or wrongly) assume that there is not just an opportunity for hip-hop artists to use their influence to do more work in social justice spaces, but that there is an obligation.
"I think that's one of the things that comes with having a platform, and having power, and having privilege, Elzie said. But Poe believes that we need to separate the art from the artist.
"I think as an artist you can go where you wanna go with your music because your art is your art," he said. "I do think as a person, as a black person living in these days and times, knowing that people that look like me are in distress, not just in America, but globally, then yeah we have a human responsibility to show up however we can."
While Talib Kweli similarly believes that he has a responsibility to give back to his community, he also believes that there are others who aren't aware of that need.
"People's responsibility is based on how much knowledge they have and where they grew up and how they grew up," Kweli said. "I think I have a responsibility as a member of my community to give back to my community. The reason why I believe this is because my parents taught me this. If my parents didn't teach me this I wouldn't know it." He also points out that many celebrities are often still young and haven't been raised to be aware of social justice issues and language. "People who don't know it… I don't think we can hold them accountable for what they don't know. You can only hold someone accountable for what they do know."
Kweli also cautions that we have to be wary of people's motives.
"While some of those people are people who really care about black people — they really care about the movement — they have their own personal demons of patriarchy and stuff and their own hang-ups," he said. "I try my best to reach out to people like that. Sometimes you have people who are in the movement because they're jealous of the oppressor and they want to copy the oppressor."
Expecting vocal participants in society to do the appropriate research seems like a bare-minimum ask, but given the rise of social media and the incidences of celebrities being asked about their stance on the Black Lives Matter movement and Donald Trump's election at every turn, you'd be surprised how often these early steps aren't taken.
"Just because you have something to say doesn't mean you should say something every time," Elzie said. "Especially if you really don't know what you're talking about. The backlash is horrible. I think it's just [a matter of] getting more informed."
The desire for informed speakers and burgeoning leaders is embodied perfectly by Killer Mike, who went from being an acclaimed yet unheralded solo artist to an ally of Democratic presidential candidate Bernie Sanders during this past election season. In the time since, Mike's used his voice and this elevated platform to encourage black people — including powerful ones like Michael Jordan — to bank within their own communities, pushed people to harness their voting power, and he has been a strong voice in the fight against police brutality. Mike also mixed his actions with words by opening two barbershops in his Atlanta hometown with a goal of opening 150 more to create spaces where black males can meet, talk openly, and socialize in a comfortable place.
But while Killer Mike is an engaged, passionate, dedicated, and positive force that can exist within the intersection of hip-hop and activism in 2016, there are other examples when no good comes from that aforementioned cultural reach.
Kanye West is arguably hip-hop's most outspoken voice and someone who has used his soapbox in the past to speak out for members of the black community who were in distress, but he recentlyinspired outrage after he voiced support for Donald Trump and insinuated that black people should get over racism.
Lil Wayne is another hip-hop star who seemingly chose not to use his influence for bad when he distanced himself from the Black Lives Matter movement after previously saying similar things about ignoring or getting over racism. And that's sort of the catch to this moment: Not everyone isn't equipped to do what Chuck D and KRS-One did. Some people are too fearful that their career will be damaged and others simply don't want to speak or are too out-of-touch to bring much benefit when they do speak on social issues. They may even do more harm than good.
Kweli, Poe, and Elzie indicate separately and collectively that for hip-hop and activism to unite during this crucial, watershed moment in our culture, artists need more than a powerful anthem that'll get lost in the shuffle, or which will be diminished in comparison to the powerful declarations of the past like "Fight the Power" and "F*ck tha Police."
The desire to be a leader in the movement, not just a pop star passing through, has to be there, the knowledge of the situation and circumstances has to be there, and the dedication to stay with a cause has to be there. There's an outstanding opportunity right now for people to use their microphone and make a difference, but only if they're truly engaged.
As has always been the case, the strongest voices are the ones that most need to be heard. Everything else is noise.