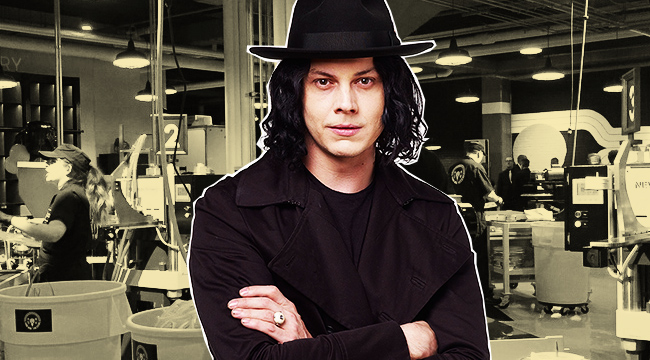 "Quiet down people! There's a lot of fake news going around! Let's keep it real tonight," Jack White said enthusiastically into a gravely microphone, thus beginning a toast celebrating the opening of Third Man Pressing, the unbelievable new vinyl pressing plant located within the walls of the Detroit storefront of White's Third Man Records. "Thank you all for coming and celebrating in this. We're all one family, we're all together, and remember this moment because we're making things beautiful last for the next generation."
After struggling to make a decision on what piece of eclectic merchandise to buy in the storefront, past the store is a hallway full of memorabilia that leads to a set of large double doors that open up into a sea of matte yellow. The color has been Third Man's signature since the opening of the Nashville storefront in 2009, and it appears on an even grander scale here in Detroit.
Spread across the yellow floor are eight yellow presses — the first newly built machines in over thirty years — and combined, they have the ability to produce a record in about 45 seconds, yielding almost 15,000 records every day. The presses are not automated; each machine is hand-run by a human in a room engineered for sound containment to ensure minimal external noise pollution. Watching the creation process of a physical manifestation of sound occur by hand right in front of your very eyes not only makes the ultimate product very intimate and personal, but the whole thing just feels magical. "The dream was to have a plant that people could see records being pressed and you could buy those records immediately… Which doesn't exist anywhere else in the world," White said in an interview with WXYZ-TV Detroit.
Not to mention that the entire plant's operation is environmentally conscious. A statement on the plant's YouTube channel reads:
As the first label to operate a fleet of brand new, environmentally efficient pressing machinery within a purpose-built manufacturing infrastructure, Third Man Pressing minimizes water waste by using recycled water from the record curing process in the air conditioning system, thus creating the only fully climate-controlled pressing plant work environment in the world. Each pressing station is outfitted with a digital touch screen control for temperature, hydraulic compression, and extruder speed, equaling increased control for the highly trained staff as well as a superior product. The plant was engineered to not only be environmentally sustainable, but also community sensitive with its innovative noise reduction construction techniques.
Clad in a pinstripe suit and shoes that matched the plant's floor, White glided around the perimeter of the machines with his mother on his arm, his pride in the new facility evident as he greeted everyone with a handshake or a hug. His aura was inescapable the entire night, although his grandmother seemed to be getting more attention than he was, as he told me after she was pulled away yet again to converse with partygoers.
Perhaps one of the most impressive parts of the plant is its implications for employment in the Motor City. It's said that Third Man Pressing will bring upwards of 50 new living wage jobs, with benefits, into downtown Detroit, a part of the city that is just now beginning to rise from the ashes of the auto industry, nearly ten years removed from its collapse. The list of jobs includes the actual manufacturing the records, inspecting the finished product, and then finally packaging them.
Though Third Man Records will continue to work with Nashville's United Record Pressing, the Detroit plant will be the go-to for White's label to produce their vinyl. However, one of the biggest goals of the plant is to be an accessible source for lesser-known, independent artists to produce vinyl. With the recent resurgence of vinyl, many smaller imprints and independent labels are unable to press vinyl in lesser quantities due to cost and the waiting period of an oversaturated market.
A plant like Third Man Pressing will hopefully allow small labels to bypass this massive wait period induced by other plants. According to PR for the plant, "Third Man Pressing aims to dedicate a percentage of its capacity each month to pressing records for clients of this ilk, alleviating the bottlenecking of the production caused by major label orders, and bringing more niche, regionally-interesting pressings from inspired individuals onto record shelves worldwide."
After a night of live bands onstage in the storefront and a wide range of food and drink, White came to the end of his impassioned toast for a crowd of friends and family, roaring, "Third Man Records is about no genre; it's about poetry; it's about painting; it's about sculptures; it's about music; it's about history, it's about Detroit; it's about Nashville; it's about America, first and foremost." And after spending the evening at Third Man Pressing, the possibilities seemed endless.
Check out a video detailing the plant and the entire pressing process below, and if you're ever in Detroit, don't miss it.